Caruso St John sweeps the age of the flapper back into Tate Britain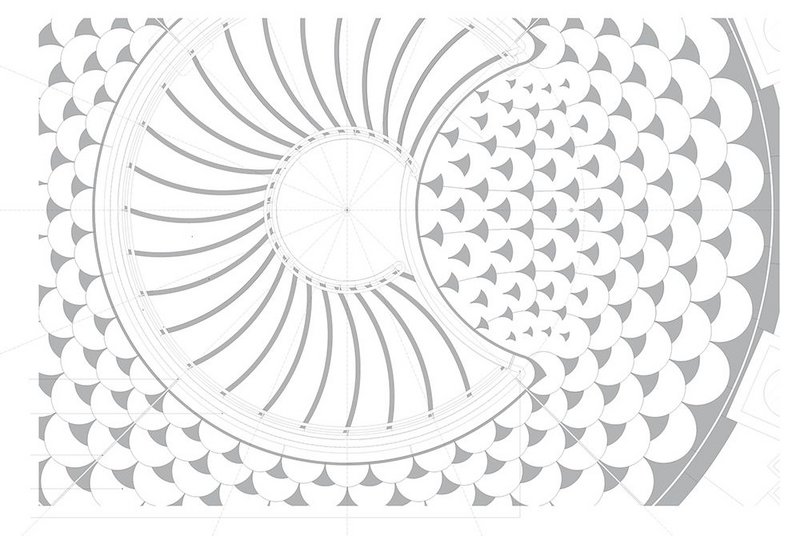 Do the Deco: how the Terrazzo floor pattern flows into the new staircase.
The Art Deco/Swedish Grace revival starts here, in the Tate Gallery on London's Millbank, in the hands of architect Caruso St John. This would have counted as postmodernism 30 years ago, so there is a wry symmetry in the fact that this £45m re-ordering of the Tate's public spaces and galleries involved the site of a famous early piece of PoMo, Jeremy Dixon's 1982 basement cafe which itself channelled the spirit of Soane's breakfast room.

Some of this project is subtle to the point of invisibility. Rightly, the refurbished galleries are not trying to be anything other than that – the new hang of the art is the thing, and that is beautifully done. Though if wandering art- lovers glance up they might wonder at the fat glowing light tubes hanging along their centre lines, and taking on a circular form in tighter spaces. These luminaires, also designed by the architects and specially made by Louis Poul­sen, fit in with the eclectically moderne feel of the whole project. Now that technology allows light sources to effectively disappear, it takes an architect to do to exactly the opposite, and turn them back into solid architecture. ­Although they are made in acrylic for lightness' sake, they hang on chromed straps and really want to be in opal glass. Which is a mat­erial used elsewhere, in the biggest, boldest move in this composition. The new spiral stair.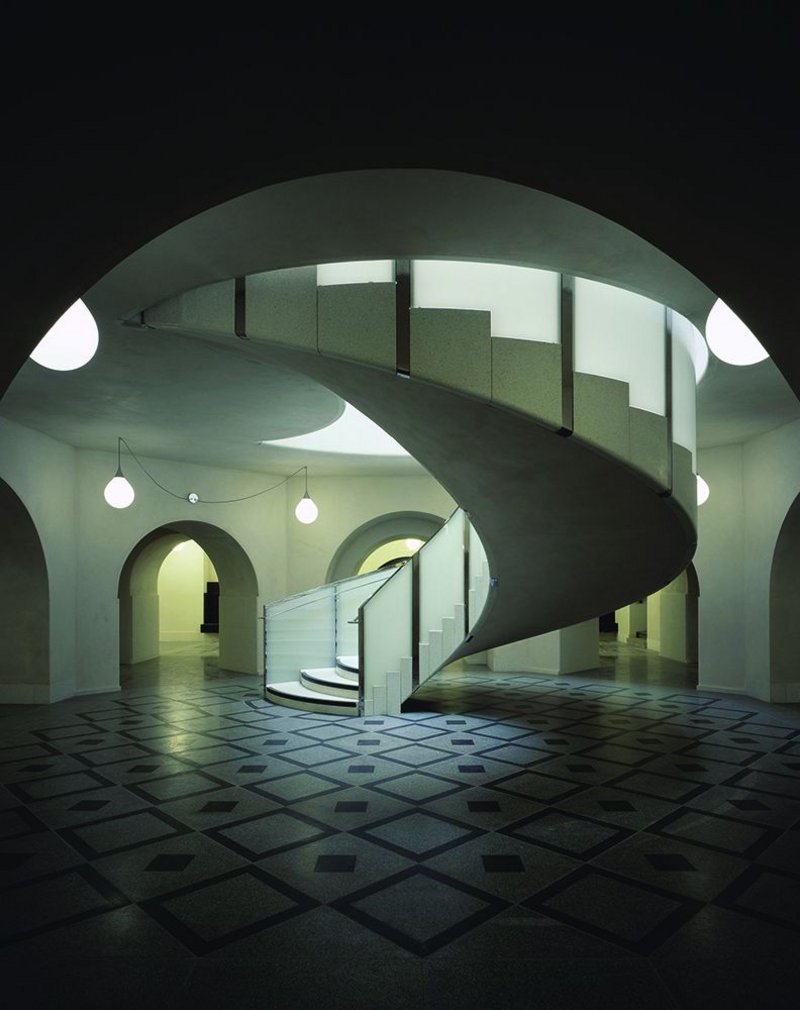 The inter-war below-stairs feel of the remodelled basement area.
This stair is a building in itself. It is pure architecture, with all the strangeness of pur­ity, plus a distinct touch of luxe. In functional terms this is the big move, opening up the 'ground' floor (of course perched haught­ily high atop its flight of steps) to the now opened-out and expanded basement areas, in turn now fully accessible from a lowered ground level outside. But it is about so much more than function. It is a statement of architectural continuity. Revivalism maybe, but as with Caruso St John's previous exercises in reconnecting with history (notably its Victorian­-polychromy front extension to Bethnal Green's Museum of Childhood) it is done with contemporary bravura.

I don't know if I like this stair yet. I admire it. It feels gorgeous. It is clever, possibly too clever. It is intricate, possibly too intricate. Deco-ish it may be – picking up on a motif of scallop-shells apparently found elsewhere in the building – but monochrome, its top balustrade in cream and black, fibre-reinforced, smoothly-polished, precast concrete. There are glass inserts and the material becomes very thin in places while always having a monolithic strength. The pattern starts as a circular motif on the floor, so it as if the floor has been lifted to form this balustrade. You descend the curving steps past a slippery balustrade of double-curved opal glass, each panel edged in chrome. The imagery is multi­valent. There is a chill to this otherwise ­super-rich architecture, a Nordic chill, but other influences – from turn-of-the-century Berlin, Vienna, even London – also infiltrate.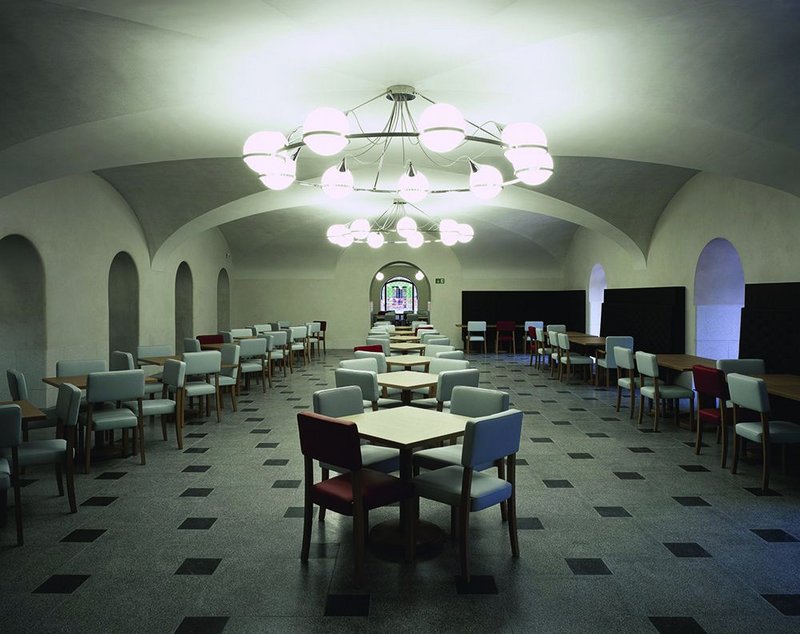 The Djanogly Café in the basement makes clear-span spaces with shallow vaults and soft round arches. Light fittings have a Jazz Age feel.
From the main entry level you descend to the opened-out basement – a sequence of beautiful calm spaces expressed as thick arches and shallow vaults, including the refurbished restaurant with its restored Rex Whistler mural. A new cafe opens out to the gardens and there is a big education suite. Or you can ascend, for the first time since the 1920s, via a subsidiary new stair, to the balcony area around the dome and a members' cafe-lounge. Its furniture ­refers almost fearsomely to the early 20th century, from Lutyens to Loos, mostly designed or adapted by Caruso St John.

The original Tate is an unsubtle piece of showy commercial classicism by Sidney R J Smith, since adapted by various hands inc­luding John Miller and Partners at the turn of the Millennium. Caruso St John has added a layer of intellect and historic reference while restoring aspects of Smith's original, such as the first-floor Grand Saloon overlooking the Thames. It has added subtlety to Smith, with a touch of cool jazz. Think of it this way: ­Asplund takes Grey Wornum to Eltham ­Palace in winter.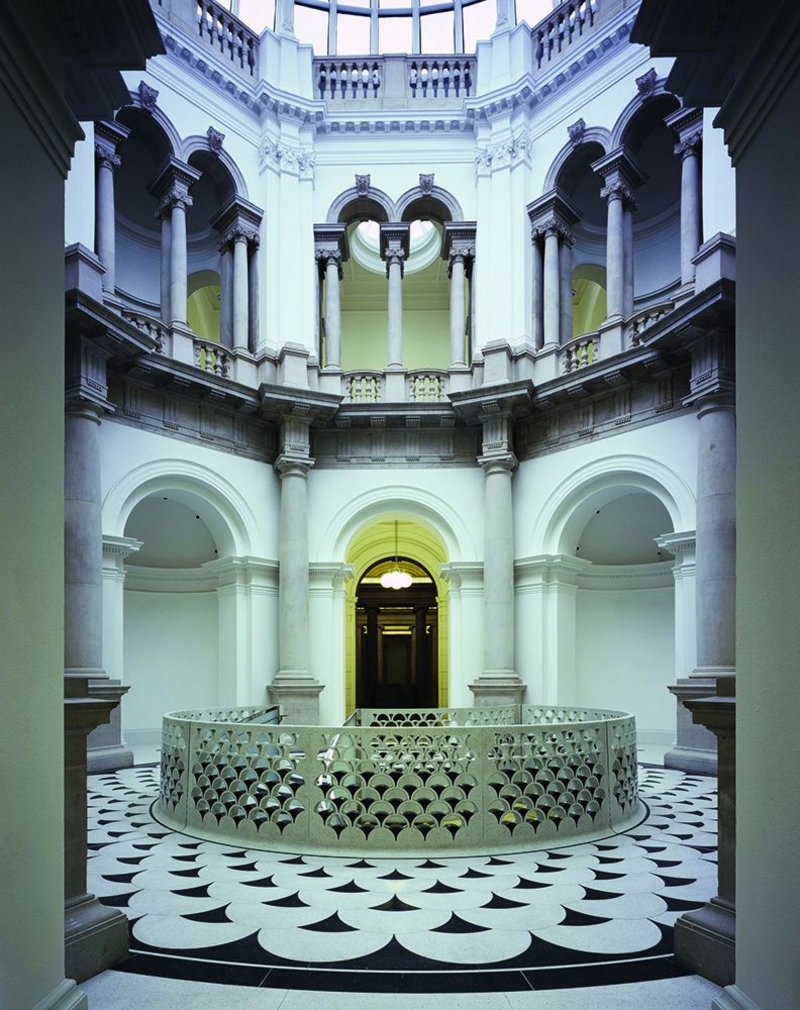 Has it always been here? There's a sense of inevitability to the new spiral stair beneath the Tate's dome.
Credits
Client Tate
Architect Caruso St. John
Structural engineer Alan Baxter Associates
Services consultant Max Fordham
Cost consultant Turner & Townsend
Project manager Drivers Jonas Deloitte
Acoustics Sandy Brown Acoustics
Façade engineering Gifford
Main contractor Bovis Lend Lease
Suppliers
Specialist precast concrete Concrete Bloc
Lighting Louis Poulsen
Dry lining and fibrous plaster Measoms / Simplicity Mouldings
Stonework and staircases Szerelmey
Joinery Brown and Carroll
Specialist joinery Edmonds
Timber floors Ardern Hodges
Main entrance doors Stewart Fraser
Lift Schindler
Roofing Richardson Roofing
Rooflights Dane Architectural
Decoration GSE
Catering equipment Hallmark