Philippe Calandre piles multiple views of Venice onto one small island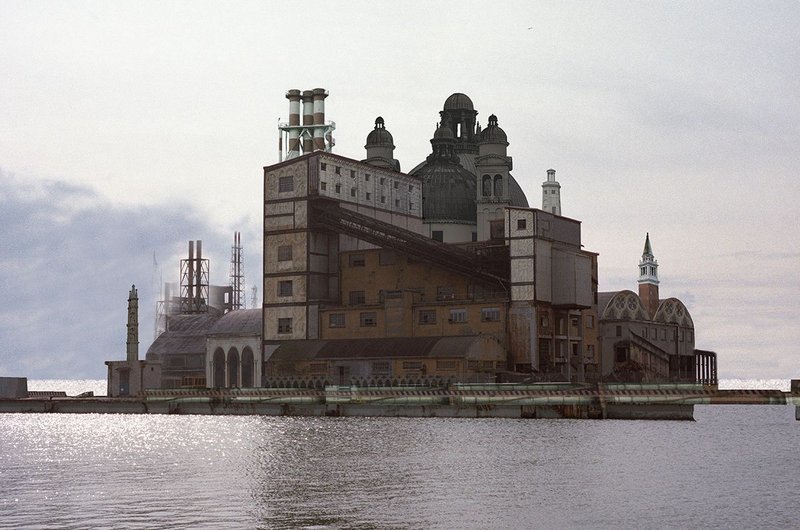 Credit: Philippe Calandre
Look past the images of vast industrial sheds and you'll probably recognise the domes of Palladio's San Giorgio Maggiore and Il ­Redentore churches; not the major players that they are on the skyline of Venice but merely part of a frenzied fantasy industrial landscape, its unique urban archipelago now the province of white van man in a Ford ­Vaporetto. Photographer Philippe Calandre's 2014 show 'Isola Nova' at London's Lichfield Gallery was the product of his hundreds of photographs of the floating city, its industrial port area of Porto Maghera and his own febrile imagination, their clashing together forcing re-readings of both.
Calandre says his building choices are driven by purely formal concerns – the churches and campaniles most representative of the classic view of Venice; the industrial ones too picked purely for their shapes and monumental nature. His choice of this particular city as a territory for investigation might be slightly more Freudian. Calandre, a Frenchman born in Avignon, spent his formative years as a sailor, finally becoming a skipper, before giving up the turbulent life at sea for one stooped behind a far steadier tripod. But the fascination for the industrial landscapes of the many ports that he visited in his time remained.
The photographer now feels, however, that he has exorcised the ghosts of his fant­asy Venice. Continuing to draw inspiration from the work of Piranesi and Bernd and Hilla Becher, he's looking to scrutinise other contemporary archaeologies from which to compose his fictitious 'industrial architectural ensembles'; Paris, London, Berlin…?
---