Acanthus Clews Architects for St John the Baptist Church, Burford, Oxfordshire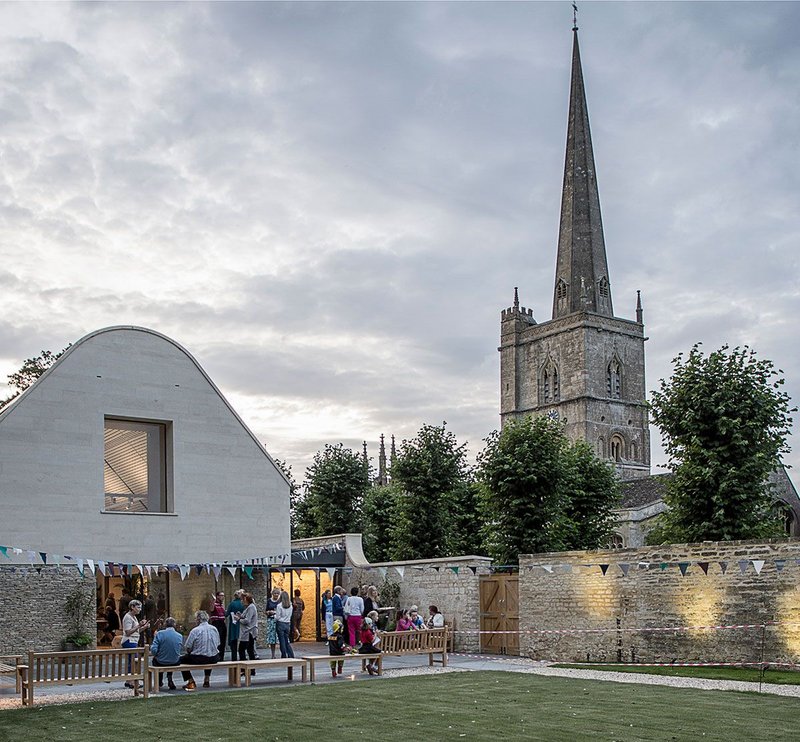 This means that community can meet in the middle of the village in a community space – in a place where you can imagine the local community diluted by tourism' – Judge Anna Keay
St John the Baptist Church in Burford undertook a bold new redevelopment project at Warwick Hall to unite the church and local community through the building of a new community facility. The brief was to extend and adapt the listed but dilapidated parish hall to provide a new community facility to meet the wide ranging needs of both the church congregation and the local community.
The challenge was to deliver a new confident community facility in one of the most historically sensitive church building settings. The design ethos was to reaffirm the significance of the original range by removing later extensions and to then rebuild respecting this unique setting. To minimise the impact the massing is split into a cluster of smaller structures.
Key facilities include a community café, meeting rooms, toilets and basement storage, all critical to supporting the two halls. In order to ensure the building met the needs of the community a comprehensive programme of consultations took place to make the most of this once in a generation opportunity. Numerous public exhibitions and workshops took comments and the design was amended to ensure the local community contributed to the design process positively. During consultation it became clear that there was potential to galvanise the partnership between the church and local community by joining forces to deliver a dedicated day centre for the elderly. The building is now providing a much needed venue for the ageing to meet and socialise in a controlled but lively public building.
The new facilities have dramatically increased public access and can accommodate a far larger range of activities that can occur simultaneously in a welcoming, warm, uplifting and fit for purpose building. The Warwick Hall has been amazingly well received locally.
---
Credits
Client St John the Baptist Church
Architect Acanthus Clews
Main contractor Edgar Taylor
Structural engineer Price & Myers
M&E engineer Environmental Engineering Partnership
Quantity surveyor Baqus Sworn King
Landscape architect Clews Landscape Architects
Audio visual consultant Smart Sense
Lighting designer Firefly Lighting Design
Acoustic engineer Arup Acoustic
Stone sub-contractor OG Stonemasonry
Structural glazing IQ Glass
Roofing sub-contractor Everest Roofing