Knits together a neglected area of urban fabric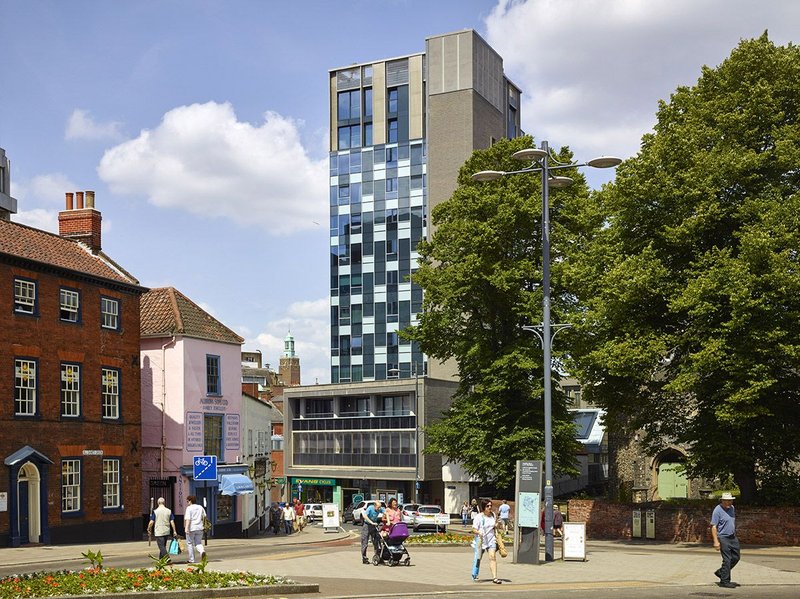 Credit: Timothy Soar
5th Studio for FW Properties Ltd & Soho Estates
Contract value: £5.8m
GIA: 3,530 m²
The Westlegate Tower project has redeveloped one of Norwich's most high profile – and most unpopular – buildings. The development of 17 apartments, three houses and four commercial units would not have been possible without architect 5th Studio's questioning of the city's planning policy, which recommended demolition. It saw that retention and reuse were not only possible but could bring real positives.
To improve the proportion of the tower, its height was increased by three storeys, giving a more slender silhouette. This, together with new cladding (cover strips, metal cladding and mesh that change in the light), has made the development a landmark for the city.
The new accommodation knits together a neglected area of urban fabric; a previously unloved car park at the base of the tower. The development has helped to re-establish the historic grain of lanes, yards and passageways, rediscovering the lost Lion and Castle Yard as an enjoyable public thoroughfare, and enriching the pedestrian experience.
See other winners in the RIBA Regional Awards – East
---