Bishop Edward King Chapel, Oxford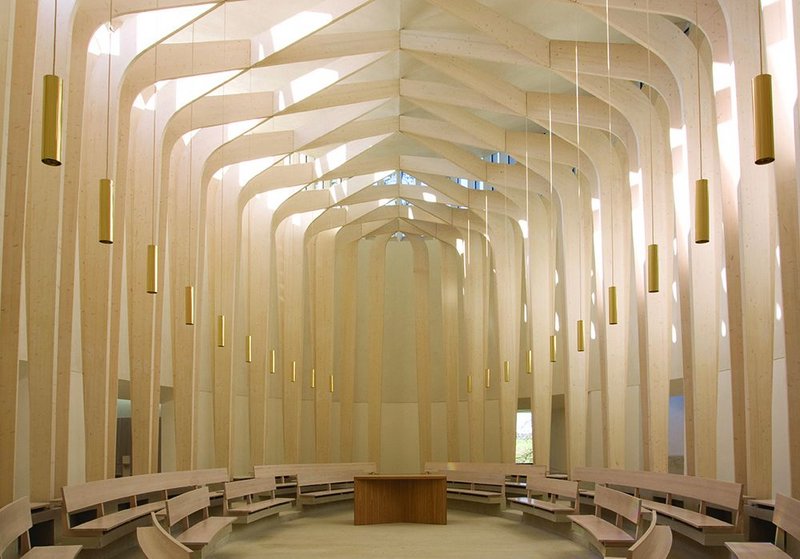 Few buildings achieve the sense of perfection of this small building, where stone dominates on the exterior and timber inside. The architect won a competition to design to a very particular brief, drawing on a poem by Seamus Heaney as inspiration for a building that can rightly be described as poetic.

Ripon College wanted a building that could serve two communities: staff and students at the college and the nuns of a small religious order, the sisters of Begbroke. The chapel needed to accommodate the worshipping needs of both, and provide a separate space for the Sisters to recite their offices, a spacious sacristy, and the necessary ancillary accommodation.

At the heart of the architect's solution was the word 'nave', which denotes the central space in a chapel but derives from 'navis', Latin for ship. The result is an elliptical building with stone walls enclosing a light timber structure that supports the roof, raising it above the clerestory glazing. This makes the most of its position in a clearing among mature trees, on high ground with views over the surrounding countryside.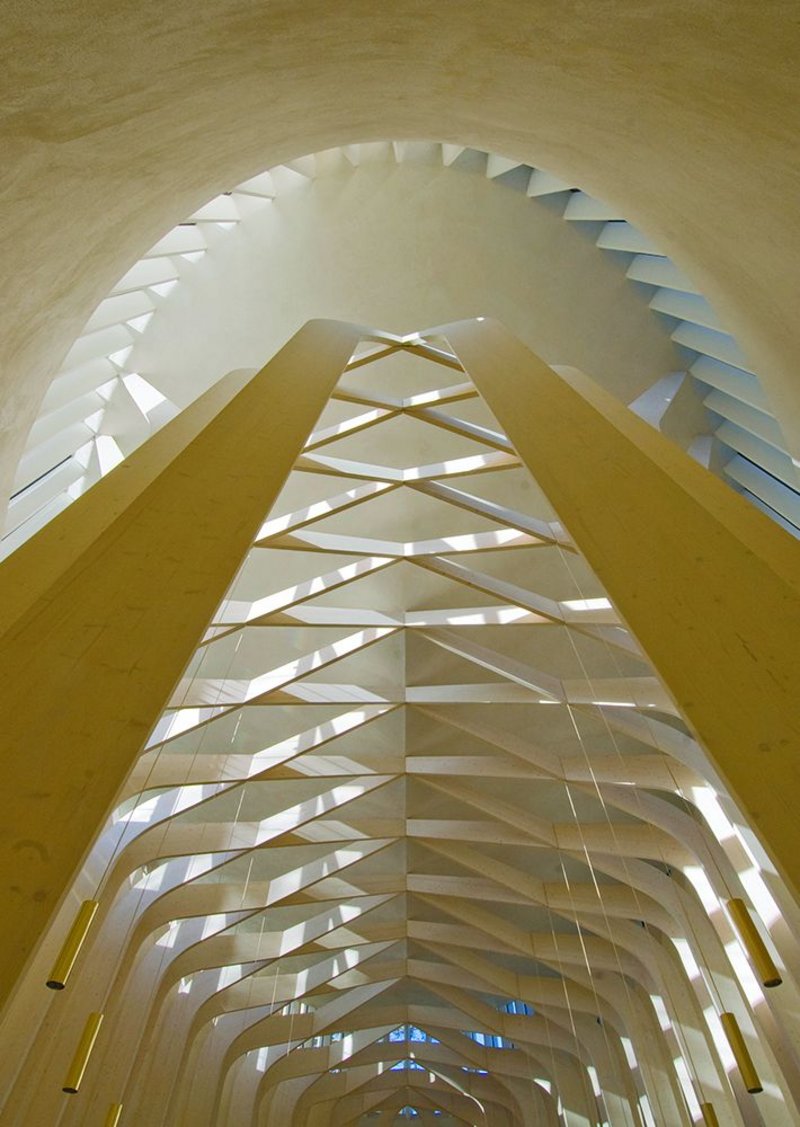 A self-supporting roof and internal frame act independently from the external walls. A minimal junction between the roof and walls expresses this. Supporting the roof is the timber structure, constructed of 60mm thick prefabricated glue-laminated sections that are treated with a two-part stain, giving a light whitewashed appearance. A specially designed steel connection was used at the crossing points of the vault to conceal the connection within the slender members.

Seating, which follows the curve of the ellipse, uses the same stain. In a deliberate contrast, the loose furniture in the chapel space, such as the altar, is made of European oak, drawing attention to its religious significance.
Enormous attention to detail throughout characterises the structure. All the joinery is of the very highest quality
Enormous attention to detail throughout characterises the structure. Despite its slenderness, Cowley Connectors at the top of the main structure supporting the roof are virtually hidden. All the joinery is of the very highest quality.

The building has a sense of quiet contemplation and yet is in touch with its external environment, through either the views out or the rainbow patterns that the external louvres periodically throw across the white walls.

Solid and beautifully finished, the exterior suggests that there will be something special inside, but as one enters through the external oak doors, the result is still a surprise and a delight. The judges were knocked out by this building. Its soaring and elegant structure made it a worthy winner of the structural award – and its numinous quality, in which the timber plays a vital role, also made it the unquestioned winner of the Gold Award.
Credits
Building client/owner
Ripon College
Architect Nìall
McLaughlin Architects
Structural engineer
Price and Myers
Main contractor/builder
Beard
Joinery company
D Smith Joinery
Wood supplier
Cowley Timberwork
Other services
Westside Design, Synergy Consulting Engineers
Wood species used European oak, American ash, European oak glulam, spruce glulam