Grace Choi Architects for YMCA North Tyneside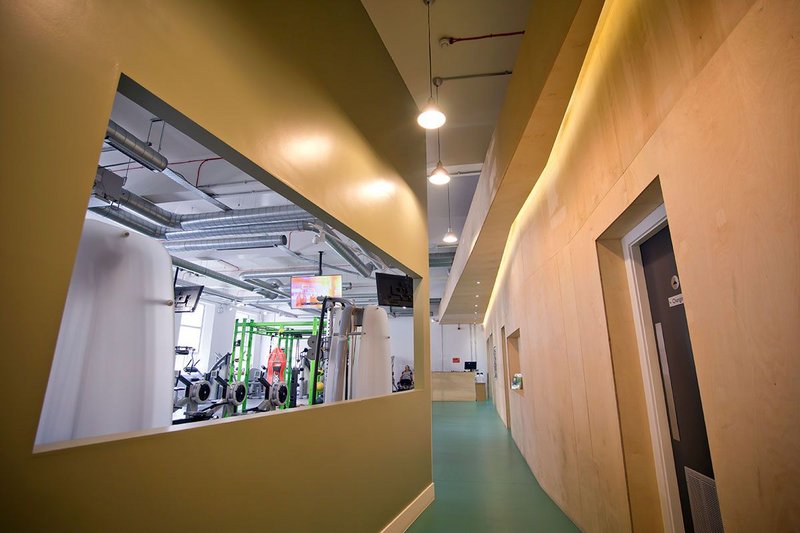 YMCA North Tyneside walkway

Credit: Grace Choi
The home of the YMCA North Tyneside is a story of the refurbishment of a rundown North Shields community building, in use since the 1940s. Over the years changing needs resulted in a piecemeal arrangement of cluttered, soulless rooms. After refurbishment of the external fabric and the creation of 15 supported accommodation flats, Grace Choi Architecture was brought in to refurbish the health and well-being areas, including a new state of the art gym, free weights rooms, multi-use sports hall, lettable rooms for hire and a training kitchen for young learners. The next phase consisted of a new café, reception and entrance area, followed by nine additional supported accommodation flats for young people.
GCA offered a holistic review. Initial analysis showed that the spatial arrangement of zones were confusing and haphazard. Careful design resulted in a legible and visitor friendly building. The previously hidden public stairway was opened up to the street entrance and light and orientation provided throughout the building.
Layers of false ceilings, walls and years of patching up were removed, stripping the shell back to its original form, creating uplifting spaces in redundant areas of the building. An institutional feel was transformed into a bright, open, accessible interior conveying the progressive spirit of the YMCA and attracting a new generation of the local community – all achieved on a painfully tight budget.
The redesign achieved the client's desire to create a community where everyone is happy, healthy and connected, through offering accommodation, opportunities, encouragement, employment and a chance to fulfil each individual's potential.
---
Credits
Architect (Phase 3,4,5) Grace Choi Architecture
Client YMCA North Tyneside
Structural engineer (Phase 3,4,5) Anthony Davies Associates
Services engineer (Phase 3,4,5) Charles Clarke
Project manager (Phase 3) JGS Consulting
Main contractor(Phase 3) CLC Contractors
Main contractor (Phase 4,5) Applebridge Building Services