Pink Floyd, being celebrated at the V&A, were quiet performers who gave their music legendary visual presence through dramatic and imaginative sets and album covers. Must have been the architects in them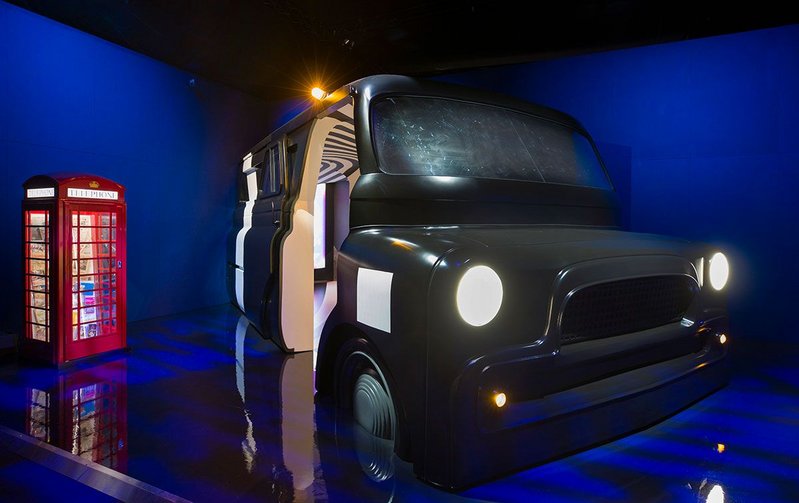 Enter through the giant Bedford Van.

Credit: Pink Floyd Exhibition-Their Mortal Remains. Stufish
Reviewing an exhibition of Pink Floyd through the prism of architecture might at first seem like appraising the music of Queen with reference to dentistry, but bear with me: architecture and design are strands that run right through the oeuvre of the veteran, now defunct band with its unique soundscapes. And not just because three of the founding members – Roger Waters, Rick Mason and Richard Wright – met as architecture students at Regent Street Poly in 1962. Like their contemporary at the AA and later collaborator, the architect of temporary, demountable, inflatable, mobile structures Mark Fisher, they were heavily influenced by the Fun Palace/Archigram approach to architecture as kinetic and mutable rather than foursquare and permanent. Cedric Price, Peter Cook and Archigram are duly credited as influences, their drawings displayed here. As Fisher found, rock was the place to make all that stuff happen.
Thus from the earliest psychedelic light displays put on by the band at the UFO Club to its eventual massive touring stadium shows, there was always the strong visual, designed element. As people they had an English diffidence when it came to personal presentation. Several of them and their collaborators – prime among them Storm Thorgeson and Aubrey 'Po' Powell of the graphic design practice Hipgnosis – went right back to childhood days in Cambridge. Not for them preening rock-god antics: there are English pastoral and folk elements in their music along with the usual blues influences of the period, especially in their first incarnation with Syd Barrett as their front man. John Peel observed, in a quote used in this exhibition, that they wouldn't be recognised if they happened to join the audience at one of their own gigs. But by designing environments and characters – giant inflatable figures and projectiles come to mind, along with that trademark huge circular projection screen – they could happily divert attention from themselves as not especially charismatic performing musicians.
Consider their 1972 'anti-Woodstock' film, in which they performed in a Roman amphitheatre in Pompeii – alone. Just them and the music and the architecture, no distracting audience. Or the way they commissioned Frei Otto to design retractable sun-shading umbrellas for them on an American tour. Or used Battersea Power station as an album cover, complete with Alfie the inflatable pig. And then there is The Wall – a version of which is here, 7.62m high and 22m long.
A model of the power station is one of the biggest physical elements in this exhibition, done in false perspective, rising to 9m high – seemingly the tallest thing ever in a V&A show. Although the overall design of the show is by Powell and members of the band – especially drummer Nick Mason – all this clever realisation is, of course, done by the late Mark Fisher's company Stufish, which continues where he left off when he died in 2015 and is now headed by Ray Winkler. Fisher himself pops up on a video screen, talking brightly about how he (with his then engineer partner Jonathan Park) devised ways to use the various inflatables on the band's 'Animals' tour, and how this changed the direction of his practice. 'That's when I ran away and joined the circus.'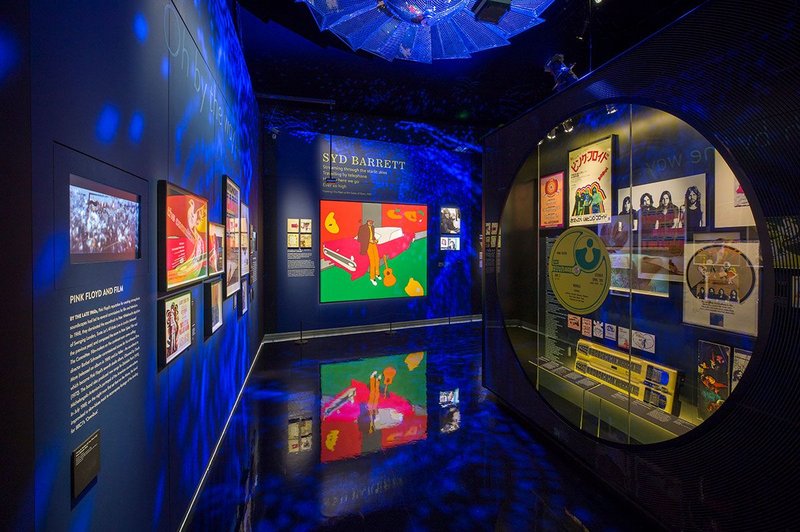 Homage to Syd.

Credit: Pink Floyd Exhibition Their Mortal Remains. Stufish.
It's a fairly conventional chronological show, organised into broadly album-related areas. You enter through a giant-scaled version of the Bedford van with its diagonal white stripe that the precursor band, known as The Tea Set, used to get to gigs in. Slow and unreliable, it is inevitably part of the mythology. All the way through the show, a timeline is provided in the form of K2 telephone kiosks stuffed with leaflets, posters, newspapers, telling you about what else was going on in the world at the period in question. There are inflatables of course. And although – unlike the rather more widely appealing David Bowie exhibition that the V&A previously mounted – there is not much in the way of stage clothes to show (see above, they were never personally showy) there is a section devoted to the various battered instruments and bits of electronica used by the band. For me such things are as dull in this context as static planes in an air museum – they are meant to be used, not displayed. Though the reverse is true of the actual cane used on various members of the band and their friends by the headmaster at Cambridge High School for Boys – recalled so vividly by Waters in The Wall album. (His colleague and non-architecturally trained sparring partner in the band, David Gilmour, went to the posher fee-paying Perse School).
The exhibition ends, as I suppose it must, in a large room which is an immersive experience of the band's last performance as the classic four-piece line-up: 'Comfortably Numb' as performed at Live 8 in 2005. Already so long ago, and perfect in its way apart from Roger Waters wearing double denim. For this room you are requested to remove the headphones you have worn throughout and which automatically feed you the correct sound track and commentary for the part of the show you are in. This system is pretty good technically – though you can catch it out in places where the zones overlap.
What I took away from the exhibition apart from the obvious music and visuals – it reminded me of how good the often overlooked 'Animals' album and tour was, where the band hit peak inflatables and showed they could survive the onset of punk – was their role as patrons. Patrons of designers and illustrators and technicians of all kinds, of other musicians, and of architects such as Fisher, with whom they more or less invented the complex logistics of the visually-progressive stadium tour. As the great caricaturist Gerald Scarfe – author of The Wall visual aesthetic – put it: 'If you invite an artist to do something, you can't argue with them – that's what you employ them for.' I can't believe there were never arguments but it seems the band – perhaps going back to those early days at Regent Street Poly – had huge respect for other professionals. Where it finally went wrong for them was when, among themselves, they ceased to be a collaborative venture.
Pink Floyd: Their Mortal Remains is at the Victoria and Albert Museum, London, until Sunday 1 October
---