A reluctant home worker at first, the Seilern Studio principal has found that it's actually good for focus and almost as efficient as being in the office. She's been hiring during lockdown too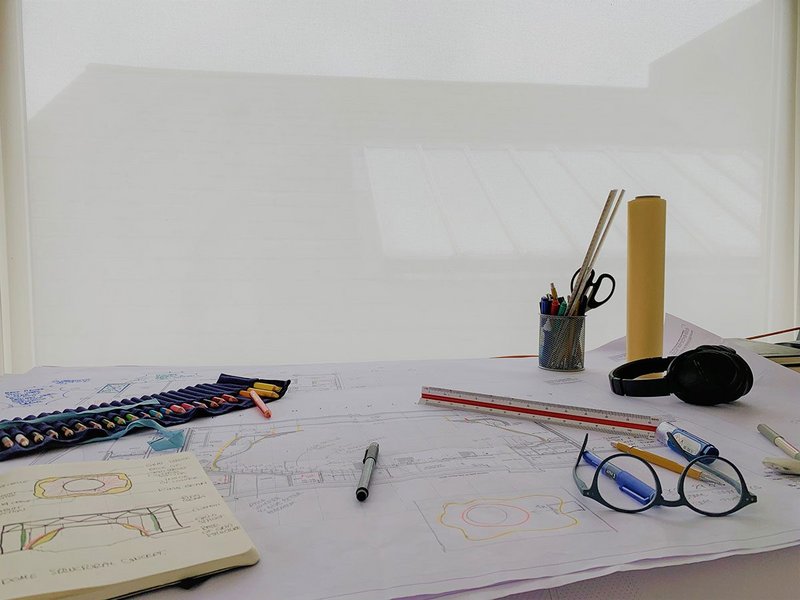 Seilern uses a roll of coloured pencils bought in Venice to develop A1 printouts brought from the office at the beginning of the lockdown.

Credit: Christina Seilern
Just before lockdown began, we had started knocking through to the next door flat at home. We owned it already but as the children are older, we found we needed more space and decided to expand into it. So, I am working in the middle of a construction site in the space that used to be the bedroom of the separate flat and now connects the two. It's not finished yet, behind me things are still being fitted out, but it's all stopped – you can't get sinks and door handles and things at the moment.
I'm working at a desk and computer from the office that I grabbed when lockdown was announced. I didn't have a home workspace before, I would always just go to the office, so it was a matter of finding somewhere to set up at home. It is on the first floor and means that my children, husband and I all have our own space to work and home-school. There's an element of serendipity in how it managed to work out just in time.
The window looks out over the living room roof and skylight. The building is a former Post Office sorting office we bought in 2001 in west London after we moved from New York. We were used to a very horizontal living, but I remember here we were visiting all these very narrow and tall properties. There were three blocks, we have a larger and smaller one. It had already been converted into a theatre, which felt appropriate because I was working on the Leicester Curve with Rafael Viñoly at the time, but this was the only house that could have big open spaces. We converted it into residential, with a flat to let out. We had two tiny children and now have three, we always knew we might need to expand into it later.
Just as lockdown came in, I printed off and brought back huge packs of A1 prints of all our projects – some of them are on my desk. I still sketch parts of buildings and I like drawing directly on them. They are six weeks old now. I've been adding layers of coloured pen writing the date next to them; it's interesting to see how designs are developing all on one sheet but I miss the plotter. We do a lot of pin-ups in the office and have a lot of pin-up space, now we are having to do that by Zoom or Teams. I have my sketchbook out and I'm drawing, taking a photo and sending it over to the team. It's so much faster than doing it straight on a screen. On top of the drawings I have the roll-up set of coloured pencils. I bought them in Venice from the glass museum. Then I have my glasses and noise-cancelling headphones, you can need them with children. I listen to classical music, every month I build a new playlist. They really help focus and enjoyment.
Remote working has been so good for focus actually. No one can come to ask a question, meetings are regular at specific times. It's great for design time, but it is slower in terms of production because teams aren't together.
Before lockdown we'd never done much working from home. I was always nervous of too much travel as time spent out of the office. I had tried to work remotely for a month in summer on a laptop but didn't really know how to do it well. It helps as a working mother and to be able to go away with your children. In the lead-up to the crisis, I was really resisting engaging with the thought of everyone having to work from home. I believed the more time in the office with the team, the better the project. Eventually my team had to come to me and say 'We've really got to talk about this coronavirus and working from home'. My response was 'Don't be ridiculous, it'll never happen' – I was just so nervous it wouldn't work. I was very sceptical.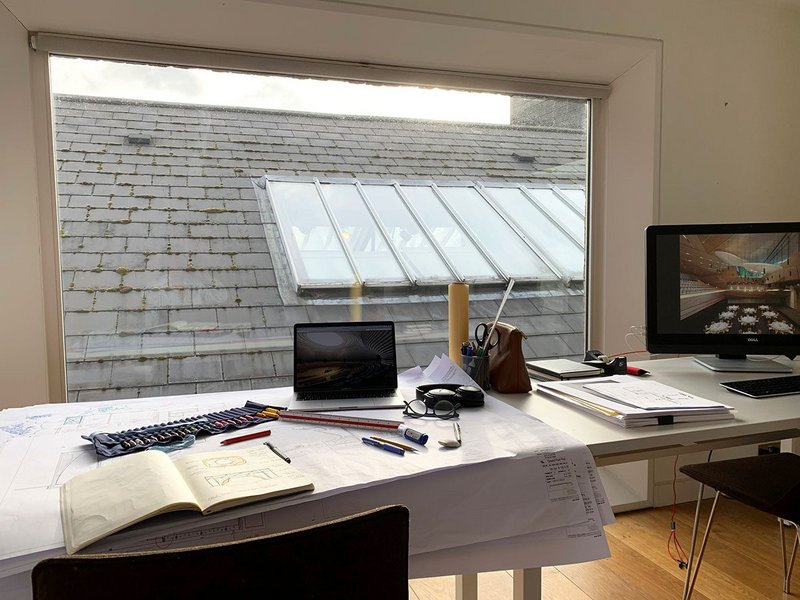 Seilern's home workspace overlooks the living room roof and skylight.

Credit: Christina Seilern
But actually, I've been proved wrong. It has just changed the way we work. We are almost as productive. Internet connections can be an issue. There are pros and cons. People have become very independent. You aren't there so they can't ask questions, people are more confident to input and suggest ideas. The lack of commute is amazing too, and being able to zip downstairs to have lunch with the children. But there is less creative human interaction. And the space you have in an office to pin up and look at drawings 5-7m away is missing. People don't have big walls to look from far and close at home. Now we don't have a model shop either and I miss making models.
Most of the team are working on their own computers and connecting remotely to their office computers. For people who didn't have a large enough one, we provided it. I've been into the office a few times and it's really strange to see all these computers that look like they are operating on their own. Rhino models changing independently. One day I played a joke on a colleague by taking over the mouse and it really freaked them out!
We have several projects going on. The infrastructure and superstructure of our Gouna concert hall project in Egypt are built, we've accelerated the part of the site with colonnades because they want to use it for events. Then we have a couple of residential jobs in Greece, some under construction, some in design, and an extension to a grade II listed private manor. New business, though, has slowed down a lot. Developers are postponing meetings to June or July.
We are mainly just carrying on with existing projects. Working remotely hasn't been that disruptive, we haven't had to furlough anyone. We've actually taken people back, which is nice. There are 18 of us; we've hired a few and others recently came back to work for us after leaving, so it's a changing number. At the start of the pandemic, one girl quit to go back home to Greece but now she's working for us from there – it's no different to her being in London. Before I would have been less open to the idea someone could do that. The reality is it probably works for a while, but is more difficult if you are doing a site. It partly works because we know her. One person we hired after lockdown started so we have never physically met – it's harder for them because they can't just ask the person next to them.
As told to Isabelle Priest. Christina Seilern is principal of Studio Seilern.
Architects at home is a series where architects let us into their work from home spaces. Click on the links to read about the workspaces of Friedrich Ludewig, Mary Arnold-Forster and Meredith Bowles.