Photographs by Ivan Jones in 'Architects' show the profession's women at work in a statement of 'equality, not difference'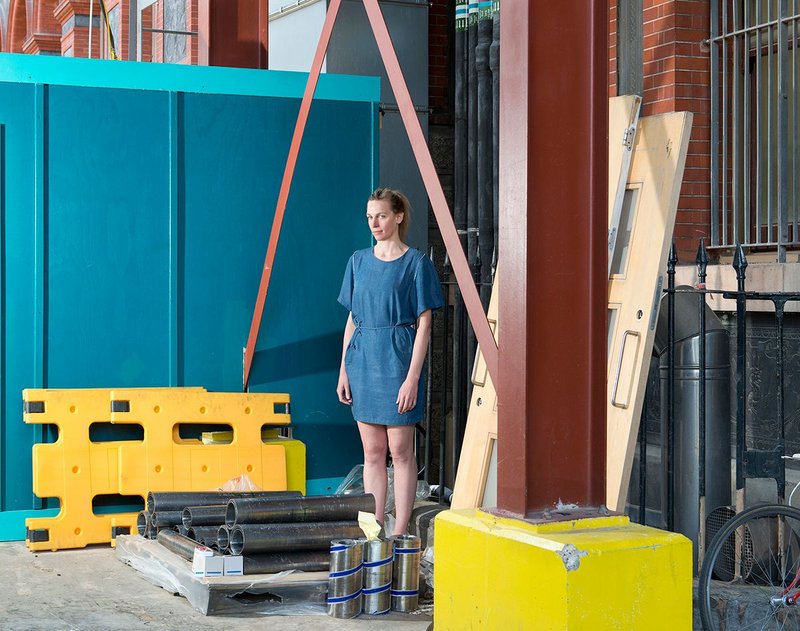 Alice Dietsch of AL_A, photographed by Ivan Jones at the Victoria and Albert Museum Exhibition Road Extension, from the exhibition Architects at the King's Cross Visitor Centre.

Credit: ivan-jones.co.uk
For seven years, photographer Ivan Jones, architect/educator Ruth Lang and graphic designer Patrick Myles have been collaborating on a project to reveal what they describe as the often unacknowledged faces of contemporary architectural practice – the women involved as architects and clients of the built environment.
A selection of the resulting portraits is on show in Architects, a micro-exhibition at the King's Cross Visitor Centre. The organisers have been keen to tread a careful line that raises awareness of the frequently invisible contribution of these women while avoiding patronising them as a special category. In doing so, they aim to show the architects 'framed by their work, not by their gender' in a statement of 'equality, not difference'.
This is tricky territory, acknowledges Lang, a teacher at Central St Martins.
'We're looking at them, not the building,' says Jones, who was keen to photograph them as the strong professionals they are rather than in an overtly feminine manner.
'It's about asserting that they are architects, not a sub class of architect who need special care. They are achieving amazing things but you haven't necessarily seen them,' she says.
The project began when Jones noticed that he was rarely commissioned to photograph women architects in his editorial work on industry publications. The research has been led by Lang, who was keen to choose women – at different stages of their careers and in different roles – who have delivered good quality buildings.
'It's their work and authorship that we're interested in,' she says.
Lang thinks that the low profile of women in architecture can in some cases be down to a slight reluctance on their part to take the limelight.
'Often women say "it's not just me. I'm part of a greater team",' she says.
This exhibition takes these women out of the shadows. Appropriately, they are photographed by Jones in a building in which they've played a pivotal role, but with the woman very much the focal point.
'We're looking at them, not the building,' says Jones, who was keen to photograph them as the strong professionals they are rather than in an overtly feminine manner.
Sara Klomps, an associate director at Zaha Hadid Architects, is photographed beneath the staircase of the diving board in the London Aquatics Centre, for which she was one of two project architects. Alice Dietsch, a director at AL_A, is shown amid building materials on the site of the V&A Exhibition Road project, which she led. Both show, comments Lang, how senior women can be just as invisible in women-led practices.
In an acknowledgement of the diversity of roles within contemporary practice, the series incorporates women who are not working as architects but nonetheless play an important part in realising architectural projects. These include participatory design expert Daisy Froud, for many years a pivotal member of AOC which she co-founded, who is pictured at the practice's Spa School in London's Bermondsey; Pooja Agrawal, co-founder of Public Practice and principal project officer at the GLA, and Morwenna Hall, chief operating officer at Argent. Trained originally as a mechanical engineer, she led the client team for Thomas Heatherwick Studio's Coal Drops Yard at King's Cross.
The exhibition's location within Argent's regeneration of the King's Cross railway lands is a pertinent one, close to projects by several of the protagonists in the photographs. Mary Duggan is photographed in front of the pink walls of the K7 building, which she designed when at Duggan Morris. Alison Brooks is shown in what will be the garden of the forthcoming Cadence Court residential development at King's Cross. At Coals Drop Yard, just across from the exhibition venue, Hall is pictured not with the project's flamboyant 'kissing' roof, but against one of the original brick walls, whose retention was fundamental to the building's regeneration strategy.
Above all, these are appealing portraits. I particularly like the contrasting horizontal/vertical theme of the image of Hana Loftus of HAT Projects, photographed at the Jerwood Gallery in Hastings.
The exhibition, which also includes a number of architects working in other countries including Iceland, Norway and Turkey, is very much part of an ongoing, evolving project. This might in time lead to a publication, which would allow for a greater exploration of the experiences of the women featured and what has inspired them in their work.
---
Architects Portraits by Ivan Jones, until 1 September, King's Cross Visitor Centre, 11 Stable Street, King's Cross, London N1C 4AB