Who was Barry Parker? The quieter co-designer of the world's first garden city gets his first exhibition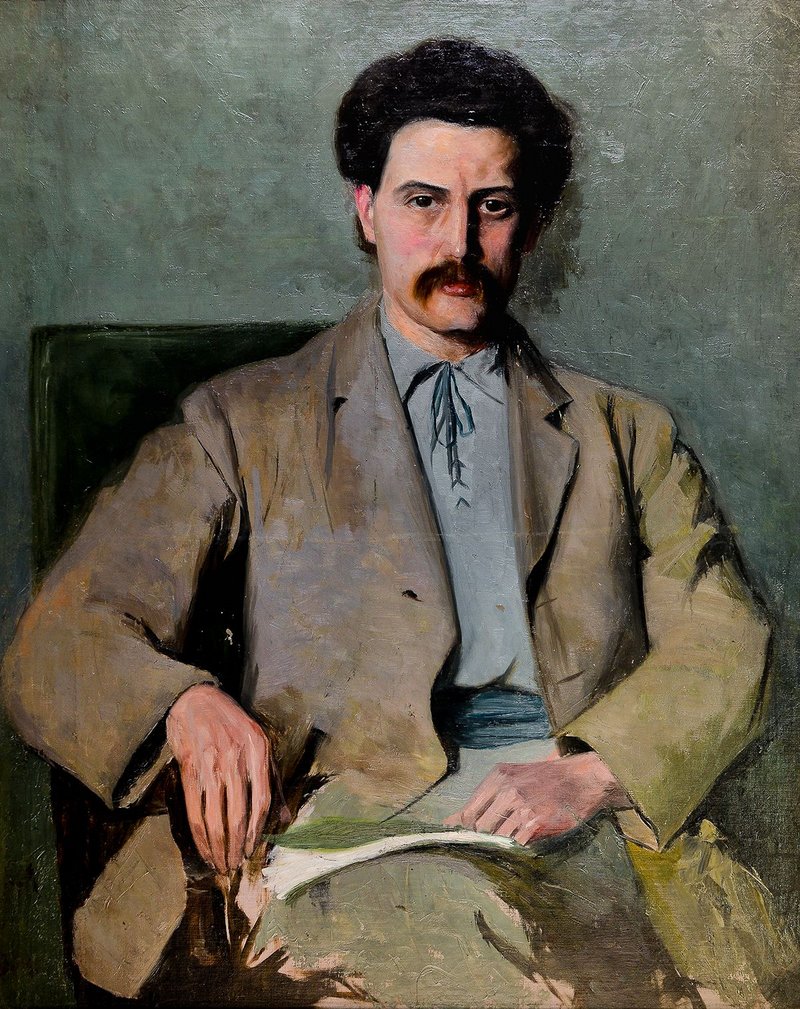 Oil portrait of Barry Parker (1867-1947), artist unknown. Courtesy of the Garden City Collection. From Barry Parker: Architecture for All at the Broadway Gallery in Letchworth.
He was the co-architect of the world's first Garden City at Letchworth, yet until now, there has never been a major exhibition about the work of Barry Parker (1867-1947).
Barry Parker: Architecture for All, fittingly held in Letchworth Garden Suburb, puts this right by giving centre stage to the man who, in collaboration with his business partner Raymond Unwin, created the template for the Garden City model that was to prove so influential. Both were driven by their belief in the power of well-designed homes and well-planned places to improve quality of life, says Vicky Axell, curator of the Garden City Collection from which the exhibition is drawn. She regards the lesser known Parker as the 'unsung hero' of the Arts and Crafts movement, and the exhibition advocates his status as one of the most important British architects of the last century for both his work with Unwin and afterwards.
'Right from the off he and Unwin were passionate that good architecture should belong to everyone, and not just those who could afford it,' she says.
Parker and Unwin set out their stall in the influential publication The Art of Building a Home in 1901, which at a time of overcrowded and polluted city centres aspired to practical and beautiful homes for all with good community facilities to promote social cohesion. This became a manifesto for the Garden City Movement and, decades later, an inspiration for the post-war New Towns. Parker and Unwin won a competition to design Letchworth Garden City in 1902 ­ – and also designed New Earswick near York for Joseph Rowntree and in London, Hampstead Garden Suburb, founded by Henrietta Barnet. After the two dissolved their successful partnership in 1914 Parker remained committed to improving the standard of working class housing both home and abroad. He advised on plans for Porto in Portugal in 1916 and Jardim América in a suburb of São Paulo in Brazil. In Manchester, from 1927-41 he oversaw the design and building of Wythenshawe, which can be thought of, says Axell, as bridging the gap between the Garden City and the New Town movement. At the same time, commissions for three private homes – the Hilltop in Caterham, The Coppice and The Den in Letchworth – allowed him to experiment with his house designs. All these projects, both individual and large-scale housing, are represented at the exhibition.
It is striking how relevant his work is today – a century on – at a time of crisis in housing affordability and with average home size shrinking. Inspired by arts and crafts movement ideals and the writings of John Ruskin and William Morris, Parker's ideology prioritised equality, utilising sunlight and a harmonious approach. He was careful in the orientation of streets and houses to make the most of sunlight and advocated maximising connections to the outside.
Axell describes his approach as a very pared-back style of arts and crafts, often with bare brick and a single piece of art on the wall. He built in flexibility through the use of concealed sliding doors that could open up larger spaces for gatherings but be closed off for quieter contemplation. Influenced by European architecture, he favoured a co-ordinated, approach to all aspects of design, and in his individual house projects his role often encompassed everything from house and interior to garden, murals, and furniture.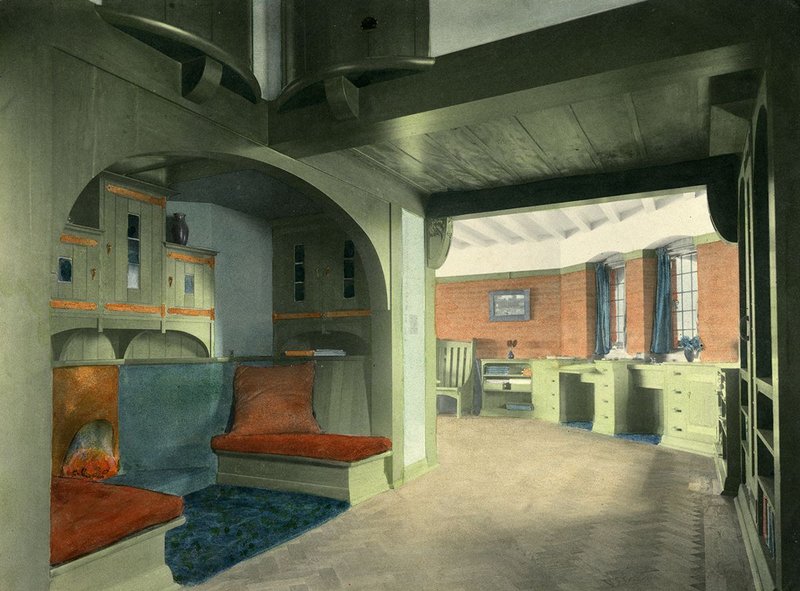 Barry Parker (1867-1947). Coloured photograph: The interior at Hilltop, a house in Caterham, c 1909. Courtesy of the Garden City Collection. From Barry Parker: Architecture for All at the Broadway Gallery in Letchworth.
Bespoke, well-crafted furniture was a particular interest, allowing him to be more adventurous in the geometry of his rooms. Inspired by medieval halls, he developed the concept of the 'houseplace', which reinvented the hallway into more of a social space, although his idea of open half turn staircases and coal stores tucked into a front porch did not meet with the approval of early residents at New Earswick and were subsequently revised. Inglenooks were also a favourite element, sometimes with a porthole-style window carefully positioned to allow someone sitting by the fire to read with the last of the sunlight.
Why isn't Parker better known? Oxford-educated Unwin went on to be chief technical officer for housing and town planning, was president of the RIBA from 1931-33 and received the RIBA Royal Gold Medal in 1937. He had been the speaker in the partnership with Parker and perhaps, thinks Axell, his more gregarious nature was a factor along with a bit of class snobbery. Parker, who retained his Derbyshire accent, was driven by his overriding commitment to improving the design of housing for everyone and was more likely to work for private clients such as TA Leonard, founder of the Co-operative Holiday Association, and industrialists from the north, than the fabulously wealthy.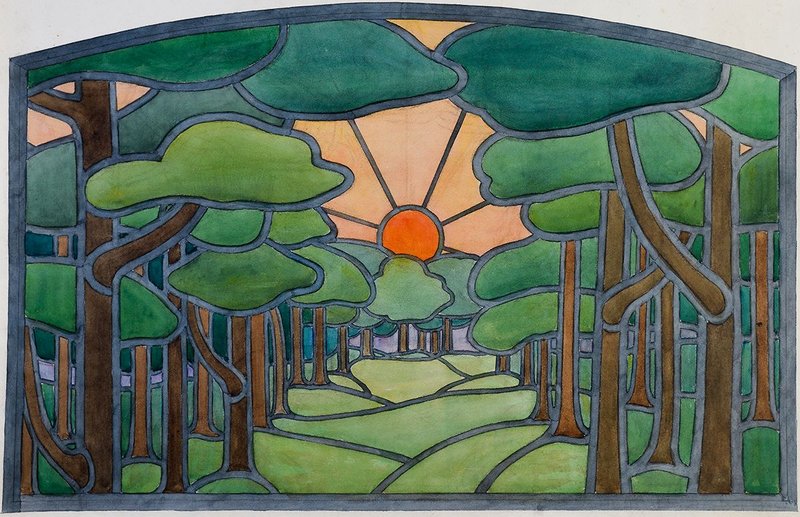 Barry Parker (1867-1947). Watercolour of a stained glass design for unknown house. Courtesy of the Garden City Collection. From Barry Parker: Architecture for All at the Broadway Gallery in Letchworth.
Axell, who also wrote the new book Barry Parker 1867-1947, Architecture of Harmony, Sunlight and Quality (using research by Dr Mervyn Miller, Parker Scholar to the Garden City Collection), hopes that this overdue focus on Parker's work will help raise awareness of his major contribution to 20th century housing design.
'I just want people to know who he was and to be aware of his work, and even be inspired for their own home,' she says.
As part of Barry Parker: Architecture for All, Parker's own home and studio in Letchworth will be open, and all items in the Parker Collection are searchable online. And as Axell says, Letchworth itself, Parker's most important legacy, is the exhibition as well.
Barry Parker: Architecture for All 4 May – 15 July 2018, Broadway Gallery, Letchworth Garden City
---