… but it's not as rosy as it sounds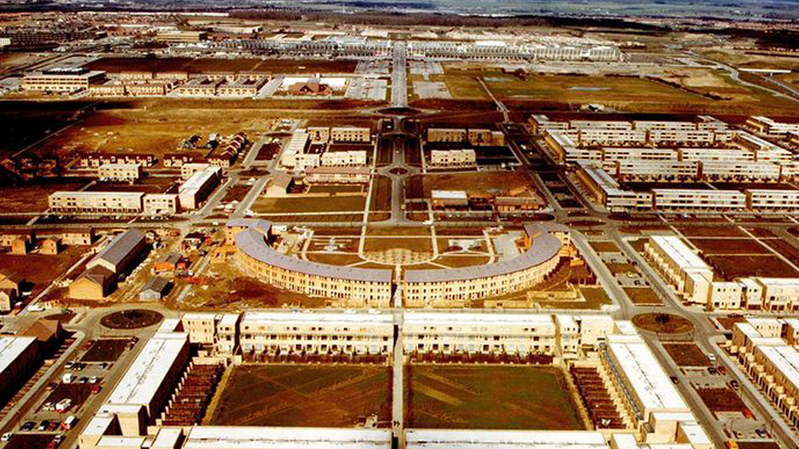 In the strip 'Strontium Dog' Milton Keynes was the homeland of the mutant population of a mutant-hating Britain: a despised ghetto with a gleam of liberation and transgressive licence. Credit MKDC
The term 'garden village' brings to mind the words 'polite notice'. If you have to say it like that, do you really mean it? In the first days of January, the Department for Communities and Local Government announced the locations of 14 new 'garden villages' to supplement the 'garden towns' that have already been announced several times. 'Garden villages' were dreamed up by the Policy Exchange think tank – a housing pill for the Tories so small and floral-scented that even the nimbiest NIMBY might be able to swallow it.
The distinctive aspect of the scheme was that these would be distinct units with their own identity, not additions to existing towns or villages. This adds 'far away' to 'small' and 'unobtrusive', completing the holy trinity of NIMBY planning stipulations. But nevertheless we appear to have drifted fairly far from Ebenezer Howard's original 'Garden City' vision, in which 'city' was at least as important as 'garden'. It was not an escape from town to the country, but combined the better aspects of both. It was very much a place to work and spend money, not a distant dormitory. The out-of-town office park and industrial estate are as much a part of Howard's legacy as Letchworth and Welwyn.
It's too early to be entirely dismissive, but we can be reasonably certain that 'garden village' is a political euphemism. It is designed to soothe rather than enthuse, functionally identical to its conceptual predecessor, Labour's 'eco-towns'.
Milton Keynes was the homeland of the mutant population of an irradiated, theocratic, mutant-hating Britain
The 'garden village' announcement came at a time of anniversaries. Milton Keynes turned 50; the British science-fiction comic 2000AD turned 40; and my parents celebrated their ruby wedding. My long promised attic clearance for them on the occasion turned up boxes of 2000AD from the 1980s. Many of these would have been bought in nearby Milton Keynes at its annual comic sale.
The epitome of the bolder 'new towns' that followed the garden cities, Milton Keynes has spent its first half-century as a punchline, serving as a comedian's archetype of a terrible place to live. Part of the problem was the name, Milton Keynes. It had that same whiff of euphemism. Too villagey, too gardeny. Its Englishness is a little off-the-shelf – not so much Bypass Vernacular as Civil Service Bucolia. This was at odds with my impression of it, formed entirely by the plaza approaching the central station, a wireframe isometric come to life. Somehow both flashy and restrained, it was a morsel of Superstudio dropped into Buckinghamshire. It was interesting, for a Briton accustomed to urban form as a matter of accretion and compromise, to look at a place planned from scratch. I couldn't understand why the kind of generosity its boulevards and rain shelters showed towards pedestrians wasn't more widespread.
Both utopian and provincial, Milton Keynes was a gift to 2000AD. In the strip 'Strontium Dog', for instance, Milton Keynes was the homeland of the mutant population of an irradiated, theocratic, mutant-hating Britain: a despised ghetto with a gleam of liberation and transgressive licence. Not quite the image that the Commission for New Towns was striving to project but a little more exotic and promising than the dreary image the town had unfairly acquired.
It was, however, still being played for laughs, and part of that problem must have been that mealy-mouthed name. Euphemism might soothe concerns, but it also throws a damp cloth on expectations. By contrast one of the newly announced settlements has the intriguing name 'Infinity Garden Village'. If only 2000AD had been around 10 years earlier to give Milton Keynes's planners some inspiration. We might have ended up with Mega Bucks One.
---
Will Wiles is a journalist and author
---
NEFARIOUS PLANNERS
I understand that Steve Bannon, President Trump's chief strategist, has a degree in urban planning. Alongside a jolly interest in global religious war, this is a characteristic he shares with Mohamed Atta, one of the mass-murderers who struck the USA on 11 September 2001. At a time when the reputation of planning is at a fairly low ebb, this is the last thing the profession needed.
---