That doesn't mean the show isn't as worthwhile as ever, with ideas for tackling carbon, waste and social justice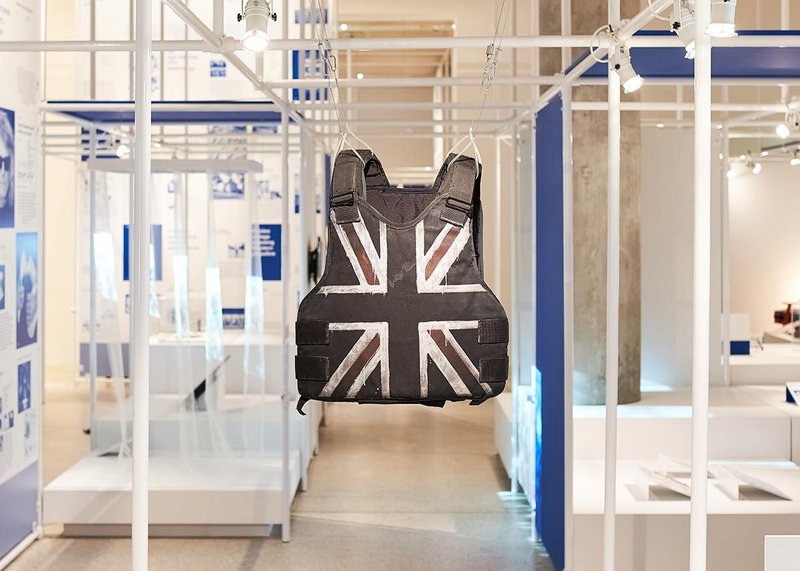 Stormzy's stab-proof vest by Banksy at the Beazley Designs of the Year exhibition.

Credit: Felix Speller for the Design Museum
Like the Royal Academy's much-delayed summer show, the Design Museum's annual Beazley Designs of the Year exhibition faced a timing challenge. Although the exhibition wasn't held up, the designs featured are drawn from the (largely) pre-Covid times of January 2019 to January 2020, which now feel like a world, and much longer, away.
So we'll have to wait until next year to review the huge impact of the pandemic on design thinking, with the exception of a couple of exhibits relating to the very early weeks of Covid-19, such as the astonishingly fast construction of a 1,500-bed hospital in Wuhan in just 12 days.
That's not to say this diverse spread of 71 design projects, nominated from across the disciplines and around the world, isn't as worthy as ever. Nor that the issues they respond to aren't still highly relevant, such as designs that minimise carbon, devices to assist civil protest, vegan food and fashion, and graphics that convey gender fluidity. Rather predictably, there's Stormzy's stab-proof vest customised by Banksy, and the Stirling Prize-winning Goldsmith Street housing, but I always feel there's more interest to be found in seeing the many projects that aren't already well known and celebrated, and this year is no exception.
Overall it's visually quite low-key, constructed from a scaffolding-like exhibition system. While there's a great deal to enjoy, I don't think the exhibition organisation does the visitor many favours. Rather than arranged by the six design categories or by inter-disciplinary themes, this year's exhibits are presented chronologically as a countdown to Covid-19 in a mix of disciplines, making it harder to assess each category as a group. According to curator Emily King, the intention is to offer a frame for exploring the future as well as an assessment of the past. However the viewer has to work harder to make connections and detect themes for themselves. And architecture (see the nominations below), always the hardest category to convey, suffers in comparison to last year, when films were made of all the nominations and shown one after the other on a large screen.
This year there's another crop of innovative materials all aimed at finding less carbon-producing solutions, from biodegradable Lucozade Sport Ooho drinks capsules made from seaweed and plants to the MarinaTex packaging film made from red algae and fishing industry waste to the recyclable Soluboard circuit board. Fashion range Nothing New was created entirely out of local waste fashion products by Phoebe English. And there's the great idea of the DO Black carbon emissions credit card, which somehow calculates the environmental impact of each purchase. The cardholder will have a CO2 emission limit, which will over-ride the credit limit when reached.
Conflict/social justice-related designs are also notable in nominations such as the Stormzy vest, the brick arches used by Hong Kong pro-democracy protesters and the Reflectacles Privacy Eyewear glasses designed by Scott Urban that counter the use of non-consensual facial recognition systems. There's also The Uncensored Library – an open virtual library full of real banned texts from around the world, located somewhat unexpectedly within the Minecraft game.
The Beazley Designs of the Year winners will be announced on November 26. Below, we pick out a few highlights from the show:
Moments of Clarity – Footage of Norwegian fashion designer Fredrik Tjærandsen's collection provided the most stunning images in the exhibition. For the catwalk show, models emerged encased within giant balloon dresses of natural latex rubber which then theatrically deflated, and miraculously reconfigured around the models' bodies as new outfits.
UCCA Dune Art Museum – This rather intriguing new art gallery is submerged in dunes on the north China coast. Designed by OPEN Architecture, this largely subterranean gallery creates a series of cave-like spaces with skylights to bring in natural light. The museum aims to protect the fragile dune ecosystem by burrowing down into the landscape rather than creating a more visible development.
Indus – Froyle Potter's tiles have always been things of beauty. In this collaboration led by UCL's Bio-ID Lab, they take on an additional role by forming a wall of modular tiles that clean wastewater. The shape of the Indus tiles is inspired by the structure of a leaf, with vein-like channels shaped by an algorithm. These veins contain microscopic algae capable of absorbing toxic substances.
Parasite set – If you saw Bong Joon Ho's Oscar-winning film, you'd have probably come away remembering the architecture as much as the plot. Lee Ha Jun's set-design is a quirky entry in the architecture section, created from a simple sketch by the director. Film footage of the film set in the exhibition gives a good idea of the narrow streets where the poor family live rather than the splendid modernist mansion of the wealthy family, which was actually a composite of four separate sets. Other film exhibits included the de-ageing technology employed in The Irishman on Robert de Niro and Harvey Keitel.
K–Briq – This unfired building brick is formed from 90% recycled construction and demolition waste, the highest recycled content of any brick. According to manufacturer Kenoteq, since it doesn't need fossil fuel or firing to produce, it releases a tenth of the carbon emissions in its production compared with traditional fired-clay bricks. Designed by Gabriela Medero and Samuel Chapman.
The Station of Being – This immersive bus stop in Umeå, Sweden, is a rather lovely idea, incorporating a group of small timber pods that give passengers somewhere to retreat into as they stand waiting for their bus home. A smart roof alerts passengers to which bus is about to emerge by using a sound and colour for each line, allowing those in the pods to lean back and relax while they wait. Design is by Rombout Frieling Lab and Research Institutes of Sweden, Umeå.
ARCHITECTURE CATEGORY NOMINATIONS
Goldsmith Street, Norwich, designed by Mikhail Riches with Cathy Hawley
Housing No.8 (Laboratorio de Vivienda), Apan, Mexico, masterplanner by MOS
L'Arbre Blanc, Montpellier, France, designed by Sou Fujimoto
Leishenshan Hospital, Wuhan, China, designed by 10,000 workers
Lin'an History Museum, Hangzhou, China, designed by Amateur Architecture Studio
Material Institute, New Orleans, USA, designed by Assemble
ModSkool, northern India, designed by Social Design Collaborative.
Parasite set design, South Korea, designed by Lee Ha Jun
UCCA Dune Art Museum, northern China, Designed by OPEN Architecture
Z33: House for Contemporary Art, Design and Architecture, Hasselt, Belgium, Designed by Francesca Torzo
---
Beazley Designs of the Year, until 28 March 2021, Design Museum, London