What has happened in architecture in the 125 years of The RIBA Journal's existence? To bring context to our birthday, Hugh Pearman went to the ever changing city of Berlin to find out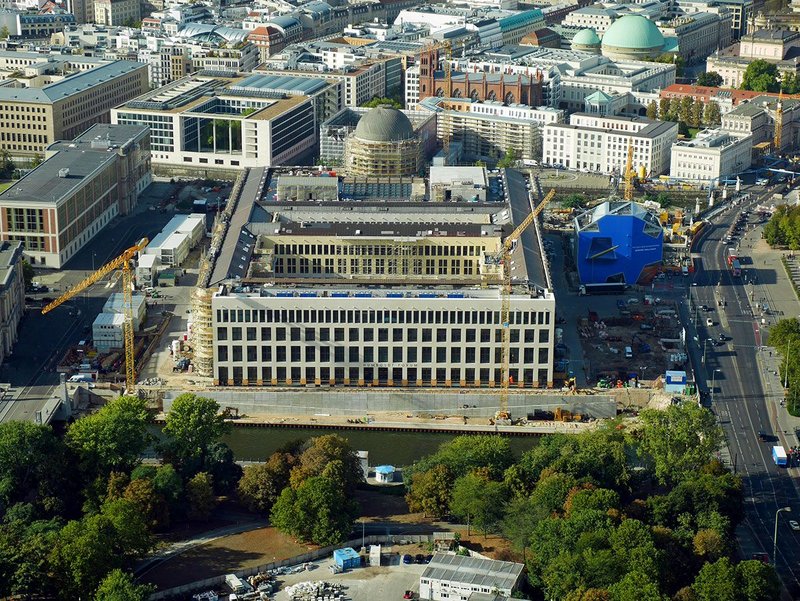 Nearing completion – Berlin's astonishing Stadtschloss, an architectural parable. This is its modernist elevation.

Credit: Hugh Pearman
Because it is well built, after a while this curious and enormous hybrid building starts to seem entirely normal
Berlin always repays attention, its architecture shaped by power, wealth, construction, destruction, division, reunification, rebuilding. Since the Wall was breached in November 1989, Berlin has been the world's testbed for rethinking and remaking the historic city, a process which it has been amazing to watch over the years. There is no better place to consider the state of architecture, 125 years after this magazine was founded.
Ascend the wonderful (if very destructive when built) relic of the East German (DDR) regime, the 1960s observation and TV tower at Alexanderplatz, and today you see a still predominantly low-and mid-rise city stretching to the horizon. Look down and south-westwards and close by you see the ultimate architectural parable for our times: the nearly completed, brand-new-yet-ancient Berliner Schloss which is to be the enormous home of Berlin's latest museum – the Humboldt Forum which is intended to rival the British Museum. Indeed, former BM director Neil MacGregor is a founding director of the project.
The Berliner Schloss or Stadtschloss is the city's baroque palace, originally dating from the 15th century and reaching its final form in the mid 18th century, probably to the posthumous design of court sculptor-turned-architect Andreas Schluter. Prince-electors, kings and until 1918 emperors lived there. Burnt out through bombing during the Second World War, its carcase was later demolished by the East German regime to make way for their own 1970s Communist Palast der Republik, a combined parliament and cultural centre in bronze glass and stone that was by no means a bad building despite being riddled with asbestos: were it in the UK it would have been a candidate for listing. But just as the DDR preferred to lose a historic building that symbolised Prussian imperialism, so the new Germany was uncomfortable with a recent building that symbolised the communist East. Despite protests and the fact that the asbestos was removed, the Palast in turn was demolished in 2006-8. Simultaneously came the government's decision to rebuild the Stadtschloss.
And so, at huge expense to state and private donors, it has come to pass. The original palace has now been rebuilt in faithful replica and will open next year. But only majority replica because – thanks to the competition-winning design of Italian architect Francesco Stella – its north-east (rear riverside) elevation is an entirely modernist stone facade butting up against the faithfully reproduced baroque flanks of the building. This mix of replica-baroque and modernist facades continues in two of the building's internal courtyards, in those cases three-quarters modernist and one-quarter replica baroque. Interior spaces are proportioned such that while they work just fine for a museum now, replica rooms from the old palace can be built inside at a later date should the money be found. The windows are remarkable combinations of historic authenticity and high-performance museum-grade climate controllers. All in all – as I discovered while being shown round the deserted building at sunset, roosting starlings chattering in the tower crane that was about to start the copper cladding on the dome – the whole place messes with your mind.
Or rather, it does if you are British and have a received British idea of historic authenticity and truth in buildings as handed down from William Morris, born the same year the RIBA was established and still living at the time the RIBA Journal was founded. If you are German, though – where faithful reproduction of lost buildings is entirely normal, witness the rebuilt Frauenkirche in Dresden which is an undoubted wonder – this seems not to matter so much. Besides, it was by order of the Bundestag that the building was made with an acknowledgment of its newness in its modernist (if classically-proportioned) parts. So that was something of a departure even if they could not bring themselves to preserve any part of the DDR Palast. Because it is well built, after a while this curious and enormous hybrid building starts to seem entirely normal, especially when you consider our own near-universal agreement that Mackintosh's twice burnt-out Glasgow School of Art should be rebuilt in replica, including disassembly and rebuilding of unstable walls. Apart from the fact that in the case of the Mack its history has been continuous, is that so very different?
A few hundred yards downstream from the Stadtschloss, past the still more baroque Lutheran cathedral and the long, Enlightenment facade of Schinkel's restored Altes Museum, you are in Museum Island, another of Germany's great post-reunification cultural projects. David Chipperfield has been working here since winning the 1997 competition with Julian Harrap to rebuild the war-damaged mid 19th century Neues Museum by Friedrich August Stüler. This was completed in 2009 in the British manner of showing and celebrating the marks of history, damage and repair. Now he has another contribution nearing completion here: the all-new James Simon Gallery which will double as the key entry point and distributor for the whole museum complex.
Built on the site of Schinkel's long-vanished Neuer Packhof customs house and warehouse (one of its original long wooden piles is displayed in the new building) the James Simon Gallery is in its very different way as strange a building as the Stadtschloss. As much a public promenade as a building (what Chipperfield calls a 'built topography' as the older buildings are), most of its bulk is below ground, even below the waterline of the canalised arm of the River Spree here, which caused some construction problems. It too is now nearing completion. Aesthetically it is all about the slender giant-order stripped-classical colonnade that Chipperfield designed to 'complete' the existing Stüler colonnades in this museum district, linking most of the various museums above ground as they will also be at basement level.
This project is thus as much about public space and circulation as it is about containment and exhibition display and, once again, it shows a very particular engagement with history. Where have we got to in 125 years, you ask? Oddly enough, right back where we started, with the quest for a pure, dignified architecture appropriate to our times and responsive to history and the classical tradition. For everyone who thought architecture would all be about walking titanium pods by now, sorry to disappoint. There is plenty of wild shapeism around of course – no shortage of that technologically-enabled strand of architecture and some of it is glorious. But there is also still a market not only in reproduction, but more fruitfully in the architecture of permanence, cartesian civility and rich historical allusion.
---
Timeline
1538 first Stadtschloss built
1950 Stadtschloss ruins demolished
1976 Palast der Republik opens on Stadtschloss site
1990 German reunification
2008 demolition of Palast der Republik
2007 government decision to rebuild Stadtschloss
2008 Francesco Stella wins competition
2013 Stadtschloss rebuilding starts