Royal Gold Medal winner's commemoration of Mahatma Ghandi is unashamedly diminutive, banishing stuffiness with restful, open spaces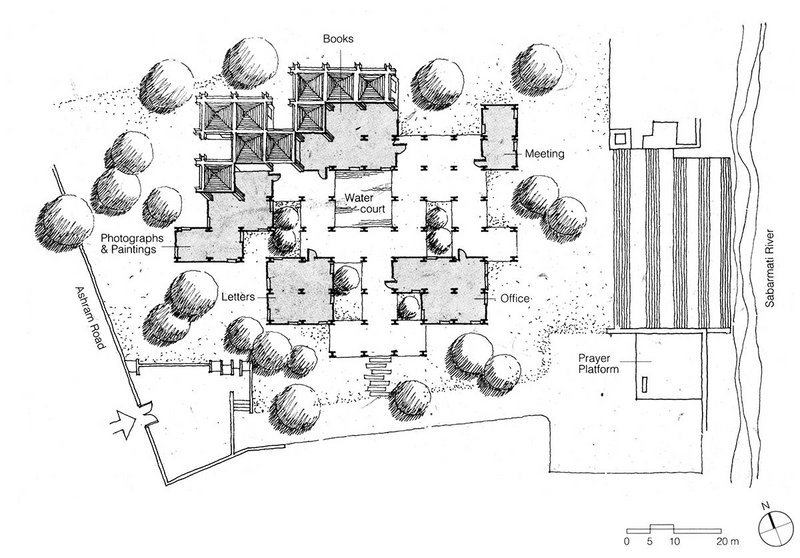 Sketch plan of the Gandhi Smarak Sangrahalaya, designed when Correa was in his thirties.

Credit: Charles Correa Foundation
Royal Gold Medal winner 1984
Gandhi Smarak Sangrahalaya, Ahmedabad (1963)
Big national monuments are designed to stun us into silence. Take two very different examples: the Valle de los Caídos outside Madrid is a neoclassical ode to fascism that is rich in Spanish symbolism; the Holocaust Memorial in Berlin takes fascist ideologies and deconstructs their sense. But the architecture of both is scaled to bear the weight of history. We're supposed to shut up and reflect. And when scores of dutiful school children break the shackles of their trip to use Peter Eisenman's blocks as a playground, the knowing public frowns.
The Gandhi Smarak Sangrahalaya, completed by Charles Correa (1930-2015) in Ahmedabad in 1963 is, by contrast, unashamedly diminutive. It commemorates Mahatma Gandhi, who lived there from 1917-1930, and who himself stood at a modest 5ft 4in. As Correa noted, the building is 'human-scaled, unpretentious and modest', thus faithfully expressing the ascetic message of India's founding father.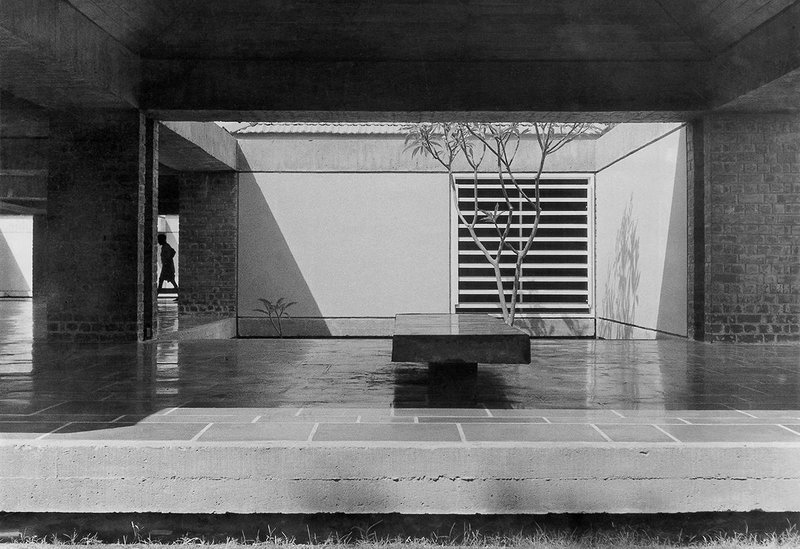 Gandhi Smarak Sangrahalaya's modular plan spills out into courtyards, marked out by large concrete beams.

Credit: Charles Correa Foundation
Formally speaking, the building is unremarkable. Plinth beams elevate the structure to lend it a degree of weightlessness, but if leaves had been used on the roof instead of tiles, perhaps Laugier's ideal of the Primitive Hut was never more faithfully constructed.
Conceptually speaking, there is much to sink your teeth into. A modular system laid out on a 6m x 6m grid allows for the archives to expand. The units are haphazardly clustered into something approaching a village. You don't so much trudge through the museum as meander. Correa would return to thinking in modules in everything from his luxury Kanchanjunga apartments to the affordable Belapur Incremental Housing.
At the Smarak Sangrahalaya the young Correa also began to develop a theory of museum design that he would refine over the course of his career. His observation that bored visitors must be allowed to rest from their looking and learning holds even truer today. As you wander through the windowless museum, interior space spills out into 'open-to-sky' courtyards. Correa thereby both literally and metaphorically dispels stuffiness.
Given the tendency today to create memorials of bombast, where the opportunity to make sculptural architecture is rarely spurned, the museum shows us another way. Why bully your public into behaving in a certain way? Why aim for awe? Correa does not force us to be silent, he coaxes it out of us.
More Royal Gold Medallists and other highlights of RIBAJ's 125 years here