The Royal Gold Medal winner's cigarette factory for PJ Carroll featured an infinitely extendable 'free plan' that was years ahead of its time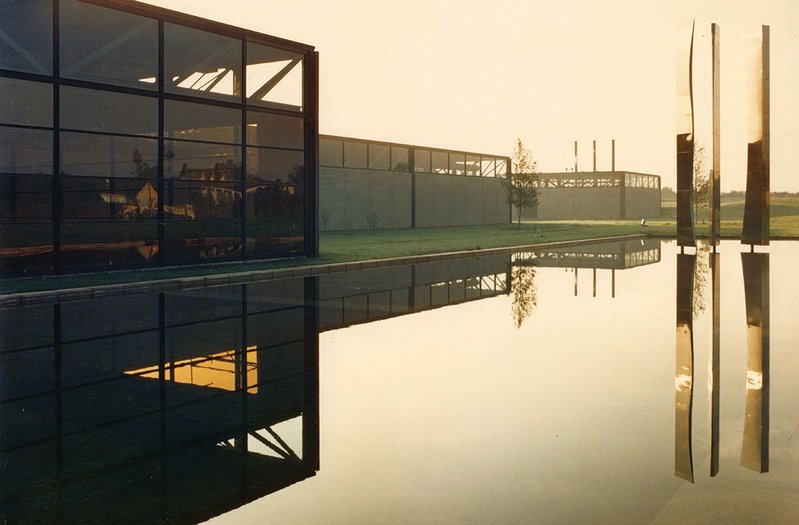 PJ Carroll's factory in Dundalk, County Louth. The ornamental lake with reflective mobile sculpture, 'Sails', by Gerda Froemmel.

Credit: John Donat/RIBA Collections
Royal Gold Medal winner 1975
PJ Carroll Cigarette Factory, Dundalk, Ireland (1970)
While there is pure admiration for the architect who devotes a lifetime to mastering their art, it's tinged with envy for those that find success despite Epicurian diversions. Michael Scott (1905-1989) was just such an architect; an indispensable part of three practices that for 40 years set the course of post-war Irish modernism.
Despite a passion for acting, he was articled to a Dublin firm from 1923, and committed to the 'serious' practice of architecture. His natural confidence served him well in courting work from government and church – as well as socially. In his 1989 eulogy, close friend Peter Palumbo remembered him fondly as a 'legendary raconteur and affectingly convivial'. Scott once told friend Dorothy Walker of an inadvertent big night out with Hollywood actress Anna Mae Wong before she sailed from Dublin for Liverpool. He boarded her boat and got 'rather tight…I'm not really clear as to what went on, but I do know the next day the boat arrived in Liverpool…' The first architect to have the Gold Medal presented in person by the Queen, Scott, larger-than-life, was the epitome of the debonair bon viveur.
By 1938 he was a stateside celebrity. Securing Gropius and Mendelsohn to lecture in Ireland, Scott's love of Corbusian modernism manifested at his home, Geragh, Sandycove, and later that year he won the commission for the Irish Pavilion at the New York World's Fair. Shamrock-shaped in steel, render and curtain walling, it won him 'best in show' and honorary citizenship of New York – all before qualifying. The win set him up with work in Ireland; by 1952's Donnybrook Bus Garage and 1953 Busáras in Dublin with Ove Arup, his style of humanist modernism was defined.
When PJ Carroll's cigarette factory was designed in 1967, his practice had moved into Miesian modernism. But if you're seeing the influence of Mies' Crown Hall at IIT, look again. 'Cross potent' steel columns made Carroll's infinitely extendable – as it was, twice. The long-span trusses might have played up his structural expression but the design concept downplayed Mies' closed, classical monumentality; inspired more by the domestic yet infinite modularity of Katsura Villa in Kyoto. At 2.3m high, the trusses formed the service void, and their 20.6m maximum span became the factory's de facto module. Trusses would be used to greater effect in Scott Tallon Walker's 1973 Goulding House in Wicklow, cantilevered dramatically over the River Dargle, but partner Ronnie Tallon thought Carroll's the firm's best design. And 12 years after Scott's death, with its 'free plan' easily converting into Dundalk Institute of Technology, time may have proved them right.
More Royal Gold Medallists and other highlights of RIBAJ's 125 years here