Remember Koolhaas's Delirious New York? Maybe it marked the end of an era for Manhattan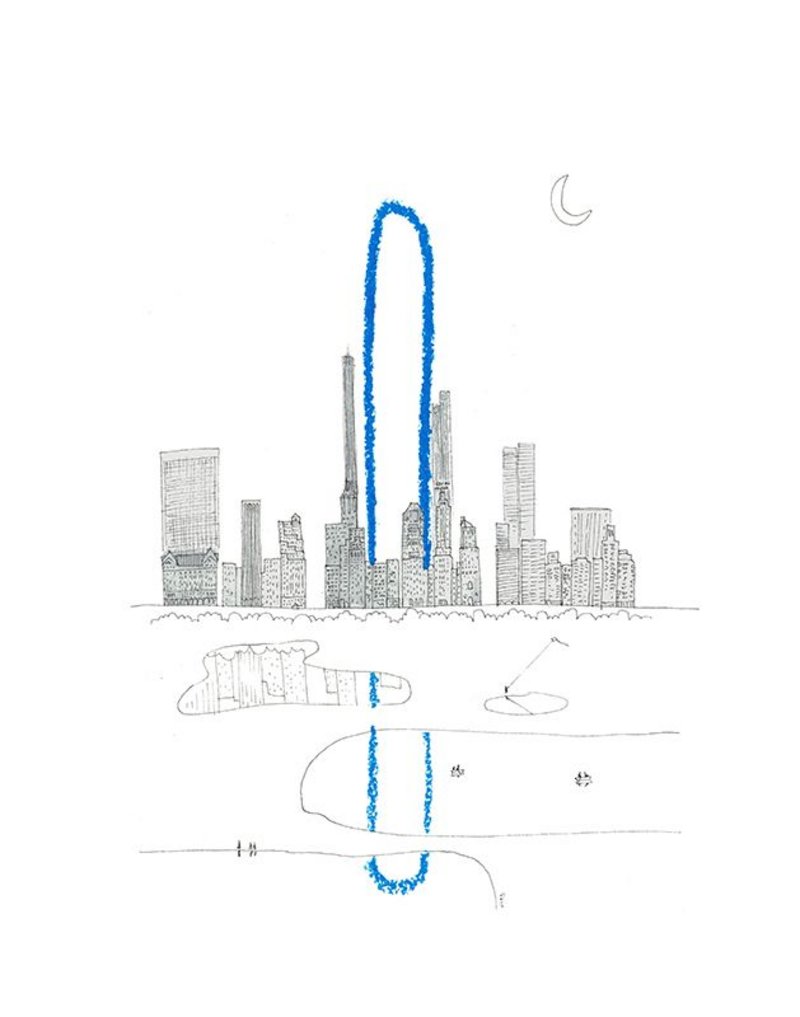 Oiio's provocation, a paper clip design for New York they call The Big Bend.
Manhattan has been much on my mind lately. Port, the style magazine where I keep the architecture and design brief, made its spring/summer 2017 issue a New York special, and as part of that I wrote about Manhattan's curiously industrial, Gothic – Gothamic – feel. The island is as much defined by accidental features of the urban scene as it is by landmarks: think of the iron fire escapes, the water tanks, the steaming manhole covers. Other cities make distinctive street furniture part of their image, such as the ornate art nouveau Metro entrances of Paris, or Hull's white telephone boxes. But those are consciously decorative, they are designed; and although New York has a few very fine decorative fire escapes, the ones that form the mental picture are the utilitarian black zigzags that still seem to be half of the built form of some parts of the city.
Naturally, it's impossible to think about Manhattan's distinctiveness without remembering Rem Koolhaas's Delirious New York. The 'retroactive manifesto for Manhattan' is, incredibly, stealing up on its 40th birthday, its powers undiminished. But it was a melancholy couple of months to reconsider the text. The Waldorf Astoria hotel, subject of my favourite chapter of Delirious New York, has closed its doors. Koolhaas presented the Waldorf Astoria as an early 20th century megastructure, a cybernetic city-within-a-city that prefigured the utopian speculations of later decades.
But now it is to be turned into apartments for the wealthy. The fabric will remain – it is well protected – but the function will go. Of course, we can't let sentimentality obscure the fact that the building was very much for the wealthy before its conversion. It's not exactly social cleansing. But hotels are public space in a way that apartment buildings are not, even if that space is privately owned and subject to the most stringent proscriptions. A night in the Waldorf Astoria was far more likely – or at least easier to imagine – than a lease in the Waldorf condos.
Phallicism is over-diagnosed in skyscrapers, but in the case of the Kushnerdome on Fifth, it's hard to evade
In place of the shadow-sculpted spectres of Hugh Ferriss's ideal skyscraper forms, and the civic grunt of Raymond Hood's Rockefeller Center, the latest proposals for the Manhattan skyline are the skinny and shiny brigade. Kushner Companies, the property firm of President (at time of writing) Trump's son-in-law, unveiled plans for a tower on Fifth Avenue, a Zaha Hadid Architects-designed rectal thermometer. Phallicism is over-diagnosed in writing about skyscrapers, to a degree far beyond cliché. Most towers do not look anything like that, unless there's something seriously medically wrong. It's past time that Dr Freud was retired from the architecture pages. But in the case of the Kushnerdrome on Fifth, designed for your comfort, it's hard to evade. Would Ferriss be pleased? Would Hood?
The second most eye-catching idea of early 2017 was no less wince-inducing: Oiio's scheme for a 'paperclip' tower, really two slim towers, connected at the top. This was more a sardonic provocation than a genuine proposal, intended to highlight the abuse of New York's 'air rights' regulations that has led to the current crop of super-slender condo spikes. As such it belongs in the same tradition as Ferriss's smoky ziggurats, even if it lacks the sinister mass.
In among all these developments, there's a sense that Manhattan has lost some of the threatening charisma that has made it so magnetic to architects, either as inspiration (Koolhaas) or foil (Corbusier and Lloyd Wright). Like London, it is suffering the effects of being a favoured sump for the globe-sloshing super-rich. The city has in recent years sought to restore and even build anew some of the hefty infrastructure that characterised its golden age: the High Line elevated railway has been turned into a hugely successful public park, and the much-maligned Penn Station is being given an airy extension. But these are proper and purposeful urban interventions. In Delirious New York, it was the accidental genius of the city that Koolhaas sought to capture, the bizarre misbreeds of infrastructure and regulation that shaped the city without anyone's specific say-so. You can't do accident on purpose. And so it might be that Delirious marked the end of one kind of Manhattan – that as soon as its specialness was so well captured, it went from a time of production to an age of preservation
Will Wiles is a journalist and author
EPIC THANKS
Epic Space, a just-released collection of Ian Martin's magnificent satirical columns for the Architects' Journal, has the following tribute to the profession in its acknowledgements:
'Architects are such a lovely bunch of people. Clever and resilient, game for a laugh. I have worked alongside you and mocked your world relentlessly. In return you have been stoical and forgiving. Thank you.'
I couldn't agree more. Do check out the book. Christmas is (always) coming. Read Hugh Pearman's review of Epic Space here.
---