With marginalised communities affected more than most by Covid-19 and the issues behind BLM, architects' most important contribution to inclusion is engaging with local people. How can this be done effectively?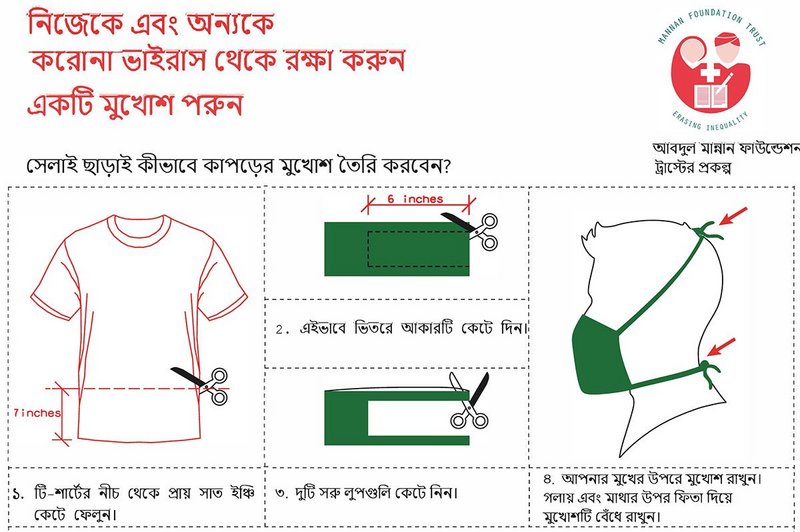 A poster to disseminate the mask making process, with or without a sewing machine.

Credit: Our Building Design & Mannan Foundation Trust
The Covid-19 pandemic has disproportionately affected the Black, Asian and Minority Ethnic (BAME) communities and highlighted the urgency for community collaboration towards positive societal changes. The pandemic has changed our lives in many ways. My family is grieving the loss of several family members and friends (of Bangladeshi origin), living in the UK.
Research issued by Public Health England reveals that you are more likely to die from Covid-19 if you are BAME than someone who is white, and people of Bangladeshi ethnicity are twice as likely to die from Covid-19 than those who are white and British. The recent global protests for the Black Lives Matter (BLM) movement brought to focus communities' collective actions to rise up against racial injustice and various social and health inequalities which have been exacerbated by the pandemic. The power of community action and collective response has become urgent for communities worldwide, whether they are affected by racial injustice, health inequality or new developments in their neighbourhood (sometimes resulting in eviction) and for all those passionate to change systemic racism and inequalities.
As practitioners and architects, we could act many ways to facilitate the voices of those who have been marginalised in the society. One of these is to get involved in local planning issues: for example, by alerting the planning authority to any new development that negatively affects low-income communities in the neighbourhood through gentrification.
I am passionate about being part of the change in my area, so volunteered to be part of my borough's design review panel. There I have the opportunity to help address some of the issues and push the design team and the developers, to hear and respond to the voices of the community. Unfortunately, in all the recent projects we have reviewed (which happened to be led by influential architects), the design decisions did not reflect local engagement (in an area with one of the largest BAME communities in London), and showed a lack of communication with the community they had designed for. Very little work had been done towards any such local engagement in the design process.
In all the design review meetings I strive to highlight the importance of involving all those affected by new developments in their neighbourhood so they can play a part in the design and process of a project. In the context of BLM and the pandemic, community engagement in urban development becomes even more urgent and challenges architects with particular questions. For example, on a large urban development project in a neighbourhood consisting of a non-white population, how can community engagement be undertaken to represent BAME communities in projects which will affect their lives? How can architecture diversify to reflect the communities it is serving?
These questions are close to my heart. I am aware of the challenges, more so because I am a BAME architect and I have experienced race and gender discrimination in the profession. Generally, I found my voice dismissed, being the only BAME female architect/professional at a meeting dominated by white men. In my architectural pedagogy, at the University of Westminster, students are encouraged to participate with communities, through human interaction and socially driven design, to respond to social and environmental injustice. In our practice, Our Building Design, we address these issues by architectural projects conducted through community engagement and participation. Collectively with the communities, local authorities, stakeholders etc, we strive to work towards a positive social impact. We help marginalised voices to be heard at various levels, to improve community engagement, inclusivity and development within their immediate society.
The restrictions during the pandemic affected our research-based practice and our community collaborative projects. It has compelled us to rethink, redesign and introduce new community participatory research techniques. Our current project is centres around building a community centre for the remote Rajapur village in Bangladesh. Conducted in collaboration with the UK charity Mannan Foundation Trust, the scheme involved a trip to the village but this was cancelled this year due to the pandemic. We have worked on several projects with socioeconomically vulnerable communities since 2011, to address lack of access to healthcare and education in the context of the severely changing climate.
Restrictions in overseas travel and the lockdown in both Bangladesh and the UK, have prevented us from doing the community participatory research and human centred fieldwork that we normally would for such a scheme. But for the next stage of the participatory project, the pandemic has revealed new opportunities in community engagement and participatory research.
This crisis raises questions whether it is possible to develop ways of remote working – from London – for such participatory overseas projects as our one in Rajapur. The challenges were to find alternatives to travelling to engage the community and how to maintain communication and relationships across thousands of miles.
Our adaptive methodology and innovative techniques enabled collaboration with the communities from a distance; remotely exploring ways of engaging people when face-to-face meetings are not possible. From several meetings with the community members (held remotely via international phone calls as internet/wifi is not always available to all), it was discovered that a strict lockdown such as the one we have experienced in the UK has not been practical for a place such as Rajapur and most of Bangladesh. Most people live below the poverty line and working from home is not an option. Therefore, in our meetings the community members agreed to focus on prevention of the spread of coronavirus, by raising Covid-19 public health awareness and disseminating information through community participatory workshops.
We hosted (with the community participants via telephone), a series of public health awareness community workshops. The information was then used by the participants to host socially distanced community workshops to disseminate life-saving information such as the importance of social distancing, distribution of soaps and demonstration of hand washing ritual, wearing masks and most importantly how to access emergency medical assistance in this remote village. The information for each workshop has been communicated through posters (we designed and the community shared), and we also created several videos for participants to disseminate information through mobile phones with the village community.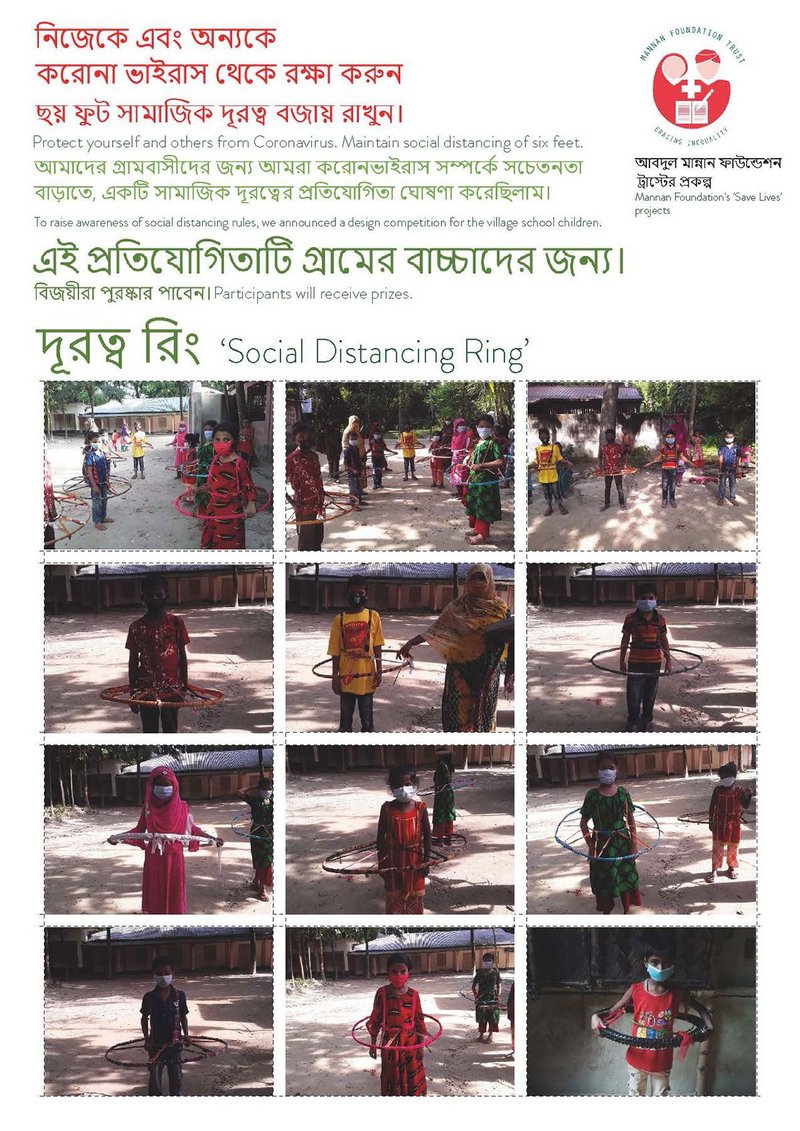 A poster of the participants of the competition, designing a 'Social Distancing Ring'.

Credit: Our Building Design & Mannan Foundation Trust
The Rajapur Primary school and the local schools in the area, have been closed since March 2020. Most of the children have missed out on education since then, as home-schooling has not been an option for the majority. Our workshops included participatory design projects for both adults and children such as 'Designing a Mask' competition and children's project for designing a 'Social Distancing Device'. These facilitated opportunities for the village children to be engaged in design projects through making and drawing activities.
The participants shared their photos and videos of the workshop. These projects created opportunities of paid work for a few in the community to address the loss of daily wage due to the lockdown. All participants received a cash prize which helped in purchasing essentials such as food in this crisis.
Virtual presence cannot replace the experience of being on the ground for the face to face community engagement. However, during the Covid-19 pandemic, these remote improvised methods of community engagement, have enabled us to facilitate new ways for the community to participate. The power of community action and collective response (through self-organising), to work with the local charities, to mobilise the available resources, to aid the neediest in the community, with life-saving public health awareness community workshops, to reduce the spread of coronavirus in the village and to manage the crisis. By building trust through community engagement workshops, we have been able to continue our partnership with the community participants.
If this is possible across continents then it offers a chance for meaningful engagement digitally as well as face to face in the UK – we need to improvise and enable social engagement for communities to help address some of the health and social inequalities for a positive change whether in Bangladesh or the UK.
Community participation is an important aspect of becoming resilient at a time of adversity and can be facilitated by providing either a digital platform or a venue for communities to engage. Collective engagement of the community can help transform our neighbourhoods; it can enhance the sense of belonging, empowerment and ownership of the community and the place we live in.
---
Tumpa Husna Yasmin Fellows is an architect, a senior lecturer and RIBA Journal Rising Star