Aram Gallery's show reveals the continuing value of models to design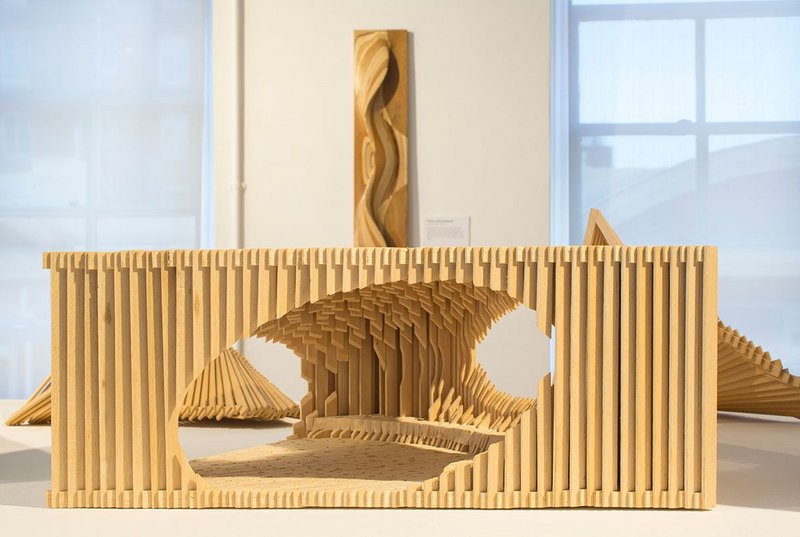 Installation view of Architecture Prototypes & Experiments showing Adjaye Associates' pavilion models 2008-2013.

Credit: Agnese Sanvito
From a scrap of corduroy adorned with buttons and beads to the pristine precision of 3D printing, The Aram Gallery's new exhibition Architecture Prototypes & Experiments celebrates the diversity and importance of model-making to architectural practice.
Coming hard on the heels of the Royal Academy Summer Exhibition's focus on models in its architecture room, the exhibition is only the second time that Aram has tackled architecture in its long-running Prototypes and Experiments series.
Twenty practices for whom physical models are a central part of the design process have contributed examples that relate to the development of a particular project. These are mostly not models for presentation but are often far more messy and rough around the edges, from Tonkin Liu's hand-shaped plasticine models of the Tower of Light to East's aforementioned corduroy, an 'idea model' of a public space for London's Bermondsey Square which the practice says won it the job.
Curator Riya Patel chose examples that give an insight into how different architects approach the design process and use models to 'think' with their hands.
'Model-making is still thriving – and we may be seeing a bit of a revival. There are some things that a model can do best, such as give an instant idea of what a design could be like - the materials, and the scale of the space,' she says, adding that she is also interested in the unfinished, 'question-mark' quality of models, and the prolonged impact that they can have on other projects by living on within the studio.
Exhibits range from site maquettes at 1:200 to 1:1 prototypes drawn from a range of current and past projects both built and unbuilt. Larger models include a 1:10 maquette made from tulipwood and MDF demonstrating Roz Barr Architects' Augustinian Centre project in Hammersmith, west London, and dRMM's Parabolica model demonstrating the possibilities of large span engineered timber. Small models can be highly evocative of the architect's approach to the design. Those for Mary Duggan Architects' The Aviaries family home and farm in Somerset, demonstrate how the building is imagined as an extension of the landscape. For the design of James Macdonald Wright & Niall Maxwell's Caring Wood house in Kent, models were made using origami techniques, allowing the architects to 'think differently about three dimensions and how to represent the early conceptual forms for the new house'.
We learn how interdisciplinary practice HASA starts each project with model making which seeks to capture the qualities of a particular place. Shanghai and London practice Neri & Hu uses models as abstract expressions of the conceptual and cultural ideas behind its work. The practice 31/44 describes model making as the defining act in its design process: 'When drawing digitally you know precisely where the line will start, travel and come to a halt. A line – or model – made by hand has a looser journey, is more explorative and perhaps even adventurous. Your brain has time to adjust and change direction. You arrive somewhere you didn't necessarily expect.'
Models of details are particularly fascinating. Piercy & Company is exhibiting a prototype for a tactile door handle that is part of the actual door itself. Created at the experimental research and fabrication facility Grymsdyke Farm using a 5-axis CNC cutter, the handle curves up to provide three different grip points for different ages and heights. Studio Weave's installation shows test panels for the hand screen-printed and gilded patterns that adorned the practice's Paleys Upon Pilers (palace on pillars) installation at Aldgate in 2012.
This show would have benefited from further information on the models themselves – how they were made, from what material, and whether they are made in-house or externally. However, this is nonetheless an enjoyable exhibition that demonstrates the continued importance of traditional models to the design process at a time when many practices are also embracing newer technologies such as virtual reality and augmented reality.
Architecture Prototypes & Experiments, until 1 September, The Aram Gallery, 110 Drury Lane, London WC2B 5SG