At first Kashan locals wanted crumbling old structures bulldozed; now they're starting to appreciate the renovation of their heritage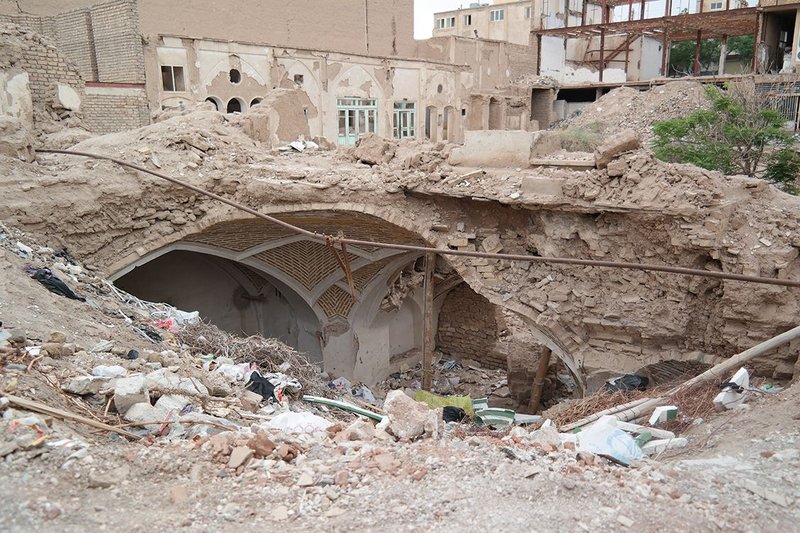 Many of the buildings in Kashan were underground to keep them cool with sunken courtyards. This is one that is still derelict.
A little way north of Iran's main uranium enrichment facility, where anti-aircraft guns line the main road, pointing aggressively towards the sky, workmen are busy manhandling mud bricks in a deep sunken courtyard, surrounded by lush fruit trees. Around them stand the semi-ruined walls of an 18th century merchant's house, its rooms dug deep into the ground, opening out on to the courtyard with broad apsed iwans. Perched at the top of a ladder, a craftsman is painstakingly carving an ornate pattern into a panel of wet mud plaster above a doorway, while others fix wooden mashrabiya screens into windows down below.
Behind the tall mud walls that line the winding streets in the ancient desert city of Kashan, dozens of long-derelict houses are being reborn. Having been abandoned for decades as hopeless, crumbling wrecks, many of the city's grand homes are being renovated as boutique hotels, restaurants and galleries, in a conservation building boom that has taken the region entirely by surprise.
Designer Shanaz Nader was first drawn here in 2008, when the owner of one of the grandest mansions in town commissioned her to draw up plans to convert it into a hotel. Manoucherhi House opened three years later, as a jaw-dropping showcase of traditional Persian craftsmanship, with immaculately restored stained-glass orsi windows, latticework screens and beautifully sculpted muqarnas vaulted ceilings. A textile workshop opened in the basement, demonstrating silk and velvet weaving – the industry from which many of the town's merchants originally made their fortune, located here at this key stop on the Silk Road – along with an art gallery and restaurant serving regional food. When she finished work on the hotel, Nader acquired a place of her own here. Her son Marco, who is also an architect and designer, recently bought one too. Relocating from hectic Tehran, he now spends his time mixing paint colours from natural stone powders in his mud-walled basement.
Seeing what these dusty old relics could become, many others have since followed suit. Over the last decade, Kashan, which is thought to be the place from where the Bible's Three Wise Men set out, has been inundated by rich Tehranis buying up its ruined mud homes – a phenomenon that wasn't immediately welcomed by locals. Alarmed by the flood of newcomers, and upset that some of the renovations were using government money, which they thought should be spent on modern housing, hundreds of people signed a petition against the restoration projects. They wanted the outmoded mud buildings bulldozed instead.
But as more of these majestic courtyard houses are restored, the more the tide of opinion is turning. Kashanis are finding a renewed appreciation for their own heritage by understanding the environmental benefits of having rooms buried a storey below ground and the spaces ventilated by the badgir wind towers, things that were long seen as old fashioned.
Stepping into the recently opened Ameriha House, a seven-courtyard, 12,000m2 mega-mansion, newly done up as an 85-room boutique hotel, you immediately feel the temperature drop a few degrees. The combination of the sunken courtyards, populated by pools of water and trees, along with gigantic badgirs, encourages a constant flow of cool air that rivals modern air conditioning. Begun in 1993, its renovation was long delayed by the impact of international sanctions, but since it opened in 2015 it has seen a steady flow of tourists seeking the luxury desert experience.
Although Iranian law prevents foreigners from buying property directly, the wave of restoration work in Kashan has generated international interest, too. Belgian artist Wim Delvoye, who has courted controversy in the past by tattooing live pigs with Louis Vuitton logos, is restoring five of Kashan's mud mansions. He plans to open a 900m2 gallery in one of them, to show his art alongside changing work by Iranian artists, and has plans for a Belgian restaurant in another.
Delvoye says working on historic buildings in Kashan is a breeze compared with back home. He recalls how he acquired a small castle outside Ghent in the hope of turning it into a sculpture park, but was fined €45,000 by the country's environmental agency following a seven-year legal battle, after he 'started to clean out the moat'.
Afterword
In a very different sunken courtyard garden in Tehran, the first graduating students of the new CAAI School of Architecture recently put on their summer exhibition, showcasing a range of experimental pavilion structures that could have come straight from London's Architectural Association. The work was a far cry from the traditional approach taught in Iran's universities, including one studio dedicated to new approaches to mud-brick building, combining the vernacular of desert cities such as Kashan with new robotic technologies.
---