We describe it as an award for architectural drawing, but how you achieve that image is up to you. And once again we have separate categories for students and practitioners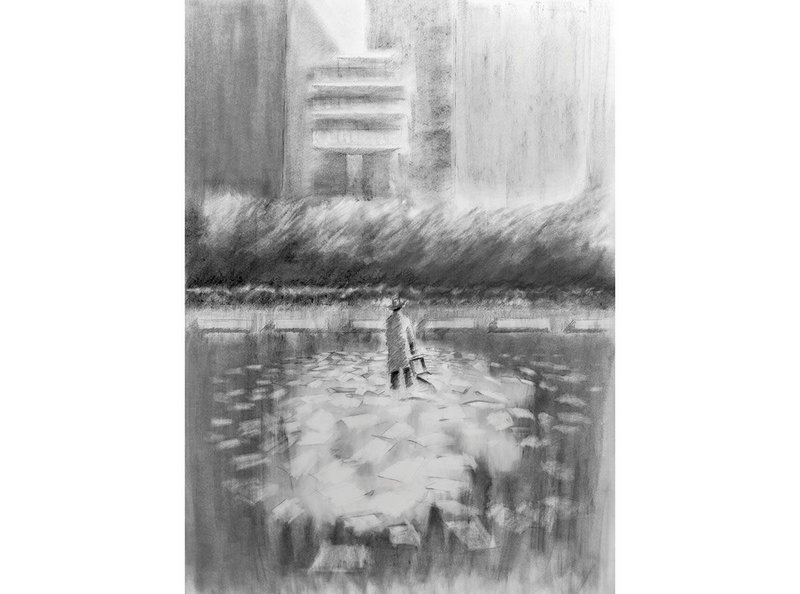 It's Eye Line time! The original annual award for architectural image-making skills – let's call it 'drawing', though we welcome all media and combinations of media – is now open for 2019 entries. As ever, it's purely the power of the image that we're interested in. How well do you communicate an idea or record an existing building or place?
This is the seventh year of Eye Line, and my, how it's grown. Once again we invite entries in two categories: practitioners and students. We will exhibit winners and commendations at the RIBA as well as publishing them in print and online. And our colleagues at the RIBA's world famous Drawings and Archives Collections (DAC), based in the Victoria & Albert Museum, will scrutinise the winners for potential inclusion in the collections.
We make no distinction between 'hand drawing' and computer rendering skills. Both are of equal value and anyway, so many architectural depictions layer several techniques to produce the final image. All are welcome.
We DO distinguish between practitioners and students however, as the conditions under which you work are very different.
Student category: images made by those in architectural education or who are submitting images made before fully qualified.
Practitioner category: images made by those fully qualified and working in practice, either for real-life projects or to explore ideas and experiences.
Last year's overall winner was Tszwai So of Spheron Architects with An Echo in Time, drawings for a Brussels memorial to victims of 20th century totalitarianism. His main charcoal drawing The Messenger will take its place in the RIBA Collections.
Other practitioner winners and commendations were Rory Chisholm of Donald Insall Associates, Jolene Liam of Studio Egret West, and Alan Power. Student laureates were Jacob Hoeppner of the University of Stuttgart, Lucinda Anis and Chris Hamill from Cambridge, Caroline Bernard of Kingston University and George Allen of the Royal College of Art.
Now it's YOUR turn. This is an international competition. Practitioners and students – get image-making, and enter!
Winning and commended entries will be pub­lished in the August issue of RIBAJ as well as ex­hibited at the RIBA.
---
Rules
We seek the best 2D representations of a building design or concept through visual means. They may be hand or digitally drawn, incorporating collage or any combination or overlay of methods. Video and straight photography excluded.
Enter in either the student or practitioner category. The RIBA Journal reserves the right to reallocate to a different category if deemed necessary. Maximum of three images per entry, which can be from different projects, or all from the same project. Joint entries on which more than one person has worked are permissible.
All entries must be uploaded via the link below. We cannot accept physical works. Images must be at 300dpi, file size maximum 25Mb. The work must have been produced within the three years up to the deadline of 23.59 on Monday 10 June, 2019, and must not previously have been entered for Eye Line.
---
Information required
Title of work(s) if applicable, and medium.
Name of the author(s) of the work.
Name of organisation where author works or studies.
Email, postal address and phone number.
Dimensions of the original work as presented (or as you would wish it to be presented) in mm.
Date it was completed.
---
Key dates
Deadline: Monday 10 June, 23:59.
Judging: end June.
Winners and commendations announced: August issue of RIBAJ and online.
Exhibition opening: August.
Correspondence: eyeline.ribaj@riba.org