It's the last few hours for you to send the drawings that could see you crowned this year's Eye Line winner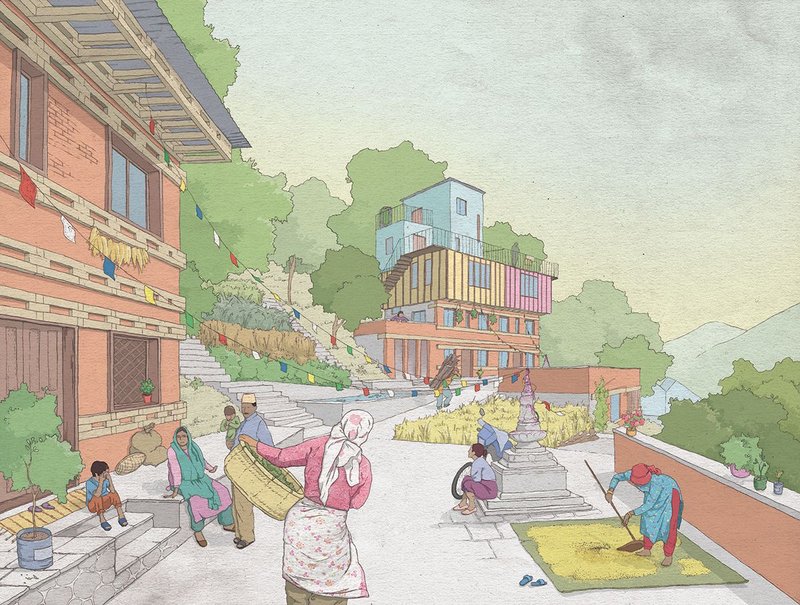 Corina Tuna from The Cass school: Living on Forest Fringes, Nepal. Eye Line 2016 third winner.
Already an annual tradition, our Eye Line drawing competition is now in its fifth year and is once again partnered by architectural visualisation expert AVR London. This is the prize that celebrates the art of the architectural drawing, not the project. This isn't a crit. We just want to see amazing drawings – originating in any medium or combination of media, anywhere in the world. And so do our readers – this is one of the most popular things we do. Enter now and get your best work out on view!
We particularly want to see entries from practitioners as well as students, because the skill of communicating architecture to client and the wider public through drawings is so vital to the design thinking and character of the practice. Consider the watercolour concept drawings of Steven Holl or Sheila O'Donnell, or the almost fairytale-like renderings of Grafton Architects. Remember the incredible draughtsmanship of Sir Peter Cook and his Archigram colleagues, bringing us into their imagined worlds and leading eventually to real, extraordinary buildings.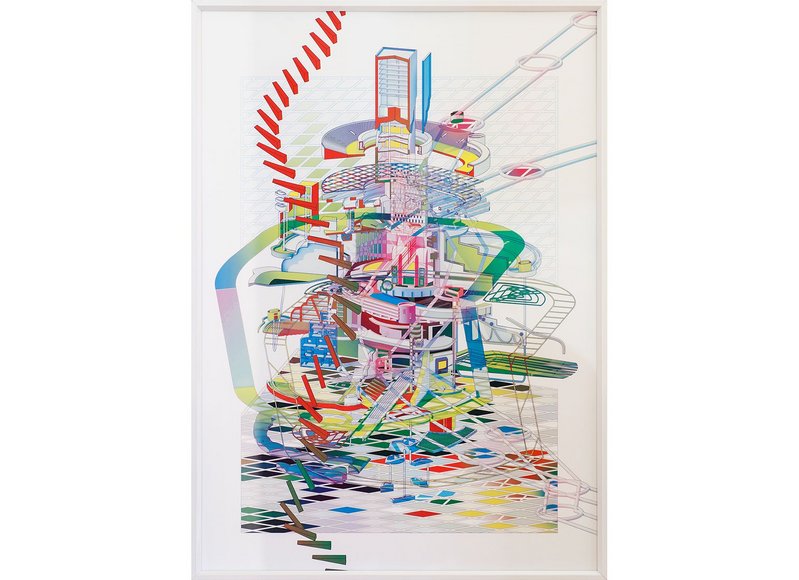 First-winner in 2016 Eye Line was You+Pea Sandra Youkhana and Luke Caspar Pearson with Tokyo Back Up City.
Today narrative plays an increasing part, with the techniques of graphic novels and manga cartoons increasingly in evidence. Recent years have seen an explosion of colour after a period of dystopian darkness. We don't mind how the image is produced – we want you to imagine worlds we want to inhabit. This year our judges include Neil Spiller, Hawksmoor chair of architecture and landscape, University of Greenwich; previous winners Amelia Hunter of Studio Weave, and Sandra Youkhana and Luke Caspar Pearson of You+Pea; RIBAJ editor Hugh Pearman; and Joe Robson, MD of AVR.
We are especially happy to partner again with AVR London, which celebrates its tenth anniversary this year. Working with the best architects internationally on creating beautiful architectural illustrations and fully immersive virtual environments, it also has a knowledge and love of drawing in all its forms.
Practice directors! Encourage your best colleagues to enter, not forgetting yourself. Teachers! By now you know your students with the best drawing skills – make sure they enter. Winning entries will be published in the RIBAJ August issue and exhibited in London's Anise Gallery, and winners will be invited to take part in a congenial celebration of the art of architectural drawing there, courtesy of AVR.
RIBAJ Eye Line is produced in association with AVR London www.avrlondon.co.uk @AVRLondon
---
RULES
We want to find the best representations of a building design or concept through visual means. Any medium is allowed – hand-drawn or via keyboard, collage or any combination or overlay of methods. It can be ultra-detailed, close to abstraction or photo-realistic, whatever: it's up to you.
The work must have been produced within the three years up to the closing date of Monday 12 June 2017, and must not previously have been entered for Eye Line. Individual and joint entries are equally allowed, from practitioners, students and teachers.
Entries should be two-dimensional artworks – we will not consider movies or photographs of models – but within that constraint we will judge all methods and media equally.
There is a maximum of three individual pieces per entry, to be sent as medium-resolution JPEGs via a file-sharing service. They can be all from the same project, or different projects.
Information required
Title of work (if applicable)
A short description of the author(s)
of the work
Size of the original work
Date it was done
Organisation where you work or study
Email, postal address and phone number
Deadlines
MONDAY 12 June: DEADLINE FOR ENTRIES
Thursday 29 June: Judging and shortlisting
August: Winners and commendations announced in special issue of the RIBAJ
September: Exhibition and Celebration party at the Anise Gallery
---
Get sending in your work right away – and encourage your friends and colleagues.
Download entry form at ribaj.com/buildings/eye-line-2017-get-drawing
Then send it to us at: eyeline@ribaj.com