Winners in student and practitioner categories have now been revealed!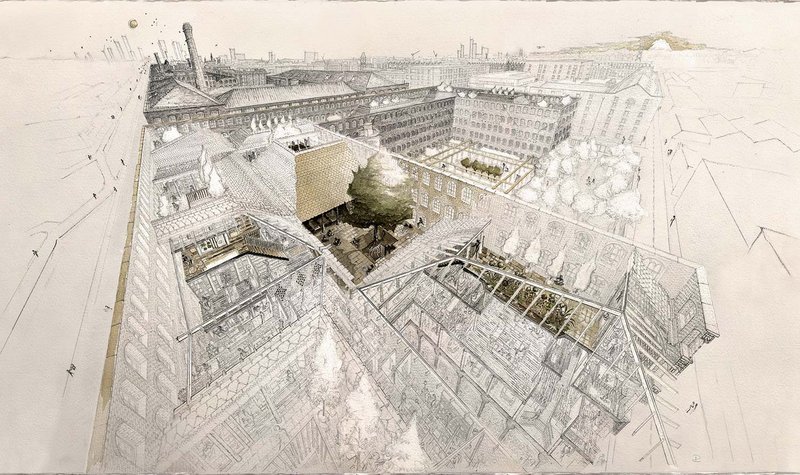 Eye Line 2021 Practitioner winner Rory Chisholm with 'Manchester Courtyards: a proposal for Ancoats'. Pencil and ink. 560mm x 1120mm
You have reached the call for entries for Eye Line 2022. It is now closed. Find all the results on ribaj.com/eyeline and in the July/ August issue of RIBA Journal.
Eye Line 2022, RIBAJ's annual, international competition showcasing the best drawing and rendering skills, is open for entries. As ever, we ask for images in two categories – student and practitioner – that brilliantly communicate architecture, in any medium or combination of media. In the competition's tenth year of running, we are looking for work that defies the blinkered outlook of the last two years and posits a sense of optimism and hope
We are on the hunt for images of all kinds, from hand-drawn concept sketch to technically proficient and layered renders. For us, 'drawing' includes any method by which the power of an architectural idea is communicated; be it depictions of existing buildings or works of the imagination.
Practitioners and students enter in different categories:
• Student category – images made by those in architectural education or who are submitting images made before final qualification.
• Practitioner category: images made by those fully qualified and working in practice, whether for real-life projects or to explore ideas and experiences.
The intention is to exhibit winners and commendations at the RIBA alongside a winners' party and winning entries will be published in print and online. Our colleagues at RIBA's Drawings and Archives Collection, at the V&A Museum, will inspect our winners for potential inclusion in their archive.
Last year's practitioner winner was Rory Chisholm for his courtyard proposition for Manchester, a fluid render in pencil and ink, whose scope ranged simultaneously from the detail to the city . And student winner was Annabelle Tan from the Bartlett School, whose reimagining of the Norfolk landscape through healing 'craft industries' resulted in a drawn narrative informed by her own Singaporean roots and notions of the English Picturesque. Commendations in both categories mused on Persian architecture, 'queerspace' and quarries!
Every year we are gratified by the originality, wit and talent represented in the Eye Line entries: a truly international, free-to-enter award conducted online. Practitioners and students – show us your best drawings and join a prestigious decade of past winners!
Eye Line rules
We seek the best 2D representations of a building design or concept through visual means. They may be hand or digitally drawn, incorporating collage or any combination or overlay of methods. Video and straight photography excluded.
Enter in either the student or practitioner category. The RIBA Journal reserves the right to reallocate to a different category if deemed necessary.
Maximum of three images per entry, which can be from different projects, or all from the same project.
Joint entries on which more than one person has worked are permissible.
All entries must be uploaded via the link below. We cannot accept physical works. Images must be at 300dpi, file size maximum 25Mb.
The work must have been produced within the three years up to the closing date of 23.59 GMT on Friday 06 May 2022 and must not previously have been entered for Eye Line.
Eye Line Judges
Rory Chisholm 2021 Eye Line winner (Practitioner)
Niall Hobhouse Trustee, Drawing Matter
Kester Rattenbury Professor, Architecture and Cities, University of Westminster
Ana Luisa Soares Co-founder, Fala Atelier
Adam Turk CEO, Siderise
Jan-Carlos Kucharek Deputy editor, RIBA Journal, Chair
'Siderise is thrilled to be sponsoring Eye Line, which
celebrates the first stage of architectural creativity -– the
drawing. We support architects by developing
leading passive fire solutions to protect even the most
creative building envelope design'
Click here to enter Eye Line 2022
Information required
Title of work(s) if applicable, and medium.
Name of the author(s) of the work.
Name of organisation where author works or studies.
Email, postal address and phone number.
Dimensions of the original work as presented, in mm.
Date it was completed.
Key dates
Entries Open 1 March 2022
Deadline: Tuesday 10 May 2022, 23:59 GMT
Judging: Thursday 19 May 2022
Winners and commendations announced: July/August 2022 issue of RIBAJ and online.
Exhibition opens (provisional): August/September 2022
Correspondence: eyeline.ribaj@riba.org
Eye Line 2022 is produced in partnership with Siderise