Architects yearning to lessen their modern distance from the act of building need look no further than BIM, argues James Haynes, commended in the 2022 RIBAJ/Future Architects writing competition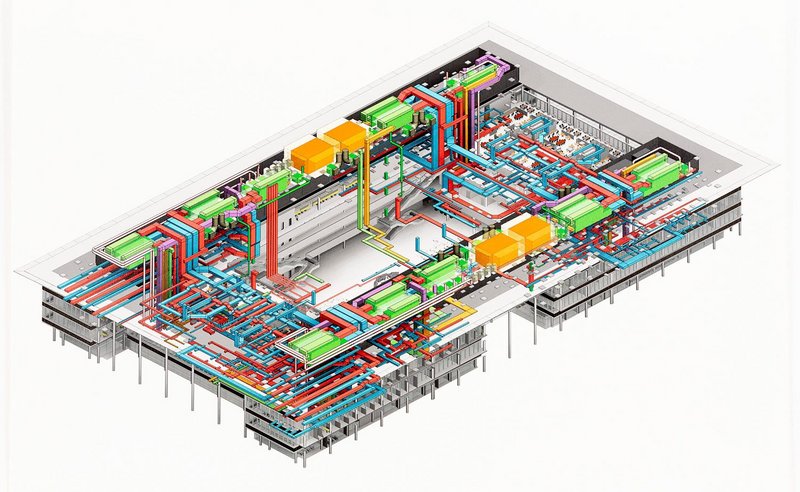 Samson Pavilion, CWRU and Cleveland Clinic, designed Foster & Partners, 2019.

Credit: Foster + Partners
Many architects have romantic notions of themselves as craftspeople, describing the design process in the language of hands-on making. The truth today is different, with architects distanced from what they make by the fragmented processes of modern construction, and what Richard Sennett identified as the separation of head and hand by the rise of CAD in his book The Craftsman. But a new form of intimate connection with the process and products of design might lie in Building Information Modelling – BIM – the use of three-dimensional digital models encompassing descriptions of every aspect of a building, shared by the whole design team.
BIM re-engages architects in the act of building beyond the act of design and the dictates of aesthetics and form, and invites them to think holistically, presenting a building as a component within a complex network.
History provides a means to unfold the discussion, with Aristotle illustrating how formation relies upon the meeting of morphe (form) and hype (matter, or in contemporary terms data). BIM mirrors these principles, bringing together design concepts and the materiality required for realisation. Thus, BIM invites the architect to consider the construction process in the round. In terms set out by Leon Battista Alberti, the architect begins to parallel the mason.
As BIM changes the way we work, it can be a tool to question the existing scope of an architect's role. Its use across the architectural, engineering and construction (AEC) industries nurtures opportunities for collaboration and adjoined working.
By challenging existing notions of the role and identity of the architect, BIM may cause some discomfort – perhaps reflected in a perception that its widespread adoption will lead to loss of heterogeneity within the built environment. It is perhaps too soon to pass judgement on that, but projects such as Foster + Partners' Cleveland Clinic Health Education Campus are instructive in this regard; a model shared between in-house architectural and engineering teams allowed rapid testing and real-time feedback on the impact of all design decisions. The architect's role is enlarged but aesthetic value is not forgotten, either in the building or its communication – Norman Foster selected a drawing from the BIM model for exhibition at the Royal Academy.
As BIM changes the way we work, it can be a tool to question the existing scope of an architect's role
A more appropriate line of inquiry might be to ask, how does BIM alter the structure of architectural production in positive ways, and what might this changed relationship look like? Historically the discipline has been highly hierarchical, with the principal architect as the ultimate expert – or master craftsman, in Richard Sennett's terms. As architectural efforts and output in BIM are by definition collaborative, it poses an opportunity to blur the distinction between managers, seasoned architects and those entering the field, with each team member having access to the same understanding of a project regardless of position and age – something that I find attractive as a Part 1 architectural assistant. In that way BIM invites young architects to engage in architectural production beyond the mundane, enabling individuals to become stakeholders in architectural design and practice, and it might help to foster more equitable and meritocratic organisational structures.
By providing a complete record of a building's components, BIM also creates benefits in relation to maintenance and sustainability. Dutch architect and champion of the circular economy Thomas Rau affirms this, pointing to its importance as a material passport, enabling effective material mining when a building is deconstructed at the end of its life.
As a tool for tackling the climate emergency BIM is not yet perfect – current models do not include much of what we need to know about buildings in use. But this is a product still in its infancy. The 'next generation' of BIM, covering form, function and use, will come forward and offer greater opportunity to challenge existing anthropocentric attitudes and outdated modes of operation. With a more objective view of how buildings perform, we will have a better basis on which to judge their design; as Steen Eiler Rasmussen suggested, paralleling the architect to the gardener, success should be measured against the garden's ability to thrive rather than the gardener's ability to conceive it.
In sum, BIM is an innovator – not just a data-driven process but a potent tool for change, challenging existing concepts of architectural identity in positive ways, strengthening the relationship between 'architecture' and the act of building and placing the architect at the centre of responses to climate change. While new ways of working are potentially unsettling, the profession should look beyond this, aspiring to forgo the opportunity to remain static, embroiled by concerns about identity, and instead acknowledge the benefits of BIM adoption in order to retain a place of relevance in an ever-changing landscape.
James Haynes is a Part I student at the University of Edinburgh
Read the winning entry by Danica Mitrić and other commended pieces by Will Hayter, Nikola Yanev and Holly Middleton