Our social media-fuelled desire to keep up with the latest design trends is killing the planet, says Holly Milton, commended in the 2022 RIBAJ/Future Architects writing competition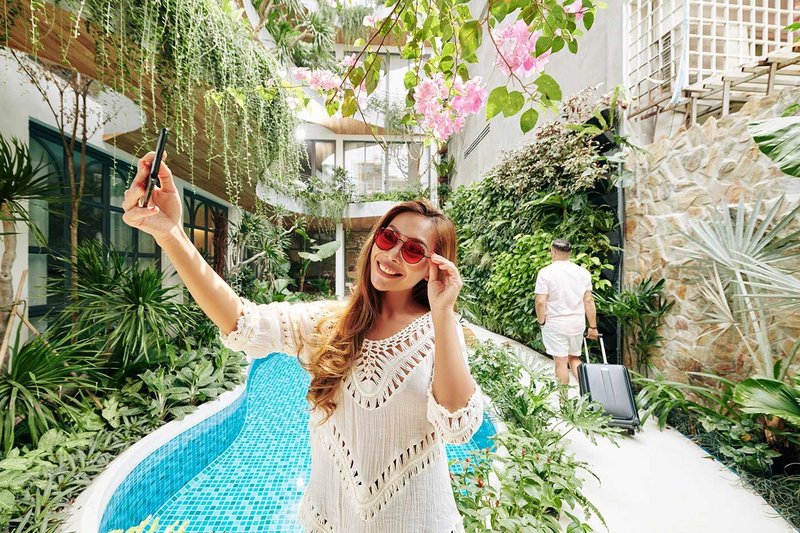 Credit: Dragon Images/iStock
As humans, copying is in our nature. In today's world, our obsession with fast-changing trends has begun to define us as a consumer-driven, cash-splashing, plastic-bashing society. Our need to update, upgrade and replace has impacted all areas of our lives. Every year the newest housing trend arrives and results in the facelift of many perfectly good homes. With myriad styles popularised every year, the possibilities are endless – something that has become both exciting and unnerving.
This endless revision of our living and working environments was intensified by the pandemic, and two years of on and off lockdowns spent stuck inside. Time spent scrolling mindlessly on social media, waiting to be allowed outside with friends again, led many of us (including myself) down this endless black hole, with all its toxic perfectionism. Just as body image is distorted due to unrealistic beauty standards perpetuated by social media, our homes have also fallen victim to the same scrutiny many of us face daily. We measure our success through our parallels to this hypothetical universe worshipped by the world. With thousands and thousands of people from all over the world sharing their home renovations and, in some cases, full home reconstruction journeys via the internet, many of us were able to watch our very own Grand Designs episodes in real time.
As a self-diagnosed shopaholic, I am acutely aware of the grasp that online shopping and social media advertising has on me, and eminently conscious of the impact my materialistic tendencies have on the environment. The social media-fuelled desire to copy trends in our living environments brings excessive pressure on the world and all its resources to meet an increased demand in goods and building materials, which has led to global shortages, panic and further damage to our planet.
Every time we jump to alter our homes to reach the level of the paragons seen on TikTok, we drastically increase our carbon footprints
The built environment contributes around 40 per cent of global carbon emissions each year, highlighting our need to make a decision about the future of architecture. If we wish to keep building, keep changing and keep following trends to maintain our obsession with always having more, are we willing to offer our planet as a sacrificial lamb to slaughter? Will we continue to rebuild rather than retrofit? And when will we finally be content with what we have? Unfortunately for us, these questions all have an expiration date – certain and fast-approaching.
The unprecedented spike in social media use during the pandemic – especially among younger generations – quickly popularised countless new design styles, with cottage core overtaking mid-century modern, maximalism rivalling minimalism. Notably, we saw a slew of faux-eco-friendly 'green' architecture adorning our blue light screens. Greenwashing and improbable utopian cad renders have heightened the quixotic expectation of the average social media user. There is complete detachment between the fantasy seen online and the realities of sustainable architecture and the means of embracing environmentally friendly practices into our lives.
Awareness of the negative impact caused by the consumerist messages pushed by creators is essential in avoiding the dangerous allure of social media. It is even more urgent to amend the ideas projected on to young impressionable audiences, to include pragmatic information that allows climate-conscious choices when making decisions about their homes.
As the designers and imaginers of the built environment, architects have gained a new level of responsibility to balance the desires of clients with the needs of our planet. We need to prioritise low-energy retrofit over new build, and embrace higher specifications and standards such as Passivhaus, and champion them in a way that captures attention, as movements such as Insulate Britain have done.
Every time trends morph into their next short-lived cycle and we jump to alter our homes to reach the level of the paragons seen on TikTok, we drastically increase our carbon footprints. Every plastic pot plant purchased from Amazon, every building we knock down just to replace, and every unnecessary item we add to our lives to fit in with the masses across all social media platforms may add to our perceived satisfaction with life. But this never-ending cycle cannot change unless our social habits do. As Madonna once said, 'we are living in a material world' and right now it seems we are all at risk of becoming material girls.
Architecture has been reduced to a series of items one must obtain to be considered 'trendy'. No longer a movement driven by need, it is instead propelled by civilisation's hunger for a new accolade, divined by Instagram and Pinterest as worthy. Starting with ousting trends from their deep-rooted place in our lives, we have a responsibility to ourselves and the planet to cease these wanton crazes that now rule our lives. Social media trends must die, or architecture and our planet will.
Holly Milton is a part 1 student at Newcastle University
Read the winning entry by Danica Mitrić and other commended pieces by Will Hayter, James Haynes and Nikola Yanev