The photographs of Panayot Barnev evoke the fragile connection between place, memory and identity, says Nikola Yanev, commended in the 2022 RIBAJ/Future Architects writing competition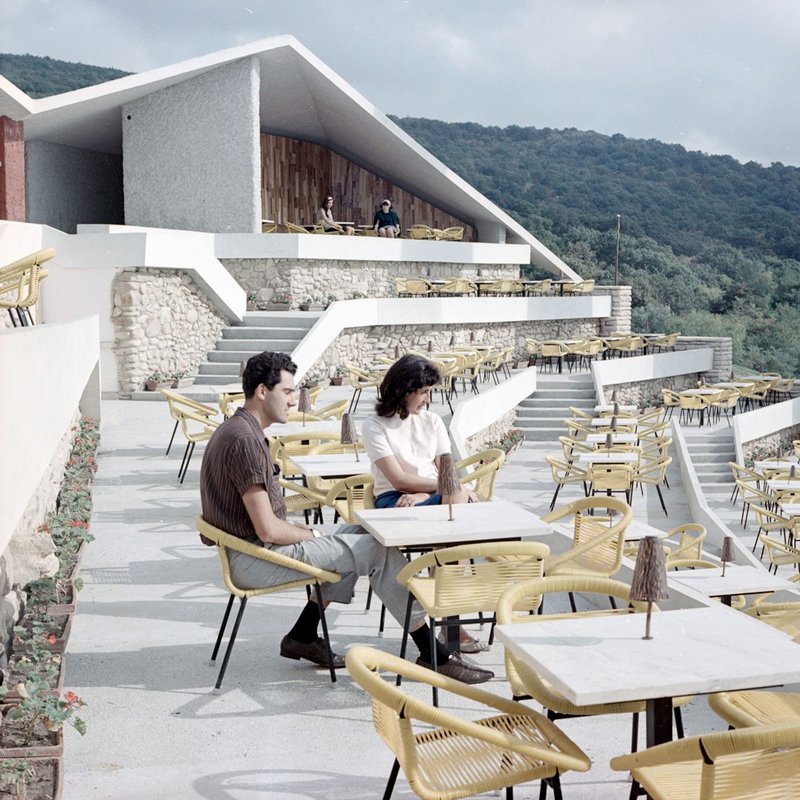 Couple at seaside café in Bulgaria, 1968, photographed by Panayot Barnev.

Credit: Bulgarian Visual Archive
Panayot Barnev (1933-2016) was a Bulgarian photographer whose focus was on quotidian life in Sofia, set against the backdrop of the city's changing architecture. His curiosity also took him beyond the confines of the capital to record naturalistic shots from the mountains or newly emerging seaside resorts along the Black Sea. What stands out in each frame is the people and their immediacy, no matter whether the shot is planned or a light-hearted and impulsive take. Striking compositions show bold post-war construction presented against people's everyday inhabitation. The shots are characterful and have a sense of allure due to their framing and composition, with an appeal that would work well in present-day Instagram feeds despite dating from the 1960s and 70s.
Recently a collection of 12,000 of Barnev's negatives was donated by his daughter to a public archive and can be seen at visualarchive.bg. One example that stands out is a frame with a couple sitting at a cascading seaside café, telling of the late 1960s spirit. It was a time of emerging seaside resorts planned by the government in an effort to lure the spending power of Bulgarians and present a compelling image of the country to affluent tourists from abroad.
The architecture was very much in line with global tendencies, following a regionalist take on international modernism. Taking cues from the vernacular, the café-restaurant offers whitewashed low sloping roofs, almost reaching the ground. Terraces are sensitively integrated within the terrain, eventually merging with the sandy beach. Large rubblestone is employed for the base, and low, whitewashed balustrade walls separate half-levels. Staggered timber cladding offers colour and warmth to sheltered areas.
The quality of the space is revealed both by the emptiness in the photo but also through the couple's staged inhabitation, which offers a suggestion of the restaurant's liveliness and reinforces the visitor's fixation with the strong relationship created between architecture and landscape – the sea, in this case.
Once your hometown is razed to the ground, you are at a loss and uprooted
Our collective mind is founded on shared experience, which is often tied back to places of significance that we use as memory prompts to remember and recount ideas that develop our sense of identity. What these photographs highlight from the present-day perspective is that these spaces and the memories we associated with them are brittle. The daring seaside café is long gone, acquired by shady business interests that have since built towering hotels on the frontline. Similar is the fate of many spaces represented in Barnev's work, a consequence of the political upheaval in the country following 1989.
While change is to be expected, the sudden transformation of our urban realm risks us losing our sense of recognition with a place we remember. In order to carry this feeling of identity through time, a process of sensitive and considerate evolution is appropriate. Conservation often comes to mind, which is about managing change creatively. However, we need to be aware of just how brittle the spaces, ideas and our memories latching on to these are, especially in the face of sudden and calamitous events.
A very poignant present-day example of erasure of memories is the ongoing invasion of Ukraine. It is very difficult to discuss the large-scale obliteration of people's ordinary lives and the tragedy suffered by the loss of your loved ones, your home, and the sense of place that you identify with. The stories coming from survivors are even more telling of the tragedy of war. They show how you are defined by the area you have grown up in, and how once your hometown is razed to the ground, you are at a loss and uprooted. Home is very much the urban realm with which we associate fond memories, not just the house we live in. As we project our memories and ambitions against this backdrop, its existence is essential for us to draw power from.
The trauma of war will define current and even future generations, leaving a strong rift in human relationships. It must be hoped that the atrocities will soon end and that a similar post-war rebuilding effort to that which followed the second world war in Bulgaria will ignite the collective imagination to create a stronger sense of being, picking up remnants of the past to reconstruct a democratic and just society.
The sheer level of tragedy puts out of scale any intellectual debate. Speaking of conservation or diminishing CO2 emissions seems almost whimsical against the images of plummeting smoke from burning oil depots or the scale of destroyed cities. What both Barnev's photos of long-gone places and the traumatic experiences in Ukraine reinforce, however, is that we need to maintain a collective effort to protect our civilization. We need to conserve as many remnants from today's built environment as possible that will act as a repository in future, both for us and those beyond us, and tell us of memories we identify with and of errors we should not repeat.
Nikola Yanev is a part 3 student at the University of Cambridge
Read the winning entry by Danica Mitrić and other commended pieces by Will Hayter, James Haynes and Holly Middleton