Huge bridge projects from Bahrain to Washington are benefiting from the input of this small consultancy, our second Future Winner of 2020, based near Bridport on the Jurassic Coast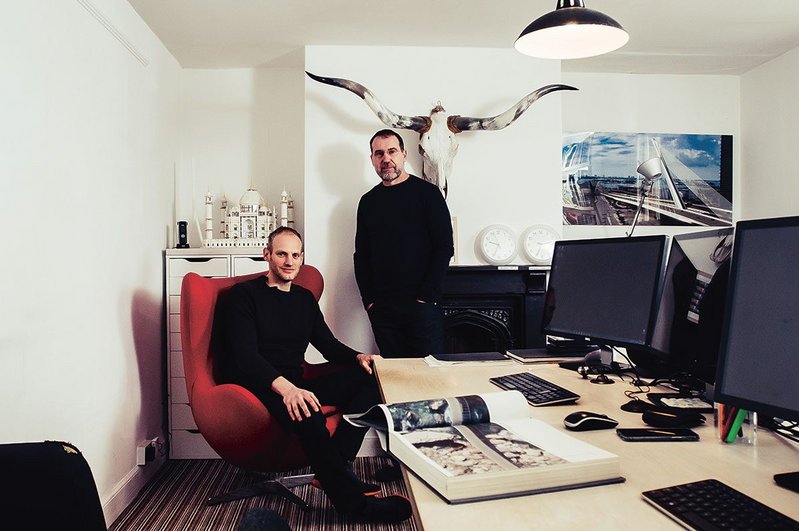 James Marks (left) and Keith Brownlie, spanning the world from Bridport.

Credit: Pete Millson
At first glance, BEaM's Bridport office is, one assumes, pretty much like any other rural Dorset practice. Until you spot the large Texas Longhorn skull on the far wall. And, between the two sash windows that offer a view to Colmer's Hill on the outskirts of the town, the four clocks denoting local times in Mumbai, New York, Copenhagen and Calgary, Canada. Ironically, sitting on the mantel­piece below the dead cow, there's one another, labelled 'Jurassic Coast'. 'That's GMT – minus 200 million years,' says the B of BEaM, Keith Brownlie, 'because it sometimes feels like it!'
And, a stone's throw from those jaw- droppingly vertiginous oolitic cliffs, you can see what he means; especially when, for most of your working day, you're probably looking at views of Bahrain, Oslo or Washington. For BEaM is, in effect, an architectural bridge building consultancy, and they're working all over the world – from Bridport. Brownlie says the global reach accounts for why he and fellow partner James Marks are looking so relaxed while drinking green tea in the middle of the day: 'This is our downtime. Usually, the phone doesn't start ringing until the end of the day…'
Brownlie and Marks first met when the former was a director at Wilkinson Eyre. Brownlie had cut his teeth on the Gateshead Millennium Bridge and other infrastructure projects in the 90s by the time Marks joined from Foster + Partners in 2000. He worked in and then headed the bridges team under Brownlie for the following 12 years. The professional partnership continued after Brownlie chose to quit the practice 'without a plan' in 2011, just before the firm's International Finance Centre in Guangzhou completed.
After retiring with his partner to their second home outside Bridport, Brownlie says he'd barely had the weekend off before he was asked to take on a consultancy role for a bridge project in New York. He realised that, starting a new practice in his 40s, he wasn't about to be gifted a meaty dream project and he certainly wasn't going to start doing house extensions. 'But typologically, I had the full Rolodex on bridges. I knew everyone in the world that we needed to know, so I launched into bridge design.' With work coming in, and with Marks looking to relocate with his kids nearer his wife's family in Dorset, it was serendipity that BEaM came to be based in Bridport.
Partner Christian Ernst, based in Copenhagen, joined later in 2011. 'I first cognitively met him on an IABSE (International Association of Bridge and Structural Engineers) study tour of Switzerland looking at bridges of the great master Christian Menn,' recalls Brownlie. 'And we struck a deal at a triannual footbridge conference, in Wroclaw in Poland.' They remain, despite the workload, a core team of three, who occasionally pull in help from the shared architects' office Ernst works in and use freelance modellers and visualisers they know and trust. Their geographical location is immaterial – this is about a virtual working – and the niche aspect of this business serves them well, says Brownlie, allowing them to stay small but effectual: 'We only work for engineers or contractors, and our design input may only amount to a small percentage of the job, but it's the most impactful.' Technological progress in networks and cloud-based storage has been crucial, adds Marks. Wilkinson Eyre, I'm told, spent serious money on connectivity and hardware, but 'with reliable rural internet connections, we could set up business here in a way that would have been impossible 10 years ago.'
Successfully completion of BEaM's first built project, the Tappan Zee cable stay bridge over New York's Hudson River, saw it added to its US contractor's preferred consultant list, thus ensuring a steady stream of work – and there could be lots of it. Brownlie notes that tens of thousands of utilitarian bridges built in the US in the 1930s are now reaching the end of their functional lives and a rolling programme of works is published at the start of every year: 'It's an exciting time. We only need 0.01% of that and we're in business.'
And BEaM seems very much in business. Right now steel arches are being craned into place on its Frederick Douglass bridge which replaces a 70-year-old steel crossing over Washington's Anacostia River. At 45m high, the new bridge challenges this conservative city's stringent height codes. Brownlie feels no US architect would have dared compromise its historic L'Enfant urban plan; but that their bridge, named after a 19th century black social reformer, deserved both the appellation and dispensation.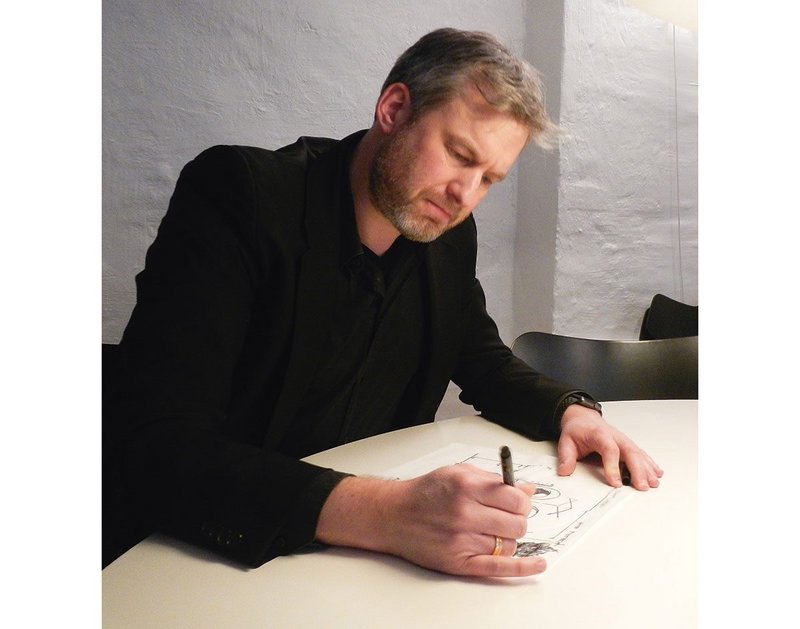 Copenhagen connection: BEaM's Christian Ernst.
Of course, the firm enjoys these showcase projects. But BEaM's Manama Crossing in Bahrain, won as part of a competitive bid to the state's Ministry of Works, is another project with a clear architectural aesthetic, and exemplifies how 'malleable' and pragmatic the firm has to be as part of contractor consortia. Designed as two lanes in either direction, the bridge was selected by the prime minister with a later requirement for 12 lanes, with no change to the appearance. 'It was a lot of work to revisit it and maintain the proportions,' adds Marks.
Then there is the recently completed Ullevål stadium bridge in Oslo, part of the city's integrated cycle superhighway, where the firm rationalised a brief to build two bridges over two main roads by proposing a single ring of structure that ran over both. 'There were a lot of utilities running beneath so we had to hold the whole thing up with limited touchpoints,' Marks explains.
But he adds that for all the 'signature' bridges – such as the CAN$180m Kingston Third Crossing, in the Rideau Canal UNESCO World Heritage site in Canada; the Gordie Howe crossing, part of a $2bn infrastructure development on the US/Canada border; and the 'showy' regeneration-led, $600m I-395 viaduct for the Miami Department of Transportation – there's a string of more prosaic infrastructure works that they're just as happy to dirty their hands with. The practice is 'light on ego' and contractors like that, so there's a feasibility study for a light rail project in Calgary; and BEaM is quietly smoothing the bumpy interfaces between three international consortia on stretches of the 22km long, $2.2bn Mumbai Trans-harbour link. 'We like the maligned typologies,' says Brownlie.
BEaM, working with AECOM or WSP, is happy to face up to the big-hitters like ZHA, F+P and BIG on tenders, but feels that if the style of the latter three is what the client wants, it's unlikely to win, so it is choosy when it comes to competitions. Its view is that with the Middle East, it's 'the flashier the better' while the US wants 'as cheap as possible'. 'We find in competitions that clients want something they've never seen before,' says Marks 'and usually, there's a good reason why they haven't – it's called gravity. Everything we do has a structural reason and we don't want to just offer them an undeliverable vision.'
Brownlie and Marks speak in almost hushed tones of those creating the true under­currents of bridge design: 'Genius' Belgian engineer Ney & Partners and the 'very clever' German Schlaich Bergermann. With them, it's almost the King's New Clothes; both, feels Brownlie, 'keep removing material so the client's paying for next to nothing'.
But when asked about their favourite bridges, minimalism is off the agenda and expressionism is firmly on. Marks is inspired by Christian Menn's gloriously chunky Ganter Bridge in Switzerland and Brownlie by Sergio Musmeci's wildly plastic Ponte Musmeci, spanning 560m over Potenza's Basento river in southern Italy. That is the subject of a competition seeking proposals for its restoration and increased visitor access, which BEaM thinks is 'a dream project for pontists – but I don't think we're Italian enough.'
That doesn't matter, as there's plenty of work in the pipeline. Bound up in contractor consortia, their name might not be hitting the headlines but they feel confident that they have established a solid design niche in the infrastructure world, where their role is small but the effect is big; all done with humour from a seaside town and sans the architectural ego you'd expect.
'We like their boring, dirty projects,' says Marks, before Brownlie finishes for him. 'Yeah. It's like steering a supertanker with a small rudder while they're not looking!'
---
Read about fellow Future Winners 2020 Napier Clarke and Stonewood Design