This Corsham-based practice, our third Future Winner 2020, is determined to maintain its balance of interesting projects and high quality of life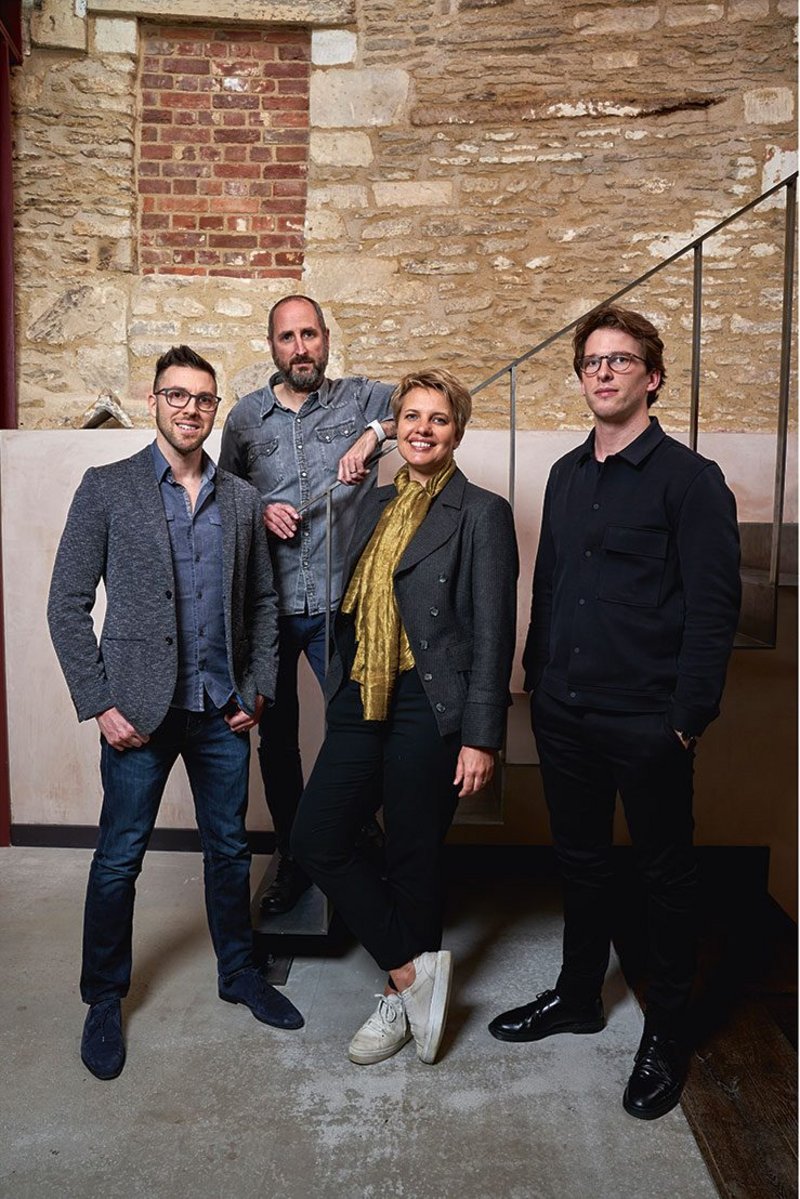 Adam Chambers, Matt Vaudin, Nicola du Pisanie and Ross McDonald in the new Corsham studio.

Credit: Edward Moss
There can't be many architectural practices that are mistaken for noodle bars. But then Stonewood Design is hardly a run-of-the mill practice. Emerging out of a construction company and based on the edge of the Cotswolds, it has built up an impressive track record in the transition from quirky small projects to major ones, including a 20-home development and creative workspace building for Peter Gabriel's Real World Studios.
Stonewood now finds itself in a good place, enhanced by its move to self-designed premises in the village of Corsham. A year ago it felt emboldened enough to open a fledgling London studio, and as this begins to bear fruit, the practice seems about to enter a new phase in its development.
'We're at a sweet spot in terms of the types of projects we're doing and quality of life,' says partner Matt Vaudin. 'The Holy Grail is how to keep that.'
Certainly, visiting them at the end of the winter, it's obvious that the practice is delighted with its new home, which is a clear expression of the 20-strong practice's highly crafted philosophy. The noodle confusion derives not so much from the studio's appearance – although its entrance does have a Waga­mama-style long wooden table and benches – but from its former incarnation as a Chinese takeaway. This is just one of the listed building's former uses: it's also been a malthouse, general store and Salvation Army gathering place. Stonewood has enjoyed 'listening' to the stories of the building's past and keeping its flavour as it has transformed the interior with newly configured levels and supporting structure. There's good visual communication between the different levels, and the big picture window on the high street connects the practice with the village.
Stonewood didn't want sterile; any suggestion of blandly covering up the historic masonry or painting over the plaster was soon dismissed. The exhortations 'Prepare to meet thy God' and 'The wages of sin is death', hangovers from the building's Sally Army days, are still visible on the beams.
Stonewood's unusual beginning as part of a building company has helped shape its philosophy and development. It was founded in 2010 by Nicola du Pisanie, one of four principals who have all worked at the Bath offices of Feilden Clegg Bradley Studios. She joined Stonewood Builders as its in-house architect (one of the directors was a neighbour in Bath) and then set up Stonewood Design working from the same premises. She was joined in 2012 by husband and former FCBS partner Matt Vaudin, whom she'd met when they both worked in London for Arup Associates, and the following year by Adam Chambers, winner of the RIBA South West Project Architect of the Year Award 2019. The London office is led by Ross McDonald, who rejoined Stonewood after seven years at Alison Brooks Architects.
She may well be being modest, but du Pisanie says she 'didn't have a clue' about the craft of putting a building together when she first joined Stonewood Builders, which works extensively with listed structures. She does now, and this understanding of craft and material, and how to work with a builder, are a central part of the practice's approach.
Stonewood Design likes to get its hands dirty experimenting with materials, to the point that it's had to install a shower. 'Just divine' says the effervescent du Pisanie, as she recalls using manure, egg yolk, milk and hay for rammed earth construction. She delights in the ancient techniques involved in the recreation of a Roman villa as part of a museum near Castle Cary, including collaborating with a potter on the clay tubuli that ventilate the hypocaust floor of the bath house.
Like any emerging practice, Stonewood has had its share of modest, unexciting projects that don't feature on its website. But these helped enable it to pursue quirky, more promising work and it wasn't long before the firm found success in the RIBA Awards with Pod Gallery and Myrtle Studio. The former is rather extraordinary, the insertion of a gallery within a listed barn in Gloucestershire, the lightweight timber intervention clearly legible within the host building like an oversized piece of furniture. The latter is a copper-clad garden retreat nestled harmoniously in the contours of the landscape.
While Stonewood takes part in invited competitions, it has never been what Vaudin calls 'a bidding machine'. It was able to grow organically as it took on larger work, notably the £5 million classroom and hall building at Kingswood Prep School. This was a game changer and was won through competition against a shortlist of more established names including FCBS. Located in Bath, this combines a brick plinth with cedar cladding to give a pleasing hint of woodland fairytale.
The practice has also had considerable success in the cultural sector. It recently finished the Story of Gardening Museum at The Newt country estate in Somerset, a 1,000m2, green-roof-topped building that disappears into the landscape except for one fully glazed facade and a highly textured, rammed concrete and stone side wall.
The challenge has been to retain the ethos of the small projects as it takes on larger ones. The principals talk of a common highly crafted approach, rather than a common result, running through its work, with an emphasis on 'listening' to both the client and the site.
'We let the building tell us what it wants to be. Each design is appropriate to its particular site as we work with its stories, context, history, craft and materiality,' says Vaudin.
As it grew, the practice naturally moved away from its original host company, with whom it had always had a loose-fit relationship. But latterly the two have been working together again after former Countryside Properties director Richard Cherry paired up with the builder to form a new development company to pursue larger projects. These include Somerbrook, a development of 38 houses in north Wiltshire, 88 Passivhaus homes at Severall's Field near Cirencester and one of the practice's juiciest current projects – Timber_Mill_Box housing at Gabriel's Real World Studios in Box, Wiltshire. Here, the plan is to design 20 houses and a workplace building for the creative industries with a focus on sustainability and community.
While the practice has signed up to Architects Declare, it doesn't feel the need to shout its sustainability credentials – that's just how it designs. Similarly, while du Pisanie is not looking to be a role model for women in architecture, as founding director she is one ­nonetheless, and the practice has a healthy 50-50 men-women ratio.
Other current work includes affordable housing in Kingston, a 10,000m2 aviation museum in Surrey, a small private museum in Cornwall and a mixed-use project at Castle Cary, which showcases cheese production.
Getting work doesn't seem to have been much of a problem – maybe helped by the less competitive scene in the West Country – but Vaudin admits to fretting about maintaining that sweet spot of type and amount of work. While Stonewood Design hopes to grow in London, it doesn't want to get much bigger in its Cotswold base in terms of staff numbers.
'We are ambitious for each of our projects, but we are not ambitious in terms of size, turnover, awards etc,' says du Pisanie. 'We do have the ambition to maintain the beautiful mix of amazing projects that we currently have. This size is really fantastic,' she says, gesturing to the team beavering away behind her. 'We know every person in our office really well. We have such an amazingly loyal team who work really hard.'
Quality of life and team wellbeing are important here. People tend to stay – two of its Part 1 architects are continuing for a second year out – and the practice likes to have fun. When I visit they are looking forward to a practice family away weekend in Devon. 'We care passionately about our work but we don't take ourselves too seriously,' says Vaudin.
With its firm foundations and strong pipeline of choice projects, Stonewood is well placed to continue its upward trajectory. 'We're just enjoying the rollercoaster and seeing where it will take us,' says Vaudin.
---
Read about fellow Future Winners 2020 Napier Clarke and BEaM