It's your dream to design buildings… but are you prepared for the challenges of architecture school? How to Thrive at Architecture School smoothes the path to that first successful project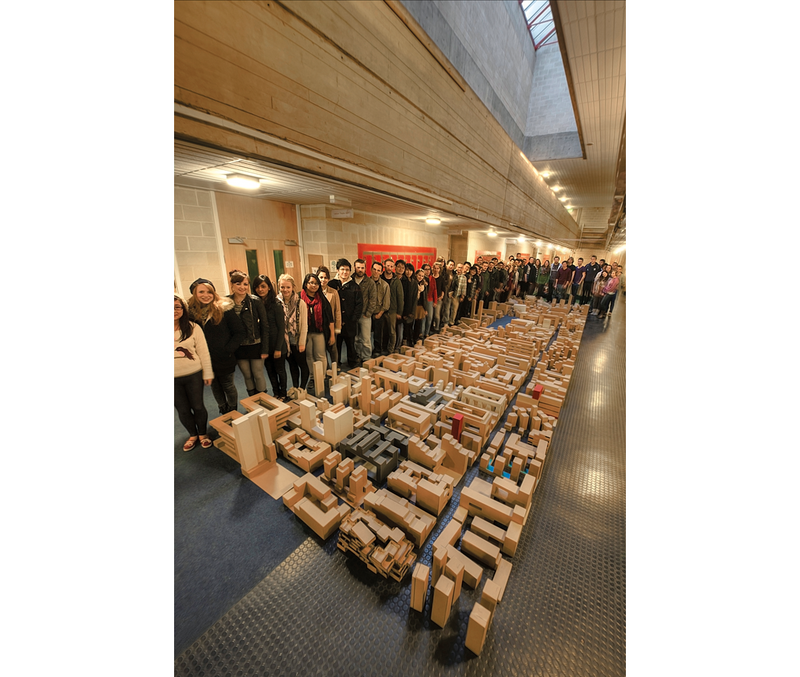 Year 3 at Dundee School of Architecture and their imagined city.

Credit: Dundee School of Architecture
Unless you come from a family of architects, starting architecture school is a bit like getting on an unmarked train, whose destination, route and duration are completely unknown. Architecture is a complex, surprising and sometimes impenetrable subject – something many on the 'inside' often forget. Faced with architecture's seemingly mysterious lexicon, workings and rituals, how fortunate for students embarking on this journey to have How to Thrive at Architecture School to help 'see what's coming, why it's coming, and how it contributes to the build-up of your architectural knowledge and skills'.
Neil Spiller, editor of Architectural Design and founder of AVATAR Group, is well placed to write this book, having held strategic posts at both the University of Greenwich and the Bartlett School of Architecture. How to Thrive is clearly structured and refreshingly jargon-free, escorting readers through architecture's unique qualification structure – from applying to architecture school, through Part 1, the year out, Part 2, Part 3 and beyond – as well as elucidating the proliferating field of alternative pathways to qualification (including apprenticeships, APEL routes, or specific alternative courses such as those offered by the London School of Architecture).
The book shines a light on some of the discipline's more opaque procedures, most notably the oft-dreaded crit which Spiller explains in plain terms: 'A crit is typically 20 to 30 minutes long, and once you have succinctly presented your work, the critics will respond to it and advise on steps moving forward'. Going on to give some useful context he explains that they are learning tools to develop ideas, and 'to practice a crucial architectural skill – orally presenting your work' which will be needed when you are 'interviewed for positions in an office, pitch for commissions, or give talks on your work'. There are some practical tips such as avoiding the 'pre-crit all-nighter', an architecture student classic, 'as it will leave you tired, stressed, defensive and unresponsive to criticism'.
Students are also prepared in these pages for the breadth of architectural education, something that often comes as a surprise. It is not unusual to hear a First Year ask whether what they are studying is 'even architecture'! Spiller, quoting Harriet Harriss, explains: 'The first year of an architecture degree is not simply the first step towards a career in architectural practice, but the ultimate multidisciplinary experience offered in higher education, exposing students to the natural, formal, social and applied sciences, not just the humanities.' Although Spiller notes that architecture leads to diverse careers – 'you could even move into theatre set design, game design, or exhibition or curation', the book is very much geared towards traditional qualification. As is evidenced by the multitude of architecture graduates who go on to be alternative types of practitioner, architectural education has a chameleon-like capacity to contribute to so many other fields and areas, so it is perhaps a shame there is not more said on this.
Not to be over-looked are the book's appendices, since it is here that Spiller touches on the more gritty issues that many architecture students encounter during their education – financial hardship, how to balance a part-time job, and the lack of diversity in the profession (there is a fantastic list of organisations that are actively operating in this space). Mental health issues, particularly in relation to workload, are explored more fully in the main text where Spiller gives some good practical advice on the topic stressing the importance of routine, maintaining other interests outside architecture and finding time to look after yourself.
The journey through an architectural education can and should be an 'ambitious series of choices' taken by each student based on their individual passions and what kind of practitioner they want to be. One of the great gifts of this volume is that it highlights these critical opportunities for self-reflection and personal agency which can and often are missed as such, for example choosing where to work during the year out, which school to apply to for Part 2 or whether to study abroad. As David Gloster explains in his essay in the book, students will need to invest time in understanding what these choices are and reflecting on which one is right for them, but making 'the correct choice is life-affirming, and life-changing'.
Studying architecture is an incomparably rich experience, but it is a long and at times difficult journey. How to Thrive at Architecture School is a handy route-map to steady the knees when giddily boarding that unmarked train.
Georgie Day teaches architecture at Central St Martins and is a Public Practice Associate
How to Thrive at Architecture School: A Student Guide, Neil Spiller, £22.50, Paperback, 176pp, RIBA Publishing, Mar 2020