Our new series on architecture schools aims to find out what students are thinking and discovering. This month we visit the Edinburgh School of Architecture and Landscape Architecture studios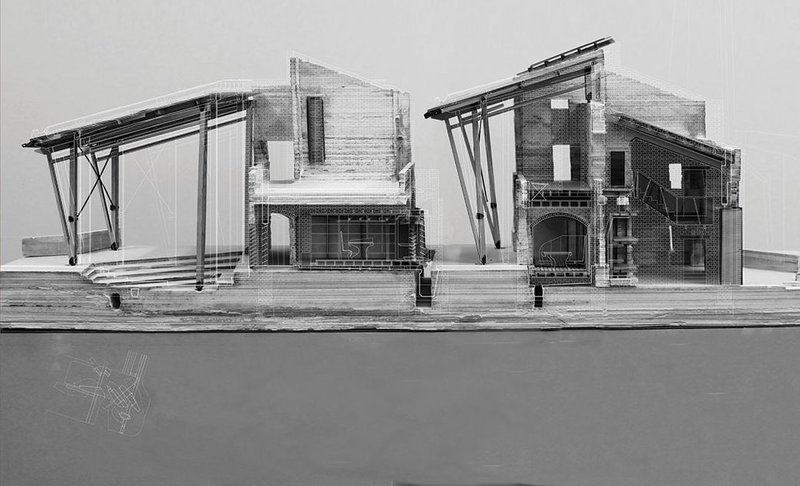 Sectional model from Kate Le Masurier and Andrew Chavet's project Crafting the Liminal.

Credit: Kate Le Masurier and Andrew Chavet for the PARA-Situation unit created by Dorian Wiszniewski, ESALA, The University of Edinburgh
Ten minutes' walk from Edinburgh's Waverley Station and the tourist bustle of the Royal Mile, and directly opposite the National Museum of Scotland, sits the unprepossessing Minto House. It is home to Edinburgh School of Architecture and Landscape Architecture, one of the few university departments still firmly grounded in the city centre. But once you enter the studios – the best two are light and high – carved out of a deconsecrated chapel, you could be anywhere in the world.
On the day I visit Manhattan and Calcutta have taken over the MArch studios and external examiners are just wrapping up their review. Once the bastion of Edinburgh alumni, the teaching staff has grown with the school's expansion (albeit with a rather painful time lag as resources caught up with student numbers). This has brought a variety of teaching methods and influences with staff hailing from France, South America and Newcastle as well as Scotland. Outgoing head of school Suzanne Ewing celebrates this variety. The incoming head of school, architectural historian Richard Anderson, has taught at Columbia University in the US and his last book was on modern Russia.
The courses are however indisputably part of the Scottish higher education system which still offers free tuition to Scottish and EU students, though not those from elsewhere in the UK. As a result Scottish and EU student numbers are capped and they make up approximately half of the student body. The standard four-year masters offered by Scottish universities gives the school great freedom. Those who choose the four-year Masters (Hons) over the three-year BA for part 1 get one nine month placement during their extended course, and a research-based elective of one semester to delve deeply into one subject, perhaps colour or drawing, an experimental process run in parallel with the dissertation. It seems the extra depth is feeding into students' work: the 2018 RIBA President's Dissertation Medal went to Rosie Milne from the school. The electives are one area where Edinburgh is trying to draw in its other discipline of landscape. The third-year studios look beyond architecture to cinema, data or radical reconstruction and more as drivers for design.
The school has a more typically structured part 2 MArch course, with some units strongly guided, and one each year spanning across the two years to give students more breadth and depth, for example studying Calcutta.
As you walk around the studios in the wake of the first semester examinations, the huge drawings hung from simply welded frames have the richness and quality of many an end of year show. Walls and partitions are in short supply so students make their own installations. It's part of the model-making culture says Ewing. Here are intense abstracted black and white plans of Manhattan, there detailed drawings of Calcutta life, here Heath Robinson experiments with water, the testing and recording of site trials at Iceland's Blue Lagoon.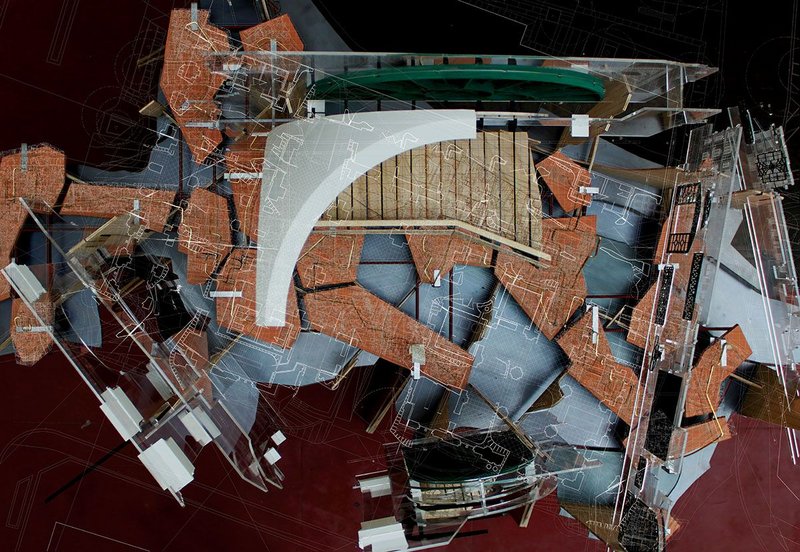 Model showing responses to wetness and an insider's view of Calcutta from Kate Le Masurier and Andrew Chavet's project Crafting the Liminal.

Credit: Kate Le Masurier and Andrew Chavet for the PARA-Situation unit created by Dorian Wiszniewski, ESALA, The University of Edinburgh
This year the school will take over the top floor of a neighbouring printworks that the university has acquired. In the face of pressures on studio space and uncertainty over Brexit in a country that has been more open to the EU and its students than England, this expansion seems a gesture of confidence in the Scottish capital's architecture school.
On Colour
Painting, colour associations and the language of colour are explored in the elective On Colour. Tutor Fiona Mclachlan exposes the many levels at which we experience colour from hue to saturation to light. She muses that architects are typically not confident using colour, though this is less about injecting it (as you might guess from Mclachlan's own black and white outfit with a hint of Mondrian) and more about understanding it.
Encompassing reading and incorporating an element of making in the studio, this elective has sparked students' fascinating investigations. This year Raghnall Whittle asked four Gaelic speakers to paint a Gaelic colour word, documenting these in a book of brush strokes that show the range of meaning (and in some cases the range of colour) that can be held in a word such as dearg or ruadh – many of which are also used in place names.
Rachel Dunne showed how Pablo Picasso's palette changed over his career before using the colours of his 1924 Mandolin and Guitar to rework a plain 1960s tower block on Edinburgh's Joppa Road, testing different patterns and the amount of colour applied.
PARA-Situation [Calcutta/ Kolkata]
A model of Perspex and ply brings together layers of doorways, mouldings, detail and fragmented planes of ply. Soft drawings of tea pouring give a sense of a culture intimately studied. Tutor Dorian Wiszniewski wanted students in his two-year unit to get deeply into Calcutta and here is the evidence that they have.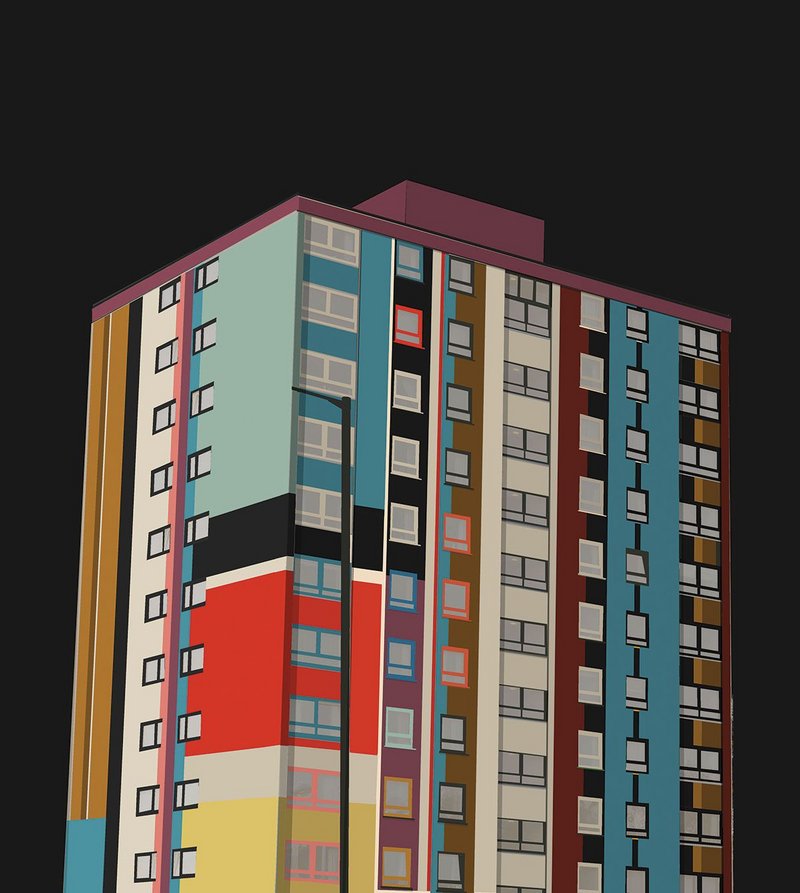 For her fourth year elective Rachel Dunne took On Colour. Her project analysed the colours of Pablo Picasso's Mandolin and Guitar and applied them to a tower block.

Credit: Rachel Dunne for On Colour, created by Fiona Mclachlan, ESALA, The University of Edinburgh
What Wiszniewski consistently brings to his students is an understanding that different perspectives, different interpretations can produce something different. For this unit he asked students to consider two main themes: Oceans of Wetness, a manifesto from Indian/US practitioners Anuradha Mathur and Dilip da Cunha; and Inside Out, a way of placing yourself inside the city and navigating out towards strategies. Oceans of Wetness ditches the concept of dry land in favour of degrees of wetness, a particularly apposite way to consider building in Calcutta where attempts to seal wetness under tarmac and concrete seems doomed when the monsoon sees ground water levels rising and rain pouring down. Fissures, cracks and overlays – as seen in the bridges and boardwalks of students in Crafting the Liminal by Kate Le Masurier and Andrew Chavez – come from this more nuanced understanding. This project looks at the re-establishment of the craft base in Calcutta. This is a city where people used to be involved in crafting buildings, and although the skills are still there, they are no longer being brought into the construction economy. Wiszniewski is always looking for ways a building embeds a method of argument, what he calls the 'thetic proposition'. Students' work needs to be more than simply building a design.
---
METRICS
Students part 1 448
Students part 2 114
Studio floor area
Part 1 1,332m2 (2.97m2/student)
Part 2 758m2 (6.65m2/student)
Tutors per undergrad student 1:15
Tutors per MArch 1:12
Studio opening times
Mon – Fri 0700 – 23.00
Sat – Sun 10.00 – 23.00