It is 20 years since the opening of the Jubilee Line Extension, just in time for the Millennium – and city infrastructure schemes are still learning from it says Weston Williamson + Partners founder Chris Williamson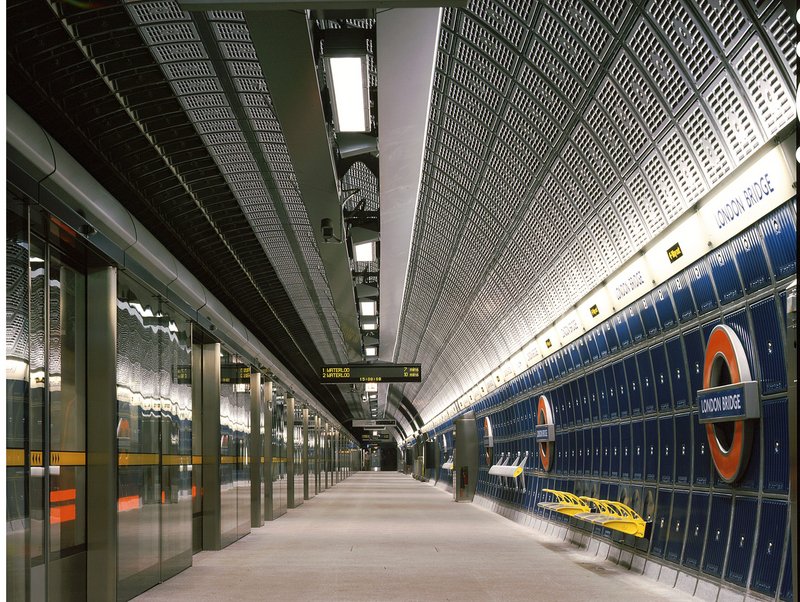 The Jubilee Line station at London Bridge.

Credit: Weston Williamson + Partners
Back in 1992 Weston Williamson + Partners won the project to design the Jubilee Line station at London Bridge in competition with Rock Townsend, Ken Armstrong (formerly in a partnership with David Chipperfield) and Chris Wilkinson. We had been shortlisted after being interviewed by Roland Paoletti, the Jubilee Line chief architect, who had recently arrived in London after working on the Hong Kong Metro.
We had targeted the Jubilee Line Extension (JLE) after our first 'big break' disappeared in the property downturn of the late 80s. We had set up our office in 1985 and within two years won a large project for the HQ of the Port of Tilbury. After we had obtained planning permission and done most of the working drawings, the project was cancelled because of a plunge in property values. So we decided to spend our time and energy on the Venice Bus Station competition, working with Arup on the traffic modelling, and Paoletti was sufficiently impressed to shortlist us for the London Bridge project without any previous metro experience. Sadly he passed away a few years ago. He was difficult and demanding but we owe him a lot.
The mini competition for the JLE station at London Bridge comprised a design element in response to an excellent brief – which called for minimal finishes, a celebration of the civil engineering and exposed services – and a fee proposal. The late Ron Herron, who had just won the JLE Canada Water Station, helped us with the financial bid alongside Colin Hayward, a partner at QS Boyden (now at PT Projects). We produced a sketchbook of ideas as the design response, and looking back the final design ideas were remarkably faithful to it.
Paoletti liked to describe the process he had set up as like a piece of jazz. He wanted each architect to choose or design their own components for cladding, seating, lighting and finishes. But then he would pull them all together and decide what to use where. The contract cleverly said whatever we designed for London Bridge could be used on any other station without additional fee. Which was both a blessing and a curse as our services boom was used on several stations and the cladding we designed with Glynwed (which makes Aga cookers) was used as the basis for Westminster and Waterloo too. For us it was a fantastic project; it was like doing five in one. We were refurbishing and reusing amazing Victorian brick arches, piecing in new infrastructure and designing a brand new ticket hall under Borough High Street as well as products such as cast iron cladding panels and aluminium seating. And treating the ventilation shafts as pieces of urban art while all the time thinking how it would fit together in the conservation area and the wonderful heritage of the industrial revolution to which modern Britain owes so much.
The most interesting thing about the project in retrospect is that it was seen purely as a transport one – the brief literally stopped at the station entrance, with no urban integration. Terry Farrell got in touch with us because he was working on London Bridge Station for Network Rail, and there was absolutely no connection between his project and ours. So between us we developed an integrated scheme – the bare bones of the project finally implemented some 30 years later – but at that time no one was interested in an integrated solution. In a very British way the correct solution finally emerges over time rather than through a concerted coordinated effort.
Infrastructure projects in the UK still continue to be planned in isolation with little coordination. The situation is improving but is still too project focused. But key lessons were learned on the Jubilee Line extension and improvements have been implemented on current projects such as Crossrail and HS2.
The first is the importance of architecture. JLE chief architect Roland Paoletti employed great designers including Norman Foster, Michael Hopkins, Ian Ritchie, Ron Herron, Chris Wilkinson and Richard MacCormac. He encouraged young architects such as ourselves by including at least one young firm in the shortlist for each station. The stations were very well received by the travelling public and good architecture has been a feature of subsequent infrastructure projects.
Second, ensuring a contribution from the private sector has been a vital component in the business plan of projects such as Crossrail. The Jubilee Line Extension received a contribution of £400m (5% of the final cost) from Canary Wharf in exchange for a guarantee of 30 trains per hour to serve the development, but many other developers who didn't contribute benefited enormously from the improved connectivity. So Crossrail has ensured that the private sector contribution towards the costs is 30%, funded through a combination of CILS (community infrastructure levies) and business. It is intended that Crossrail 2 will push this percentage up to 50%. The involvement of local authorities at an early stage has become more common. On the Crossrail 2 project, for example, urban regeneration plays a major part in influencing the route alignment and positioning of stations to maximise the business case. We are working with TfL alongside the local authorities to ensure their intentions are incorporated and the position of stations and entrances are not dictated entirely by the route alignment.
Original sketches of lighting details.

Credit: Weston Williamson + Partners
Some things haven't improved much over the last 20 years though. There is a distinct lack of a design champion at London Underground or at TFL, for example. A design review panel would be a good step. The Design Review Panel of HS2 is a welcome initiative but it would benefit from more members who have experience in large scale infrastructure projects and their regenerative influence.
The introduction of art into infrastructure projects such as Crossrail is, however, an excellent initiative. It is already being referred to as the 'Culture Line' with each station involving an artist in collaboration with a neighbouring contemporary gallery. At Paddington we are working in collaboration with the Lisson Gallery and the New York artist Spencer Finch on a 140m long cloudscape embedded into the glass canopy above the station entrances on Departures Road. We were fortunate that we had the canopy as an available canvas. In future it would be good to introduce the artists at an earlier stage so that they can contribute ideas for setting and context.
London has become a model for infrastructure projects and Weston Williamson has enjoyed playing a part in the creation of a more civilised city. Even small projects such as the traffic calming measures at key junctions such as Archway and Highbury Corner have had a huge effect. At these locations, what were formerly large urban traffic roundabouts have had one side pedestrianised and the traffic reorganised to be two way, slower and more respectful to cyclists and pedestrians. These schemes, alongside the innovative congestion charge, which is reinvested in public transport, is making London a model for other world cities. Even Los Angeles has introduced (by referendum) an increase in sales tax dedicated to improving public transport. It is a vital component in tackling climate change.
The Jubilee Line project has shaped our careers. It led us to appreciate the impact of infrastructure in creating civilised cities. It has opened up opportunities to work in places such as Malaysia, Singapore, Australia and Canada, winning the Queen's Award for Export along the way and helping to shape cities to address the future. As Roger Sherman, associate professor of City LAB UCLA, said: 'Those who at any point over the past 30 years or so followed the discourse on the design of the contemporary city cannot help but be led to the conclusion that the architect's last hope by which to shape and discipline an increasingly unruly and uncontrollable metropolitan condition is through its networks of infrastructure.'
Weston Williamson recently undertook a comprehensive survey of attitudes to public transport in 10 world cities and will use the findings to improve our service and to help shape policy and design both now and in the future – to improve our cities and influence the way we move around and between them, for the good of our future and our planet.
We are passionate about our cities, about using our experience to improve these environments around the world. We can all learn from each other to control climate change and create civilised cities. New energy technologies will also help and with the right design skills turn our cities into green and pleasant spaces. We look forward to the future with great enthusiasm. As Abraham Lincoln said: 'The best way to predict the future is to invent it.'