Kelvingrove's appraisal of Mackintosh and his milieu shows a style forged in a period of change and ahead of its time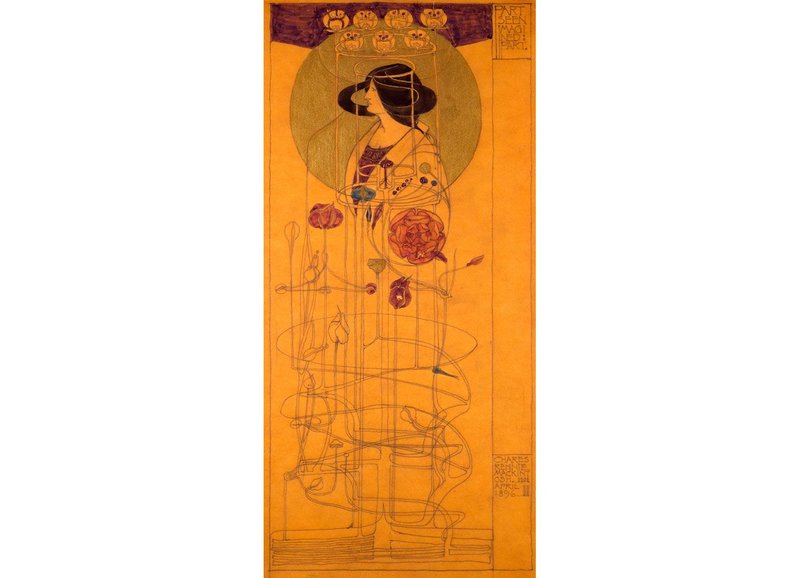 Charles Rennie Mackintosh, Part Seen, Imagined Part, 1896.

Credit: CSG CIC Glasgow Museums
It's 150 years since the birth of Charles Rennie Mackintosh. While the anniversary is undoubtedly a good opportunity to re-examine his hugely influential work, can there possibly be anything fresh to say? Definitely, says Alison Brown, curator of the new exhibition Charles Rennie Mackintosh – Making the Glasgow Style at Kelvingrove Art Gallery and Museum in Glasgow.
Her approach is to give a wider context to Mackintosh's achievements, both by celebrating the creative milieu that he was part of, and by placing their work in the social and economic climate of the times. In doing so, this new exhibition goes far beyond just a run through of the better known of Mackintosh's designs such as the Glasgow Rose, the high-backed chair and his masterpiece, the Glasgow School of Art.
1893 is identified in the exhibition as a key year in the style's development, the year when Mackintosh, then a young architect, and his colleague Herbert MacNair went to evening classes at the School of Art where they met fellow art student sisters Margaret and Frances Macdonald (who they were later to marry).
'The meeting of these four like minds was central to driving the development of the Glasgow Style,' says Brown, who is curator for European Decorative Art from 1800 at Glasgow Museums.
Other important figures include graphic artist Talwin Morris, multi-disciplinary designer and artist Jessie Marion King, architect James Salmon and embroiderer and designer Ann MacBeth. The collective result was an extraordinary outpouring of creativity over the next two decades encompassing furniture, textiles, ceramics, glasswork, metalwork, needlework, architecture and interiors. This includes Mackintosh's famous series of tearooms from 1900-1912 for Miss Cranston in which he created a total design of furniture, light fittings, wall decorations and cutlery, as well as defining architectural commissions such as the Glasgow School of Art and Hill House. The show traces the story of Mackintosh's personal creative journey as he developed the Glasgow Style, heading off in his own direction of geometry and bold pattern.
'He's doing Deco before anyone else is,' says Brown.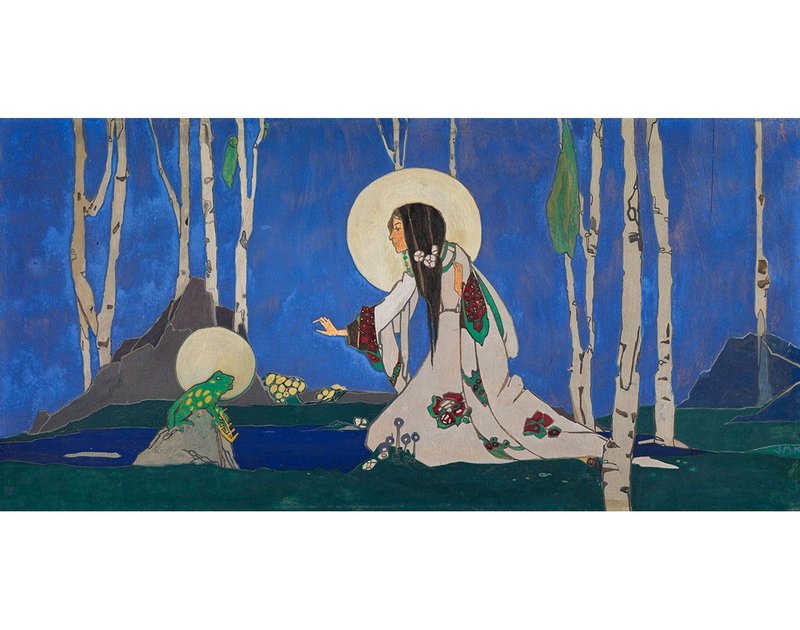 Jessie M King, The Frog Prince, 1913.

Credit: Kirkcudbright Galleries.
This is all set in the wider context of a fast changing society – not only the rapid expansion of a thriving city but the increased opportunities that arose from the introduction of compulsory education (of which Mackintosh's generation were the first beneficiaries), and the development of the women's suffrage movement.
More than 250 works are exhibited with loans supplementing pieces from the Glasgow Museums' collections. Many are being shown for the first time in decades – such as a recently conserved section of painted paneling from 1900, featuring an early example of his famous rose motif, which was salvaged from the Ingram Street tearooms in 1971. This is shown with other decorative elements from the gesamtkunstwerk interior. Other key pieces include Mackintosh's first high-backed chair, designed for the Argyle Street tearooms in 1898, watercolours by the Macdonald sisters and original design drawings for some of Mackintosh's key interiors and buildings.
In particular, the exhibition focuses on the process of making through its choice of drawings and exhibits. These include two gesso wall panels, The May Queen and The Wassail, which were made by MacDonald and Mackintosh respectively and were shown at the influential Vienna Secession Exhibition in 1900. The May Queen is displayed here at eye level to enable viewers to appreciate how it was made.
'It's a revelation to see up close – rough hessian with paint and beads, really textured and tactile. They're so obviously hand-made – you can even see fingerprints. I defy anyone who sees it up close not to want to make one themselves,' says Brown.
The exhibition identifies another key year as 1911, the year of Morris's early death at just 45, and when Mackintosh designed his penultimate tearoom for Miss Cranston. By then, his building work was drying up and tastes were turning away from the work that had brought him so much success, even before the economic impact of the First World War. Just three years later, Mackintosh and Macdonald were to leave Glasgow for London before moving to the South of France in 1923.
Interest in Mackintosh has ebbed and flowed over the decades – by the time of his death in 1928 many of his interior projects had already been lost. It wasn't until the centenary exhibition in 1968 and the establishment of the Charles Rennie Mackintosh Society in 1973 that a wider general appreciation of his work was sparked anew. More recently, the traumatic 2014 fire at the Glasgow School of Art has prompted a new wave of interest, says Brown. Her hope is that the anniversary exhibition will encourage visitors to seek out the work of Mackintosh and his milieu around Glasgow for themselves. This will soon include Mackintosh's Willow Road tearoom, which is due to re-open this summer after a lengthy restoration.
'I hope people will go out to look at the city with new eyes, she says.
---
Charles Rennie Mackintosh – Making the Glasgow Style, until 14 August 2018, Kelvingrove Art Gallery and Museum, Argyle Street, Glasgow G3 8AG