Previous Eye Line winner Tszwai So, of Spheron Architects, explains the gestation of his picture Slonim, 1941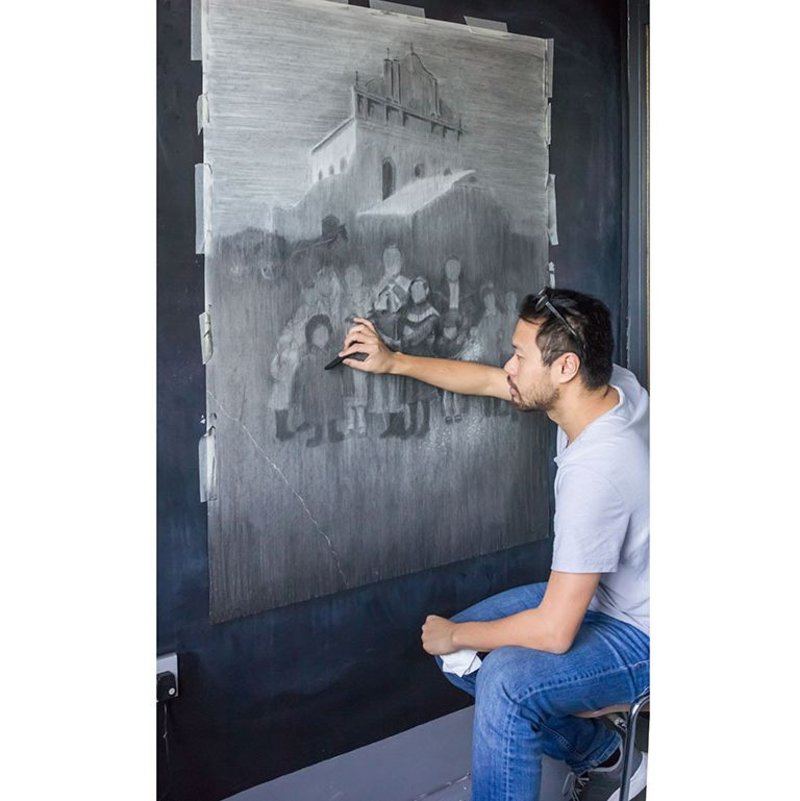 So working on Slonim, 1941, in his studio.

Credit: Mikalaj Packajeu
On 24 June 1941, Nazi troops marched for the first time past the 17th century baroque synagogue in the market place of Slonim, a historically important Jewish town taken over by the Soviet Union from Poland less than two years before. Soon after that a ghetto in Slonim was set up by the Schutzstaffel (SS), and in just over a year, with the exception of a small number of partisans who managed to escape into the forests, the entire Jewish population of 22,000 was exterminated in a series of massacres. Children were murdered manually by the Nazis who wanted to save their bullets, pregnant women were shot in the belly. Since then Yiddish has not been heard in the streets.
What has this got to do with a drawing? Slonim is in present-day Belarus, and in 2017 I was invited to join the steering committee of the Slonim synagogue restoration campaign by the Foundation for Jewish Heritage, mainly because of my personal connections with the country. I visited the synagogue twice, first in 2017, then in 2018. The building – used after the war as a warehouse and furniture store – was abandoned in the 1990s and is now a virtual ruin. Last time I was there, I sat in front of what was the rear of the synagogue and did a quick study sketch in pencil. When I returned to London I was granted access to a private archive of old photos and memoirs of a family who came from Slonim. Their ancestors used to worship in the synagogue and had lost many members during the Shoah. This is the context in which this charcoal drawing was created.
I have always been fascinated by the relationship between human emotions and architecture. Places or buildings with which we connect emotionally are always those associated with special events in our past. But a building itself cannot trigger an emotion. Instead, I agree with the concept expounded by neuroscientist Lisa Feldman Barrett that emotional experience is simply an instantaneous construct of the present in our mind. I am also not convinced that feelings can be evoked without any attachment to worldly objects and represented in a purer form by abstract geometric shapes as the suprematist painter Kazimir Malevich claimed.
With this in mind, I hoped to build and convey an emotion through the drawing, informing any future design decisions on the restoration project. Doubtless influenced by the album in the family archive and my experience in Slonim, little by little the impression of an old and ambiguous photograph started to emerge. It shows a synagogue flanked by a unusual wall with a baroque profile, as it would have been in 1941. There is a solitary horse cart to be seen in the marketplace in the distance. In front of the building stands a group of unidentified children of different ages, dressed in styles typical of the time in that part of the world, all faceless.
I made the drawing in charcoal. This is not an ideal medium for making technical drawings, but when it comes to communicating feelings, it is very effective. The ephemeral nature of human emotions means that they are better captured by charcoal than any other medium: 'you can change charcoal as quickly as you change your mind,' says the artist William Kentridge.
The family has since then given it a terse title: Slonim, 1941.
The finished drawing Slonim, 1941 (charcoal on paper, 1347mm x 1016mm) to be exhibited in So's solo exhibition 'Emotional Architecture' at Wolfson College, the University of Cambridge.

Credit: Mikalaj Packajeu