Spheron Architects for The Holy Sea of Rome, Woodside Park, London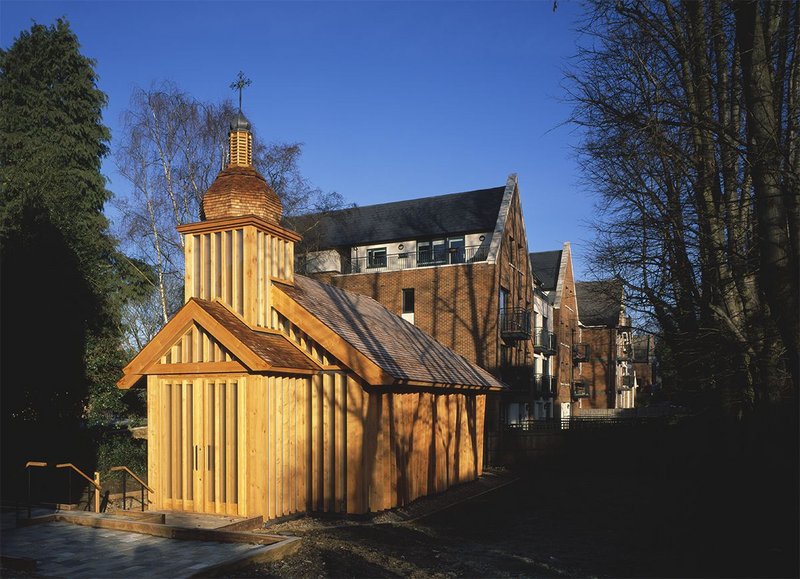 Belarusian Memorial Chapel.

Credit: Helene Binet
Lovely building… Looks like it is made of matches and held close to the camera' – Judge Russell Curtis
The Belarusian Memorial Chapel is the first wooden church to be built in London since the Great Fire of 1666. The chapel has been built for the Belarusian diaspora community in the UK, and is dedicated to the memory of victims of the 1986 Chernobyl nuclear disaster.
Funded by the Holy See, the 69m2 chapel sits surrounded by 17 protected trees in the grounds of Marian House, a community and cultural centre in north London. Accommodating up to 40 people, its design mixes traditional and contemporary elements.
Entirely pre-fabricated, the lightweight timber structure is made from sustainably sourced British Douglas fir. Extensive use of CNC technology allowed separately manufactured parts to be assembled on site, allowing quick construction. Traditional forms and motifs are complemented by contemporary detailing, exemplified by the undulating exterior fins that form the facade. Similarly, ground level clerestory windows running throughout the chapel enhance natural lighting inside, while giving the appearance that the structure is floating.
Extensive research into Belarus's wooden church tradition was undertaken by project architect Tszwai So, who spent time in Belarus, recording and sketching traditional churches in rural villages to gain closer insight for the design. So worked closely with the community both in the UK and Belarus to engage with their immediate needs.
---
Credits
Client The Holy See of Rome
Principal designer/architect Spheron Architects
Engineer and principal contractor Timberwright
Services engineer Arup
Wood suppliers East Bros Timber, Egoin UK
Environmental/M&E engineer Arup
Quantity surveyor/cost consultant Change Project Consulting
Planning consultant Alpha Planning