Ford 's future mobility plans spring a surprise at disintegrating Michigan Central Station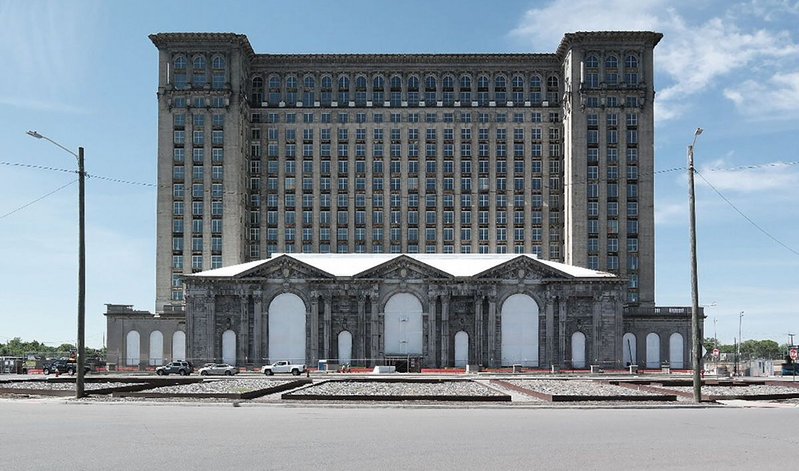 Michigan Central Station, still grand though crumbling with train shed at the base and offices above.

Credit: Oliver Wainwright
Standing alone on the skyline like a great stone bookend, bereft of books, Michigan Central Station has loomed over Corktown in western Detroit for decades as a painful reminder of the city's long gone glory days.
Designed by Warren and Wetmore, it was the tallest station building in the world when it opened in 1913, with a slender slab of offices towering 70m above the train sheds below. At its height, the station saw more than 4,000 passengers a day, but it wasn't to last. In the city that invented the automobile, the interurban service was discontinued less than two decades after the station opened. It finally closed in 1988 and was left to rot – too big to renovate, too expensive to demolish.
Today, crumbling plaster rosettes cling to the vaulted ribs above the main concourse, while stone columns, swollen with damp, support precariously balanced capitals. A rusting iron roof hangs like an eerie cage above the former taxi drop-off, while 13 floors of empty peeling offices rise above.
As a readymade icon of urban dereliction, it became a popular choice for location scouts looking to conjure a post-apocalyptic mood, starring in Eminem's 8 Mile and the Transformers movie, and providing an atmospheric setting for the climactic battle scene in Batman v Superman. It is the supreme specimen of Detroit's rich array of ruin porn. Beyond repair, it seemed consigned to a fate of providing spooky scenography until it crumbled once and for all.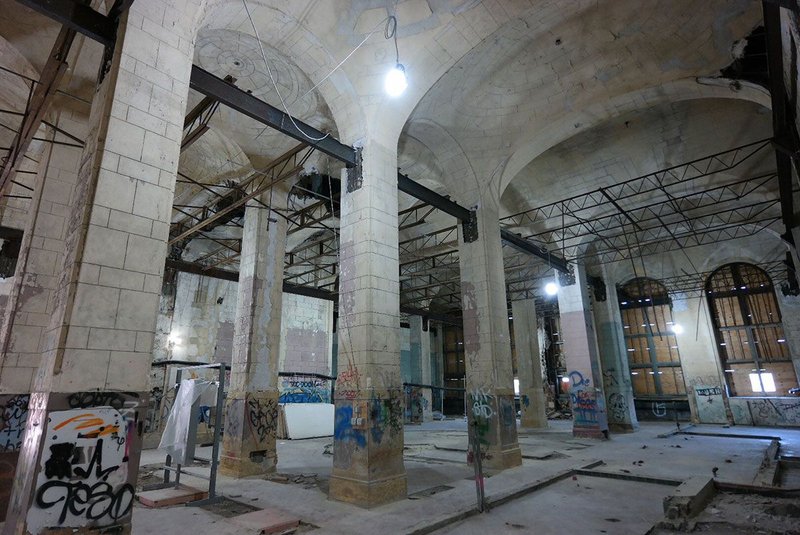 Ford Motor Company is starting work on a research centre into future mobility in the station.

Credit: Oliver Wainwright
The clock was left in an alley with directions to find it texted from a disposable burner phone
This all makes what is happening now all the more remarkable. Last summer, Ford Motor Company announced it had bought the building, with plans to invest $740million to transform it into a world-leading research centre for 'future mobility'. The very industry that signed the station's death warrant in the first place is now set on resuscitating it as a beacon of sustainable transport.
'It's quite a turnaround,' says Richard Bardelli, Ford's construction manager, as he shows me around the building. 'It was the icon of its day, then it became a symbol of the city's decay. If the building was knocked down, it would be the end of Detroit.'
His team's first challenge is to dry out the great hulk. After years without windows or a watertight roof it's sodden, and decades of freeze-thaw have left extensive cracking in the masonry. After pumps were installed in the basement and fans placed throughout the building, taking care not to dry it too quickly, the stone facade has already lightened in colour. Replacement blocks of Indiana limestone are being mined from the quarry that supplied the original stone.
Silicone casts have been taken of decorative plasterwork, while the whole building has been scanned to enable some details to be 3D-printed.
'I've never been involved in a project where a building has brought so much out of a community,' says Bardelli, describing how the renovation has encouraged people to come forward with items they'd scavenged from the building over the years. People have returned lamps, letterboxes and elevator buttons, and one anonymous donor even returned the enormous cast-iron clock that once hung above the entrance. This was a real cloak and dagger affair: it was left in an alley with directions to find it texted from a disposable burner phone.
In Ford's plans, the entire ground floor will be a public market-style space, with food and drinks stalls and events, while the offices above and a couple of nearby buildings will house its 1.2 million ft2 innovation campus, where the company and its partners will work on autonomous and electric vehicle businesses, and urban mobility services, bringing 5,000 new employees to the area.
'Detroit has long been the automotive capital of the world,' says Bardelli. 'Now it's going to be the mobility capital of the world.' They could start by bringing the trains back.
---
Whisky and wildlife
The team sent in to survey the decrepit station might have been expecting to find dead bodies and other ghoulish relics, but their chief discoveries have been 100-year old beer and whisky bottles, hidden in the walls by the original masons – and a family of foxes living happily on the 12th floor.