It's an office Jim, but not as we know it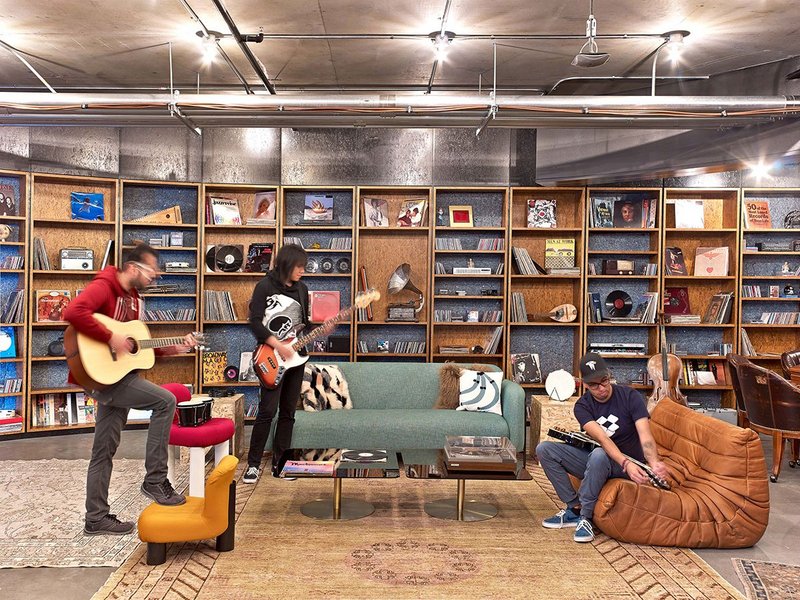 A room for every mood at Dropbox workspace, as designed by Rapt Studio.
'What are you grateful for today?' asks a sign at the entrance to the San Francisco offices of tech company Heroku, carved into the panels of artfully distressed timber that line the back of a free-form amphitheatre. A table of Lego bricks stands nearby, while on a putting green in another corner of the open-plan office floor programmers take a break from coding the future of cloud platforms. Hammocks swing above beanbags in the meeting room, while a big steel staircase leads past a kitchen stocked with jelly beans and kale snacks, to a penthouse yoga studio.
'The tech world has an extreme desire for identity,' says Louis Schump of Rapt Studio, the creative agency behind this warehouse-cum-playground – a place where life is curated by full-time 'vibe managers'. 'The biggest concern is about defining oneself as non-corporate, even if you employ 20,000 people. Clients come to us with the same mission statements and the same Pinterest boards, yet they're all saying they're unique, so our role is to craft a narrative for them.'
He conceived Dropbox's 300,000ft2 office as a 'radially expanding village,' every element designed to 'maximise the experience of what being a Dropboxer should be'. For gaming app Twitch he took inspiration from computer games: one meeting room looks like a garage, with the urban whiff of Grand Theft Auto; another is Zelda-themed, with elaborate wooden thrones. 'These people type and click for a living, so there's a need for tactile stuff,' he adds. 'They want real materials, everything artisanal and locally sourced.'
You can stand, perch, slouch, swing or run while you type (yes, there are treadmill desks), and pop for a meeting in an Airstream caravan or simulated noodle bar
In the competitive market to ensnare the best techie minds, Silicon Valley companies are increasingly turning to the design of their workplace to stand out from the crowd and offer that extra little something, beyond the all-you-can-eat buffets.
The current buzzwords are 'choice' and 'mobility'. The Airbnb offices are a hymn to the former, offering working environments from a stepped terrace of beanbags to a dimly-lit library straight out of a gentleman's club. You can stand, perch, slouch, swing or run while you type (yes, there are treadmill desks), and pop for a meeting in an Airstream caravan or simulated noodle bar.
At Samsung's new headquarters in San Jose, movement is the driver. 'If you sit down for more than 20 minutes, you get dumber,' says Scott Wyatt of NBBJ Architects, which is designing vast HQs for tech giants around the world. He says the brain achieves optimum cognitive function when you are walking outdoors, so the Samsung office floors are separated by outdoor terraces through which employees must stroll to reach other departments. Google's campus is designed around meandering footpaths for al-fresco meetings.
Bucolic wifi-working is the idea behind Frank Gehry's rambling Facebook HQ, which features a 3.6ha park on the roof above the aircraft hangar-like spaces below, designed with flexibility and customisation in mind. It's a rough and ready aesthetic, with raw steel columns left unpainted, still displaying the contractors' spray-painted markings. 'We're only 1% finished connecting the world,' says my young guide, 'so we wanted the building to look unfinished too.'
The flexibility philosophy infuses Google's London flagship too, designed by AHMM with a system of 'hackable' meeting rooms, built from modular cassettes which can be taken apart and reassembled within hours – although quite how often any company needs to rebuild their meeting rooms remains moot. Apparently not wacky enough, AHMM was replaced on Google's London outpost by Bjarke Ingels and Thomas Heatherwick, who promise 'Silicon Valley startup garage meets London train sheds'.
So what am I grateful for today? That I get to sit in a chair and work at a desk, free from a dizzying menu of curated workplace vibes.
Oliver Wainwright is architecture critic at the Guardian
---
CREATURE COMFORTS
Many of the Bay Area tech offices are cluttered with strange homemade canopies suspended above programmers' desks. The reason? Many coders don't like high ceilings, but prefer the feeling of being in a cosy cave. According to cognitive research, while lofty high ceilings are beneficial for creative thought, low ceilinged spaces are better for mathematical tasks.