It's not London's skyscrapers that are the problem, it's the paucity of genuine public realm at their feet
William H Whyte's documentary The Social Life of Small Urban Spaces can appear dated. Whyte, whose voice could easily be mistaken for that of a biology teacher, narrates grainy footage of 1980s office workers as they mill in wide-bottomed trousers over Lexington Avenue lunchbreaks. His observations seem trivial, his mode of research quixotic.
Yet Whyte's simple, digestible messages are of paramount importance to today's developers and architects of the City of London. His study concentrates on the small, strange, functional parks that litter the dense agglomeration of Midtown Manhattan, and as London builds upwards in a similarly tight arrangement, let's not forget the street level. Rather than create a haughty ghost-town that thinks of itself as separate from the rest of the capital, we must ensure the City of London continues to be what it always has been – Londinium's throbbing commercial centre.
Whyte identifies the key components that create a Paley or a Greenacre: the park should be marginally recessed but easily accessible from the street, so that walking past, one might glimpse it haphazardly, pause, and enter in; there should be an abundance of seating, not necessarily in the form of benches, but rather friendly ledges and softened steps that people can choose to sit on without fear of a spike up their arse (Whyte delights in one man circumventing a spike with the ingenious use of a thick piece of cardboard); water features are imperative, as their lapping helps muffle the hammer and tong of surrounding construction sites, and in summer they ought to serve as usable paddling pools rather than just ornamentation; street vendors should be welcomed in – if food is bought outside then it tends to be consumed outside which is surely preferable to a desktop sandwich; and finally the parks are open to all: to the corporate lawyer and to the pigeon lady, to the pub landlord and the investment analyst. Taken together, the tiny park becomes a people-watching arena, where the mediated light of the surrounding skyscrapers beckons the public in.
Since the erection of 30 St Mary Axe in 2003, a further 11 buildings over 100m have been or are being constructed in the City of London, prompting widespread outcry. But the skyline vitriol endlessly directed at the City should really be saved for elsewhere. Aesthetically speaking, clusters of skyscrapers are always a dramatic highpoint that signify world capital. Next to one another they succeed in blurring out each other's shortcomings. 'What about St Paul's?' the people cry. Truth be told, her white profile remains distinct against the background grey of the City's glass upon glass, and I would even go so far as to say that, from the West, the creation of an inadvertent chiaroscuro has improved the views. It is when skyscrapers insist that they are distinct enough to shun the crowd that the aesthetic damage is done, which is why 20 Fenchurch Street has come in for such universal disapprobation, and why greater development around it can only be applauded.
Socially, objections to the City's skyscrapers are over-egged. It is London's empty residential housing that should be combatted rather than office towers, and in this respect, the skyline battle should be saved for buildings like One Blackfriars, in which just one flat scrapes in at under £1 million (an apartment on the 40th floor will set you back at least £13.25 million). Allowed to stand on its own, it bulges grossly like a middle-aged man who wears lycra in a desperate attempt to look younger and sportier than he actually is. In a borough where applications for council housing begin with a series of warnings about the unlikeliness of a successful outcome, there's something gross about the way in which St George Berkeley's paid off Southwark Council to house the poor elsewhere.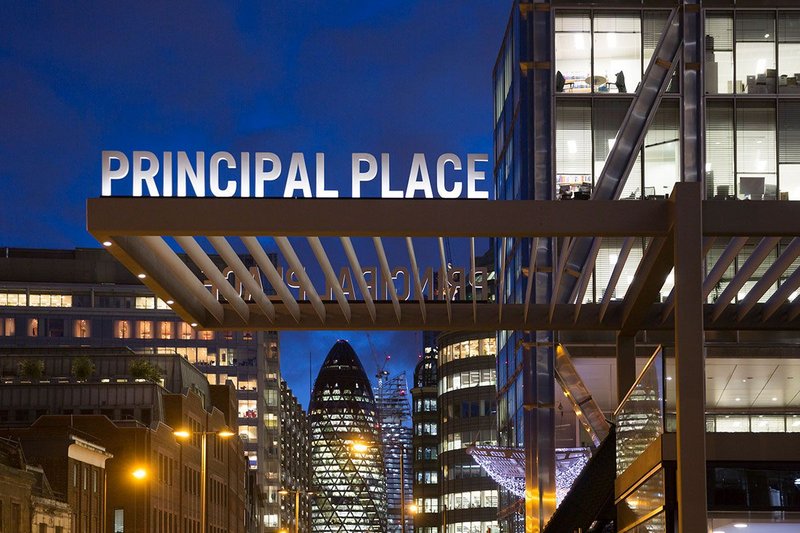 Where are the true break out spaces in the city – beyond the bounds of corporate walls? Foster and Partners' Principal Place, City of London.

Credit: Aaron Hargreaves / Foster + Partners
As public complaints have become increasingly vociferous over the height of the City's new skyscrapers, little attention has been given to their contribution, or indeed lack thereof, to the actual streets they inhabit. What new public space has been created? Is it really their height that deserves interrogation?
The Leadenhall Building does its best to embrace the street but ends up enclosing and overbearing it such that notions of leisure are squashed. In the renderings for 52 Lime Street the 'public square' in front of the building is indicated by a solitary tree and the closest thing it promises to a seat is a row of bollards. An easy target as ever, 20 Fenchurch Street remains the most egregious. Yes, one side of the building is a thoroughfare, with a green wall that feigns an interest in harmonising with the street. Yet its claim that the SkyGarden is public, where entry is 'free' although 'space is strictly limited and visits must be booked online in advance (…),' is frankly derogatory to the people of London. Whyte, who believed in ease and equality of access, who lingered on shots of homeless people cooling their feet in water fountains, would surely be galled to think that a 'public' space could be ticketed. For him, the beauty of a park lay precisely in its self-regulation. Unable to formulate a rule as to why Manhattan's parks never exceeded an uncomfortable mass of people, he accepted that an unknowable crowd psychology dictated the flows of people in and out, and therein lay a true beauty that had something to do with the orderly chaos of the world. The Skygarden is anathema to Whyte's vision of free movement.
One might think it a tad naïve to believe that a bit more public space in the City of London will reconnect it to its surroundings. 'Build it and they will come,' says Whyte of public space in American cites. But in the case of the City of London, it is a towering riddle of two-piece suits and curtain walls, where mirrors of opaque glass hide transactions that few understand, where facelessness is prized and where the two and a half miles that separate it from HMRC can often feel a whole lot further. Whyte may examine Midtown, but the City of London's sister across the pond is in fact the Financial District, an isolated outpost that espies the freedom of the Brooklyn Bridge Park from the other side of the East River. The City of London, governed as it is by a corporation, represents the interests of private capital and always has done, and a smattering of urban oases will do little to democratise that. The otiose spaces gestured by skyscrapers in the past few years show that attempts to bring the public into the City are always half-hearted and always in vain. Shall we save ourselves the bother and just let the City cast off like any of our overseas territories? Besides, with an estimated population of 7,235 at a density of about a fifth of the neighbouring Borough of Tower Hamlets, who exactly are these public spaces going to be for? Commuters on their lunchbreaks?
It is tempting to give in. But it is outright dangerous to say that public spaces should be the sole preserve of locals and it is a perfect lie to say that the City of London is just too intimidating to be opened up to the public. How come the Barbican, a building in the very centre of the City, a building so opposed to outsiders that it is named for a fortification, is always so very full of people? The public terraced gardens at the heart of the private estate, despite their winding distance from the street, manage to draw all sorts in, and certainly not just residents who have the additional benefit of their own gated lawns. Ledges invite punters down to the water's edge, some to frolic, some to laze. The space has all the animation of a Brueghel scene. Whyte is right. Build it and they will come.
Henri Lefebvre, the French sociologist and theorist, usefully polemicized the individual's right to the city, and he is right, but his thinking is shrouded in the sort of French verbosity that some find trying. Whyte's observations of small moments of humanity tell us more about the psychology of being a citizen. One of the surprising recommendations from The Social Life of Small Urban Spaces is that seating in public parks ought not to be fixed. Whyte noticed that when people approach untethered chairs in public spaces, they will almost always take them and move them, perhaps only a matter of inches, before they sit down. Often the chairs are moved to a position comically close to where they first stood so that there is no material difference in temperature, shading or breeze. But the gesture is surely one of ownership, of having a share in the street and, in this respect the infinitesimal nudge of the park-going citizen replicated across all the parks in the whole of the city becomes the collective psychology of the park-going polis, at which point the very structure of our society is being defined by the individual's ability to take a chair and move it a bit to the right.
Allowed to stand on its own, it bulges grossly like a middle-aged man who wears lycra in a desperate attempt to look younger and sportier than he actually is
What's in it for developers though? Why give in to public space? The simple answer, besides the fact that they themselves would directly benefit (AXA Real Estate, Brookfield, and WRBC Development, respectively the developers of 22 Bishopgate, Principal Place and 52 Lime Street, are all located in the City), is demand. Increasingly, companies letting out the City's skyscrapers hope to see 'break-out' spaces in the menu of plans they peruse. Like a kiddie's plan pen, replete with bean bags, coffee and some carefully arranged graffiti, break-out spaces supposedly encourage creativity through their informality and openness.
On a recent tour of Foster + Partners' Principal Place, a development on the City's edge which is rented by Amazon as its European HQ, it was noticeable that the interior décor tried desperately to deny the building's functional, corporate architecture. The 'break-out' space psychology is an architectural attempt to convince people that they are fulfilled, happy and creative, but at Principal Place, people saw through the insincerity of the jumbled furniture and plywood finishes. In a show of democracy, whiteboards and pens were placed in the lifts so that people could leave warm messages to one another, but when the messages started to read 'Your coffee is shit,' the democratic experiment was quickly curtailed. The further up the building we climbed, the fewer t-shirts, jeans and tattoos we saw. 'It's more shirts and chinos up here,' said someone who worked in the building. I asked him why. 'They say there's no hierarchy. There is.'
Clearly you're not going to convince the multinationals of Dubai-on-Thames to adopt a co-operative structure, but employers are undoubtedly taking note of the studies that show people need to 'break out' in order to work productively. Yet the break-out space is an obvious paradox, one that is so obvious it just causes resentment. When you make the short shuttle from your desk to the break-out space, you're not breaking out, rather you remain housed very much in the building of the company you work for, under its roof, under its wifi and under its hierarchy. The true break out space has to be outside the office tower in a public space where employees no longer rank as inferior, but as equal citizens.
The truth is that at present, developers think of public space created by their building as a useful PR exercise that helps secure planning permission. The Leadenhall Building modestly says its public space 'makes a positive contribution to the life of the City.' But the City's newly branded piazzas and plazas function as lobbies and thoroughfares rather than spaces of leisure that encourage people to idle. Pigs will fly when the City of London starts buying land to create more public parks, and they will argue that in Hampstead Heath and Epping Forest they already manage some of the greatest expanses of green within the M25. But it is not unreasonable to suggest that private developers should take it upon themselves to insist on genuinely public space in the City itself, because, after all, both Greenacre and Paley Parks are privately-owned public parks. And yet here, you do not see the flash of a security jacket every time you think to sit down, whereas outside Principal Place an ominous patrol reminds you with metronomic inhumanity that the space is not yours. In the United States the moral cost of avoiding tax is (insufficiently) offset by an embedded philosophy of philanthropy – Greenacre was funded by a Rockefeller. Perhaps given that the City too benefits from the UK's favourable stance on corporate taxation, there is a moral responsibility to the wider public that developers and architects might consider? We can only hope.
At the moment, bona fide public parks in the City of London are limited to the Crossrail-covered Finsbury Circus and some matchbox graveyards. When I asked a friend, who numbers one of the City's 400,000 commuter mass, where he ate his lunchtime meal deals, he not surprisingly identified Finsbury Circus as his favoured place to dine al fresco. The argument that there is not enough space in the Square Mile to accommodate for more public space is nonsense. Paley Park is 390m2; the anaemic thoroughfare tagged to the arse of 20 Fenchurch Street is roughly double this. Tiny parks are droplets of leisure in an ocean of office, but they must be totally distinct from their private neighbours, and utterly open to the public.
I think it is a terrible mistake to give up on the City of London. When the workers of the City do not spatially interact with the rest of the common folk, how can we expect them to psychologically interact? It is imperative that public space exist there of all places if we want society not to be divided into silly, simplistic and unhelpful questions of them and us. Everyone who works, walks or wanders in the City of London is a member of the public. As the City's governing corporation prepares for the release of its 2036 plan in November of this year, it is clear from the initial reports that, Brexit horror-show withstanding, we have not seen the end of the development upwards. To the existing 8.7 million m2 of office space, another two million m2 needs to be added. The sky will deliquesce into a towering mush of speckled grey, and that is fine, so long as, down on the street, we the public, the dwellers, workers and tourists of the City, get our small offering of public parks.
---
TOO FAMILIAR
I refuse to call One Blackfriars the 'Vase,' or indeed call any skyscraper by its branded moniker. When 30 St Mary Axe became 'The Gherkin' in 2003, nicknaming was a demonstration of public free-thinking. But the trend has been appropriated by PR companies. No longer are the nicknames comic as in 'The Gherkin' or 'The Cheesegrater' but blandly aspirational as in 'The Pinnacle' or 'The Shard.' Just as referring to Boris Johnson as 'Boris' makes us feel more pally with a cut-throat politician, sobriquets are a way of familiarising us with someone or something whose interests are unlikely to align with our own.