CLT stiffening will enable the world's tallest timber tower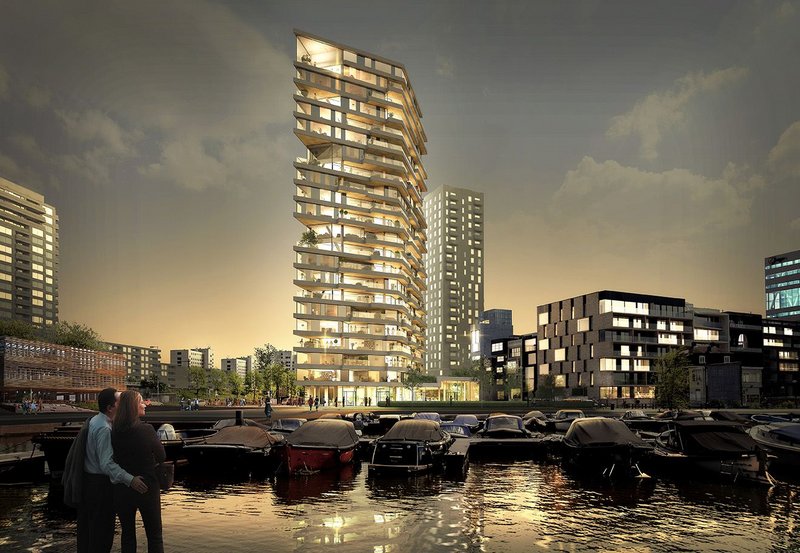 An innovative form of cross-laminated timber construction will be used to build the world's tallest all-wood residential tower, in Amsterdam.
The 73m-high block, known as HAUT, located in the Amstelkwartier area, will include 55 apartments and an underground car park. The tower will have a 14,500m2 gross floor area and is targeting a BREEAM Outstanding rating, thanks mainly to the high levels of sequestered CO2 in the wooden frame. Structural design is being developed by Arup, working in partnership with Lingotto, Nicole Maarsen, TEAM V Architecture and Nederlandse Energie Maatschappij.
Timber's inherent malleability presented the main challenge to building so high. The solution is to exploit the diverse number of flat layouts in the building, a result of the shared ownership model, to help increase structural stiffness.
Mathew Vola, associate director at Arup, told RIBA Journal: 'The idea is to set up a template of different flat layouts – early buyers will have a high level of design flexibility, later buyers a lower level of flexibility – so we can plan the locations of openings in shear walls running internally in the building, and so create a very robust structure.' He added: 'The problem of using a conventional shear wall structure, with door openings running one above the other on every floor, is that it compromises stiffness, which is a major issue in timber buildings where you cannot run reinforcement through the lintels.'
The five main internal shear walls will run the full height of the building and enable the inclusion of a transparent facade with generous balconies and windows. CLT floor slabs will be installed in 6m wide panels, the maximum width possible in solid timber. Steel strips at the edges of the 300mm-thick CLT walls will increase stiffness.
Although taller timber towers are slated for construction worldwide, such as the 84m high HoHo project in Vienna, they are composite structures, often incorporating concrete cores. The HAUT building will feature an all-timber engineered solution, although the possibility of a hybid alternative is not being ruled out at this stage.
Vola commented: 'We still have to negotiate Dutch regulations and are in discussion with the fire department and elevator authority. If they require the use of structural concrete it will be out of our hands. From an engineering point of view, we think we can make an all-timber tower work. We are also developing a composite alternative with a concrete core as a back up.'
---