Pendulum bearings and dampers secure conservatory straddling four towers against seismic activity in Chongqing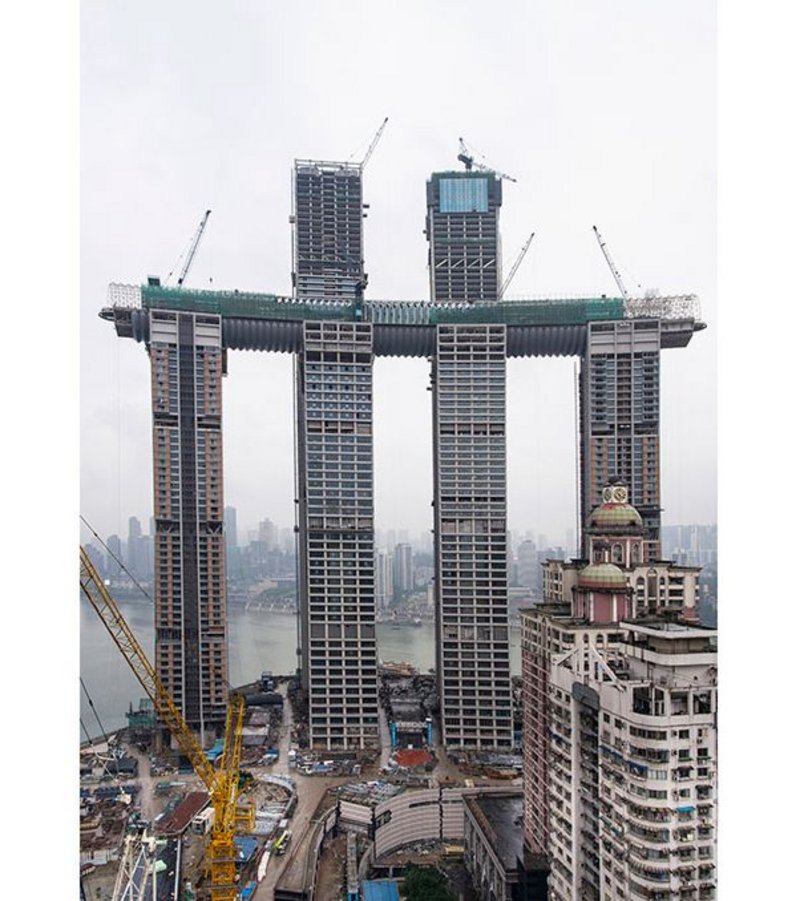 The risk of earthquakes and high winds dictated a unique structural solution for the 300-meter-long skybridge.

Credit: Arup
Standing at the tip of a peninsula at the confluence of the Yangtze and Jialing rivers, the super-scale Raffles City Chongqing, designed by Safdie Architects, looks set to become an icon of booming Chongqing, the gateway city to western China.
The 1.1 million m² (gross floor area) mixed use scheme topped out last week and features eight slender towers that arch gently towards the water like the sails of a ship. A 300m-long, 30m-wide glass-clad 'conservatory' sits astride four of the towers, and at 250m above ground is the tallest structure of its type in the world. The tube-shaped bridge will provide residents with access to green spaces, various amenities and 360-degree views of the city.
The supporting system for the conservatory, developed by structural engineer Arup, had to factor in the geographic location ­– in a moderate seismic zone – exposure to relatively high wind loads at the junction of the two rivers, and the fact the towers are very tall and slender.
Various options to fix the conservatory to the towers and create a monolithic structure, or to isolate it from them on bearings, were analysed. A fixed solution with movement joints, similar to that used for the SkyPark at the Marina Bay Sands hotel in Singapore (structure also designed by Arup), was ruled out because in a seismic event the tops of the towers could move up to 3m apart.
A structure using bearings was found to reduce shear forces at the base of the towers by around 30% compared to a fixed option. The chosen solution is a combination friction pendulum bearings (FPB) and dampers. The FPBs anchor the bridge to the towers during design wind and thermal loadings and Level 1 earthquakes. When seismic activity reaches Level 2 or 3, they allow movement and the conservatory to 'float' separate from the towers to mitigate the seismic effects. The combination of bearings and dampers creates a 'position self-restoring' power to realign the structure.
The four towers have curving perimeter columns that connect to a central core wall via diagonal outriggers and belt trusses to create a mega frame structural system that guarantees lateral stability.
A 1:25 scale table test was carried out to demonstrate the seismic performance of the multi-towers and dynamically-linked bridges under extreme earthquake events.
Structural gymnastics aside, the skybridge will illuminate the sky at night with light shows. The Raffles City Chongqing complex is designed by Safdie Architects and will include a 230,000m2 shopping mall, 1,400 residential apartments, a luxury hotel and 160,000m2 of high end office space.