Have you never noticed the uncanny resemblance of the generic petrol station to the work of Mies van der Rohe?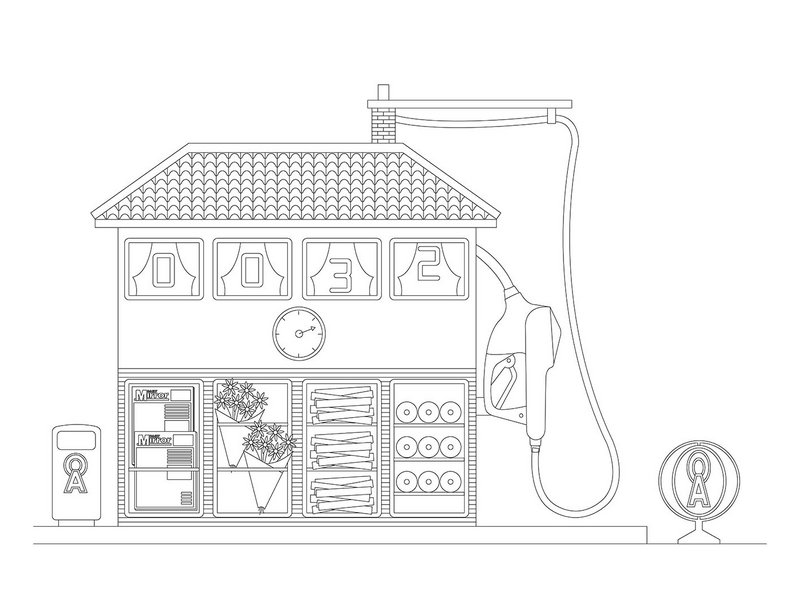 Gas house
Over the past few months we have used this column to write about the kinds of buildings that either don't involve architects or somehow slip outside the boundaries of what is considered to be architectural. You could see this as an inversion of Pevsner's famous distinction between Lincoln Cathedral (definitely architecture) and a bicycle shed (definitely not). The subject of this month's column definitely has more in common with the bicycle shed but has also benefited from the interest of architects.
A surprisingly high number of them have designed petrol stations, including Willem Dudok and Arne Jacobson, whose spartan and austere structure in Skovshoved in Denmark still looks astonishingly contemporary. Frank Lloyd Wright designed an incredibly bizarre example in Minnesota, one of very few buildings from his Broadacre City project to be built. As Broadacre was designed largely around the automobile, Lloyd Wright imagined the petrol station as a kind of social centre and included a function room for civic meetings.
We've always thought that the generic petrol station – a large flat canopy supported on slender steel columns – bore an uncanny resemblance to the late work of Mies van der Rohe. Imagine an Esso sign fixed to the roof of the Farnsworth House and you get the picture. Mies did in fact design a petrol station – on Nun's Island in Quebec – although this was in 1969 so a bit too late to have a claim on inventing the typology.
Modernism's most emphatic contribution to petrol station design was when Eliot Noyes was working for Mobil in the 1960s. Noyes was responsible for some 20,000 examples worldwide including the recently Grade 11 listed Red Hill Service Station in Leicester. His designs refined and reduced the petrol station to a modern archetype in much the same way that Ettore Sottsass did for Olivetti and the typewriter.
Before this, petrol stations took on far more eclectic forms. Early versions were simply pumps placed in front of a house by the roadside. Like pubs, petrol stations tended to be adaptations of existing houses, examples of domestic entrepreneurialism. A photographic history of petrol stations reveals all sorts of wonderful, ad-hoc structures: stables, sheds, outhouses and cottages adorned with painted logos and commercial signage.
The symbolism of the domestic petrol stations remains in the combination of 'house' and canopy that still forms the basis for most of them. The 'house' bit can consist of anything from a small brick shed with a till and some dusty fan belts to an entire branch of M&S. Sometimes in sensitive historic areas, they become 'vernacularised', faced in stone or brick, while the canopies acquire incongruous pitched roofs.
Petrol stations still have a startling modernity though, especially at night with the cars standing in spectral white light beneath glowing neon letters or appearing out of the gloom of a dark motorway slip-road. These are spaces where the protagonists in JG Ballard's Crash might meet to begin strange auto-erotic affairs or where Gary Numan's Cars would supply an appropriately synthetic soundtrack. Motorways – those once optimistic symbols of modernity and freedom – have given us one of the strangest, most dislocating spatial phenomena, the mirrored petrol station, where the approach, layout and design are identical on both sides of the road.
Petrol stations also provide a vital social service, offering a last chance saloon for the desperate shopper, the late guest and the urban stoner, a place to buy anything that you might have forgotten or run out of: flowers, crisps, a packet of Rizlas or a bag of kindling wood. Vast grab-bags of Hoola Hoops and packets of wine gums buy precious time for fractious parents caught in arguments over junction numbers and contraflow systems.
All this will pass of course. Petrol driven engines are slowly but surely being replaced by electrical ones. With their demise will go the ritual of leaning against the car watching the little numbers whirl around in the pump display. Cars will still need to stop and drivers will still need to rest and buy Skittles but the typology will evolve. Perhaps it will revert again to more eclectic and domestic set-ups, houses and individuals offering electricity and a nice cup of tea. Or there might be data and charging points installed in dry-stone walls and tree trunks or simply buzzing through the air around us as we drive.
---
Charles Holland and Elly Ward are directors of Ordinary Architecture