The ingenious set of the NT's Madness of King George is a pertinent display of the possibilities for space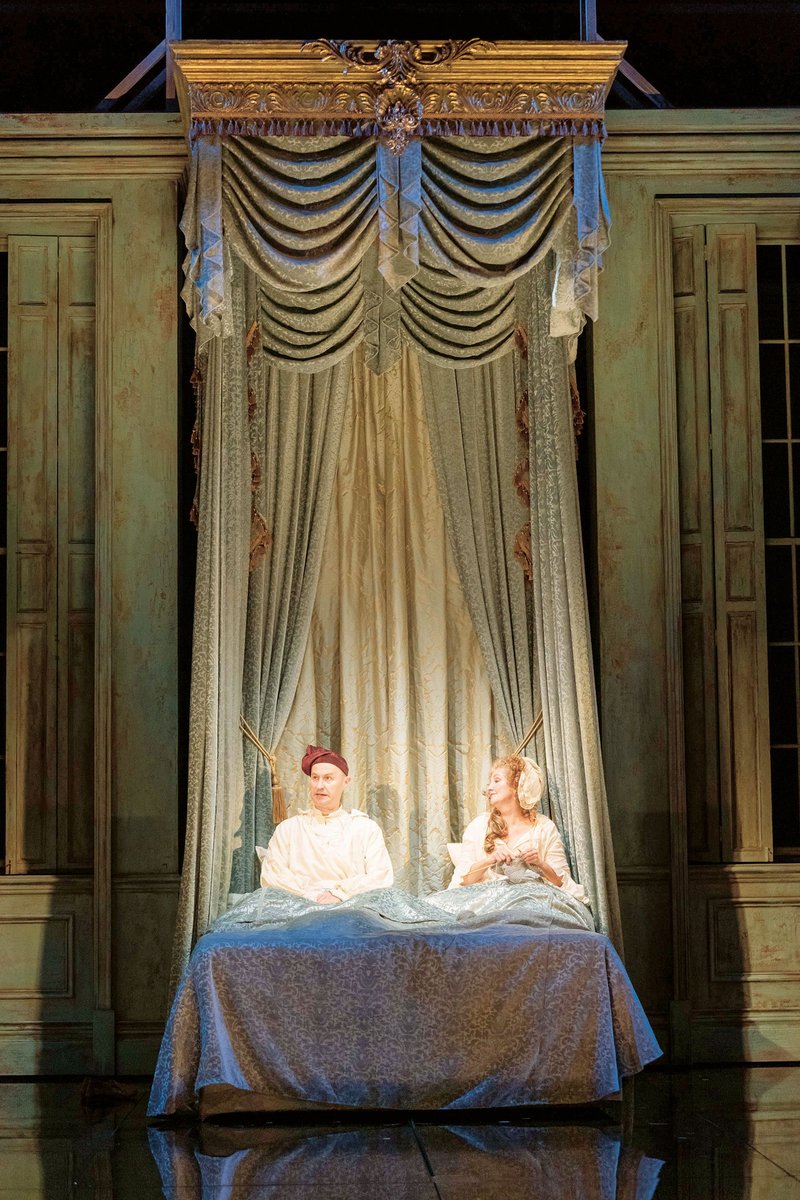 The amazing reconfigurable screens of the Madness of George III, as seen on National Theatre at Home.

Credit: Nottingham Playhouse
One unexpected feature of the coronavirus lockdown was that we watched a surprising number of plays. The performances, pre-­recorded, were beamed into our living room via YouTube thanks to the National Theatre at Home, one of those extraordinary acts of civic generosity that made the first months of the pandemic more bearable.
Among those plays was Alan Bennett's The Madness of George III, starring Mark Gatiss. Recorded at the Nottingham Playhouse two years ago, this production was directed by Adam Penford and designed by Robert Jones, and Jones's design was so fascinating it almost distracted from a very entertaining play.
The challenge is to create a variety of grand Georgian interiors – palaces, parliaments – alongside more intimate spaces, with scope for frequent changes. These are familiar challenges for the theatre designer, but Madness approached them in a satisfying and elegant way. Indeed, the machinations on stage were so subtle and yet so totally transforming, that it was at times hard to follow exactly how the architecture of the play worked; it's not impossible I have this a little wrong, but I'll do my best.
At the centre of the design were two free-standing architectural elements, cross-shaped in plan, producing four internal corners, decorated in an Adam style. Two of the four walls in each cross were just walls, one had a window and the fourth a door. By rotating these elements, and moving them closer together or further apart, a remarkable variety of interiors could be created. A further mobile element behind them could be moved closer or further away to give a sense of depth, as needed, but the whole space was defined by these rotating room fragments. And as well as framing what happened on the stage, their movement provided an element of dance between scenes. It even made symbolic sense: the stable classical form, the architectural embodiment of order and continuity, spinning and dissolving with the progress of the king's madness.
As well as framing what happened on the stage, the screens' movement provided an element of dance between scenes
Simple forms making endless configurations with artful transitions – it reminded me of OMA's Prada Transformer from 2007. This temporary events space in Seoul, Korea, was a steel frame covered in taut white plastic. Each face was a different shape, making the 3D form rather mysterious, and it could be picked up and set down on different sides by cranes, changing the layout of the interior. It was a performance space that was a performance. Over-engineered and dubiously high concept for a temporary pavilion, perhaps, but beguiling, and it seemed to point to future possibilities.
Yesterday's future has a forlorn feel viewed from a present still gripped by a deadly pandemic. We won't need pop-up social condensers for a while. Today it's social separators that are in demand, and here the National's Madness feels relevant. Post-lockdown we have emerged into a world of temporary partitions, screen and barriers. These will not be needed forever. There are dozens of conceptual projects floating around imagining a world in which the virus has permanently transformed hotels, restaurants, sporting events and so on, and I'm sceptical of them all. Filthy, loveable species that we are, we have always needed to get close to each other. That urge will survive this pandemic just as it has survived all others.
A more pertinent project might be to look ahead at what we can do with all these perspex screens when they're no longer needed. Now, we need original temporary solutions to flexibly divide and recombine the spaces around us. The artful choreography of the National's on-stage architecture shows how that might be done. More importantly, it shows something larger: the debt architecture owes to the stage. It has always been a place for architectural innovation and creation, driven by the necessary impermanence and economy of theatrical productions. Now theatre itself seems worryingly impermanent, driven to the edge of disaster by the pandemic. It is the perfect time to get back into the play-watching habit.
---
PROTECTED TITLE?
It might not come from the theatre, but the word 'architect' has been associated with the stage since antiquity. Greek dramatists including Euripides used the term 'architect' to describe their protagonists, not because they built, but because they ordered events.
---
Will Wiles is an author. Read him here every other month