The Danish architect has set up her Copenhagen office so she is freed from admin to be closely involved in all its designs. If you want details, she knows them
As I wait for Danish architect Dorte Mandrup inside the RIBA at 66 Portland Place, her retinue arrives ahead of her. When Mandrup herself comes through the doors I ask if she has been finishing a quick cigarette – and she laughs. No, she gave that up, she chews gum now, and lots of it. It is the way she talks, informally, throughout a long afternoon and evening lecture in London earlier this year, lightly giving away a little more of herself than you ask of her.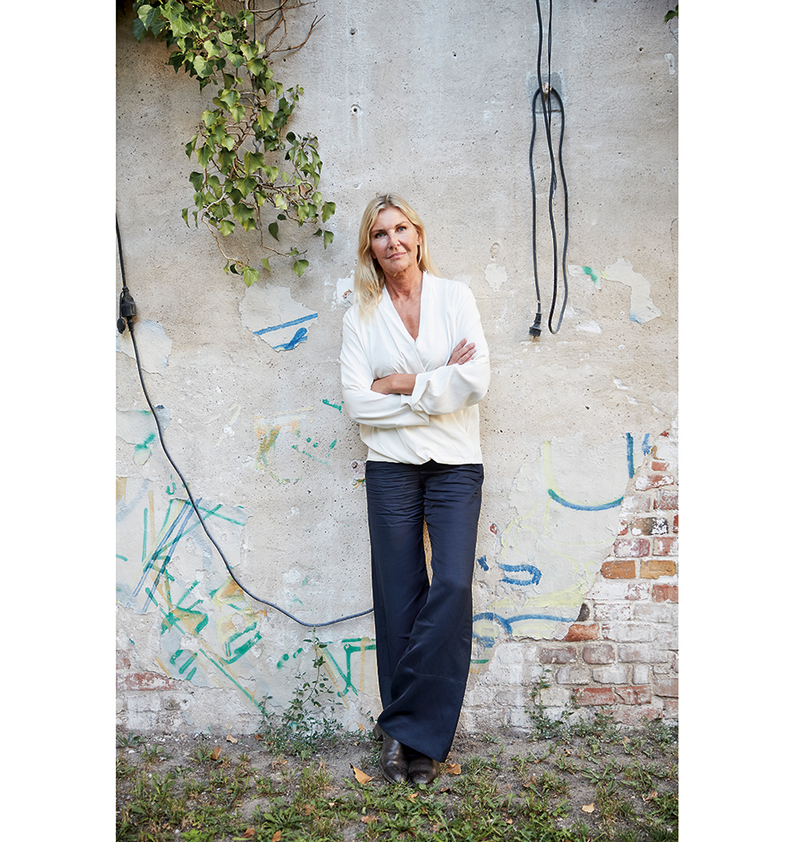 Dorte Mandrup: taking on northern European landscapes from her base in Copenhagen.

Credit: Volker Renner
When Mandrup takes to the stage for her RIBA lecture it is no surprise that she chooses to focus on her landscape buildings. Powerful shapes in dramatic landscapes mean that the images of these coastal projects are instantly Instagrammable, appealing to the Dezeenification of international architecture. The Icefjord Centre in Greenland that projects out over a granite outcrop in a boomerang curve to peer over the calving nose of the Ilulissat Glacier; the Whale which surfaces above a promontory in Norway with a grey skin of natural stone forming a new piece of landscape; and work along the reserves and mud flats of the North Sea coast, a visitors' centre with thatched roof and walls, and a lightweight office perched on a WWII concrete bunker turned exhibition space.
But she is keen to talk about the landscape, design, craft and materials that have formed them. And she can do this in detail. After the recession, as she was rebuilding her practice, she hired as CEO a lawyer and economist who is professionalising the office. Dorte Mandrup Architects now has a staff of 70 and its founder is free to do what she does best. 'Now I am only designing,' she says. 'That is good for the office as I am not good at other things… I like to be in the process the whole way through.'
That means meeting once or twice a week on every project once it is under way – more when pulling together competitions. It means engaging closely with facade details: 'They are more and more difficult with airtightness and insulation… You can see if people haven't been working with the detail.' So when questions come, at the end of Mandrup's lecture, on where the waste goes from the Icefjord Centre, she can explain Greenland's lack of sewage system as well as the best advice on dealing with birds pecking at the thatched roof of the Wadden Sea Centre (see above) – children take just as much apparently.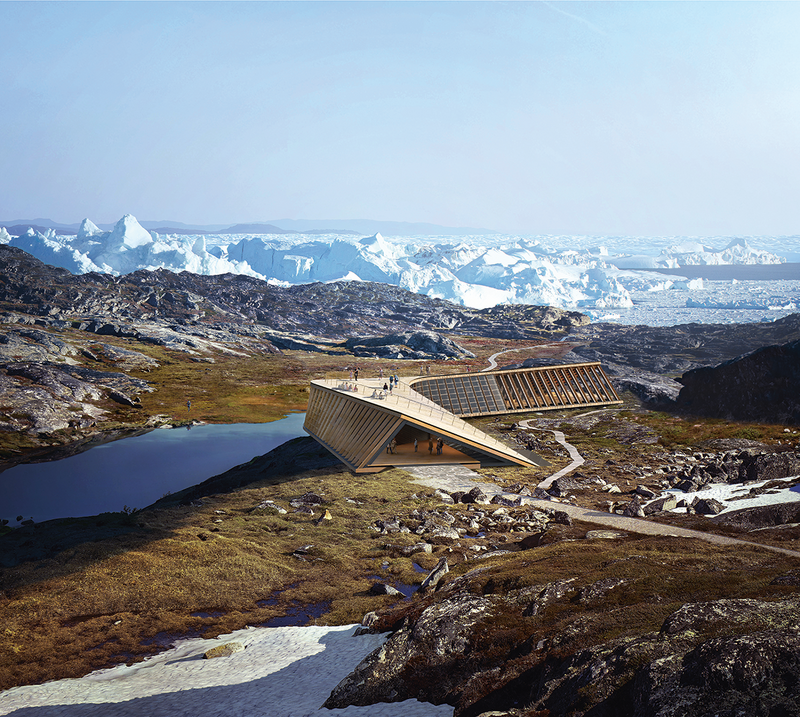 Render of the Icefjord Centre, Ilulissat, Greenland, currently on site 250km north of the Arctic Circle. Its section twists so the roof can also be used as a viewing platform. This and the boomerang plan reduce the snow load by shedding it.

Credit: Mir
On the practice website you can see a remarkable number of competition near misses, like LA Brea Tar Pits museum in Los Angeles where they reached the last three, and a holocaust memorial museum in the Ukraine for which they came second. 'You can see all the wonderful projects going to waste, but you put it into your backpack,' says Mandrup. The effort takes some toll though. 'When I was at Henning Larsen you needed a plan and section. Now you need pictures of everything, client and jury are relating directly to the renders and it is all about a render that will capture. But you need an idea of detail, otherwise it doesn't come alive.'
Mandrup had a few false starts on her career, studying medicine and art before architecture. And being an architect has not always been easy. 'It was very difficult to establish ourselves. I was teaching half time and I would spend a long time on drawings, my then business partner was a little bit older than me and he wanted to make a living from it.' He left. The work eventually started to pay off in the early 2000s. Mandrup was making a living from it before the financial crisis: 'I was paid every month.' But Denmark's architects were hit hard in 2008. 'After I was not paid for four years, I sold my house and lent the money to the practice,' says Mandrup. She had to live off that capital too. 'We had to say goodbye to a lot of staff, going from 45 to 17. Very hard as in 2008 you knew people were not going to get a job afterwards. Then I just wanted to do architecture, to do competitions and try to win.'
She has built a strong body of work in Denmark, from a series of low cost nurseries to IKEA's Hubhult in Malmo, which on its 2015 opening was claimed as Scandinavia's most sustainable office building with a BREEAM outstanding rating. Based in Copenhagen, one of the most proactive cities on climate emergency, and with a strong design interest in materials and nature, it is hardly surprising that Mandrup takes sustainability as a given. She does a fair bit of international travel – including for chairing the judging of the Europe-wide Mies van de Rohe Award – with a creeping sense of guilt.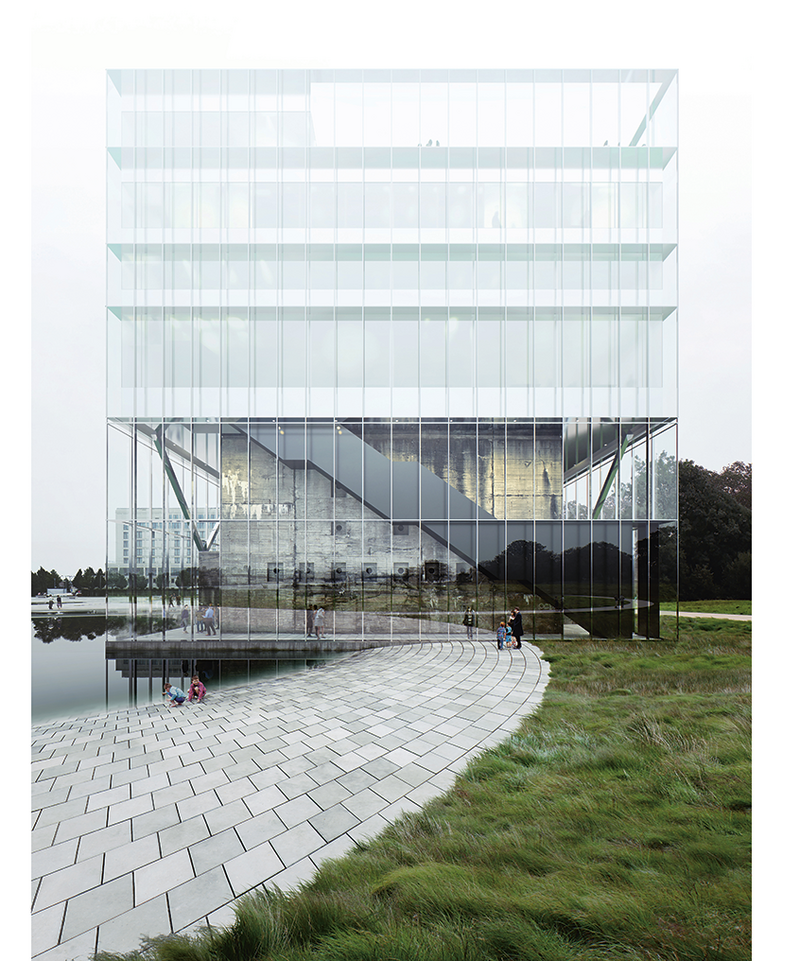 Wilhelmshaven Trilateral Wadden Sea Heritage Partnership Centre, due for completion in 2021. Historic bunker wrapped in a glass veil.

Credit: Mir
'The possibilities of materials, I am preoccupied with that,' she says. 'A glass house is one of things I would like to do but can't, it's not ethical. There are materials that are amazing and beautiful, like copper, where there is very little resource left. And concrete has an allure – but you need to be very careful using it.' A recent competition saw a hybrid structure of concrete and brick for the base and CLT above. 'This kind of choice needs to be taken.' Despite the pleasure of timber the practice has met resistance; people like to do things they have always done. 'It is silly, we can't keep doing it,' she says. 'Sustainability is about knowledge… there is not just one answer.' She wants to talk about not building something you don't need and being careful in space and area, as well as the importance of reuse – as at the reworking of Carlsberg's Mineral Water Factory that the practice is completing this year.
Danish architects are a force across Europe and beyond, from Schmidt Hammer Lassen, which has just won a library building for Bristol University, to the ubiquitous BIG of Bjarke Ingels. Mandrup has no ambition to grow to this scale or that of her architectural heroes Herzog & de Meuron. 'Growth is not everything, we could expand to 90, maximum of 100,' she says. 'Beyond that you can't oversee the design.'
Another thing that sets her apart from these peers is her gender. She has spoken out against being labelled as a 'woman architect'. But yes, she does see that it has been a harder journey for her, with contractors, clients and other professionals primarily men and the preference for working with people like you. 'It is hard to talk about without sounding like a victim,' she says. But in fact she doesn't. Her clarity and, at times, unexpected frankness make her a persuasive ambassador for a connected Danish European architecture.
See Mandrup's RIBA Vitra talk here.
Wadden Sea Centre photograph by Adam Mørk