Stylish interiors on the great QE2 cruise liner were sadly short-lived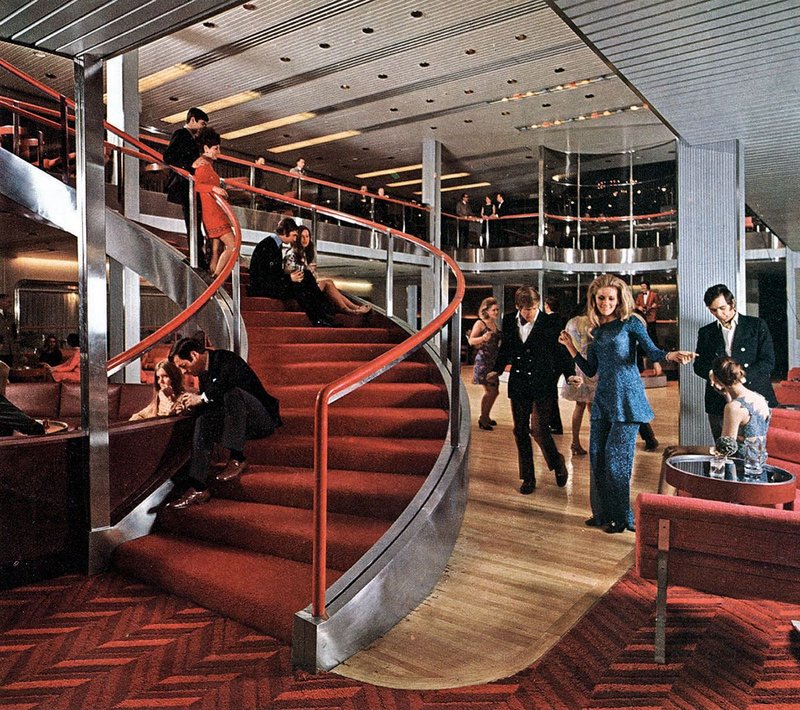 What a pity that the splendid original interiors of the QE2 were intact for just three short years before being irrevocably altered.
The new exhibition QE2 50 Years Later, is a chance to appreciate the original glories of this luxury liner anew. And appropriately for what was the last passenger liner to be built on the Clyde, this 50th anniversary show is being staged in its home city at the Glasgow School of Art.
Encompassing everything from interiors to couture, furniture to tableware, the design of the QE2 was something of a Gesamtkunstwerk, according to curator Bruce Peter, professor of design history at the GSA.
'In its original condition, which only lasted for three years, it was one of the great unsung masterpieces of the post-war era,' says Peter, who also advised on the ongoing Ocean Liners exhibition at the V&A.
He sees the QE2 as bookending a trajectory in modern design that began with the 1951 Festival of Britain. This particular strand of modernism was popular and glamorous with an approach more akin to the aesthetic of the jet and space age – it was contemporary with Stanley Kubrick's film 2001 Space Odyssey – than with brutalism.
The designers certainly didn't hold back – when the first passengers boarded, they stepped into a foyer kitted out in midnight blue and pea green leather.
'It was very striking. It really did feel like a luxury space craft,' he says.
Commissioned by Cunard, the QE2 was conceived as a hybrid liner/cruise ship. It was originally going to be designed by a fairly traditional group of designers but this changed with the influence of a new management team lead by Basil Smallpeice, and the involvement of the Council of Industrial Design, which encouraged the use of a younger group of designers in addition to tried-and-tested hands. James Gardner worked with naval architects on the external design while the interior was co-ordinated by Dennis Lennon.
'Lennon assembled a quite broad range of designers who were all working within a framework of international modernism,' explains Peter, adding that the vast range of spaces on board the liner necessitated very different atmospheres, some dark and intimate, others more open in character. Designers included Alan Irvine and Stefan Buzás (most of the Boat Deck including the 736 Club, the London Gallery and the Shopping Arcade), Michael Inchbald (Queen's Lounge and the Tourist Class Library), Gaby Schreiber (theatre), Theo Crosby (look-out lounge) and Jo Pattrick (crew cabins). Even with this variety, says Peter, there was a sense of everything being 'of a piece' with similar detailing and design language.
In the exhibition, more than 30 large-scale full colour images of the interiors will be complemented with vitrines containing ship models, a dinner service by Lord Queensbury, QE2 brochures by the graphic designers Crosby/Fletcher/Forbes and other ephemera.
Why was the design altered so quickly? This is partially explained by the takeover of Cunard by Trafalgar House in 1971, which led to some of the lounging areas being repurposed for more lucrative purposes such as a casino in 1973. Later, the ship would be requisitioned for military service in the Falklands War after which it needed a total refit.
'By then the 60s swinging London aesthetic of the original was as far out of fashion as you could imagine,' says Peter.
Another factor in the frequent refits was simple wear and tear, in particular the consequences of years of passenger sea-sickness and damage from cigarette smoke. After endless repainting and re-upholstery as well as more radical changes, the interior became something of an upmarket mish-mash with just fragments left of the original design. The ship eventually went out of service in 2008 and has since been in Dubai, where there are plans to turn it into a hotel.
This small exhibition is a chance to get a glimpse of the QE2 when it was still in its heyday.
'These ships are ephemeral things, and you have to enjoy them while you can,' says Peter.
---
QE2 50 Years Later, until 8 March 2018, the Reid Building, Glasgow School of Art, Glasgow