As towns eat up the countryside, there are moves to bring agriculture into the city. London 2026 reveals a new way to farm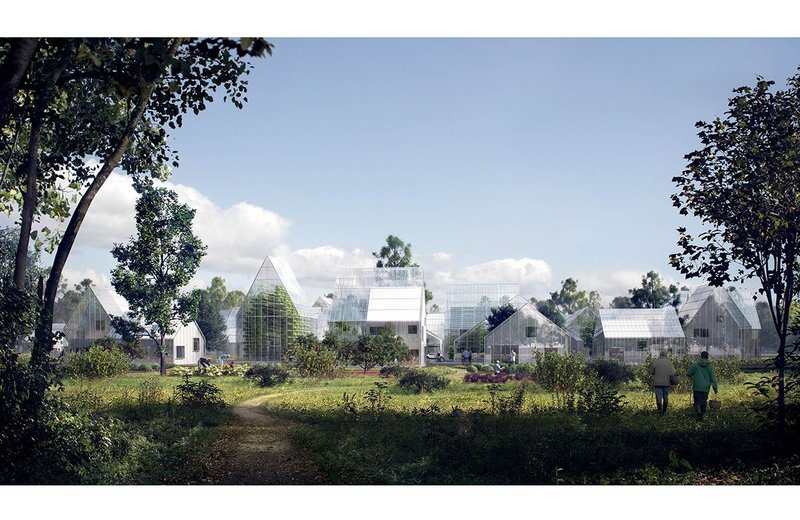 Eco village, a project by Effekt for a rural community at Almere in The Netherlands, embraces high yield organic food production.

Credit: Effekt
Are you ready to be an agritect? The exhibition London 2026:Recipes for Building a Food Capital celebrates 'agritecture' – buildings that grow food, and more specifically, those that do so in an urban environment.
There's a hybrid office block/hydroponic farm, an insect farm in the middle of a city roundabout, and a scheme for parasitic mini-anaerobic digesters attached to New York high rises, not to mention rooftop, subterranean and floating locations for agriculture. While this may all sound a little fanciful, most of the 25 architectural schemes and products in the exhibition are either ongoing proposals for integrating food production into the built urban environment, or have already been built.
The exhibition title alludes to the London 2012 Olympics by looking ahead to 2026 (the same number of years that have passed since the Games), and imagining a city with a transformed attitude to food. This seems like a bit of a red herring, the content actually offers a range of projects from around the world including some in the capital. It's the ideas, rather than the city location, that really matter, embracing ingenious food growing initiatives that draw variously on renewable energy, local organic production and waste-to-resource systems.
Finding a more sustainable approach to food production and distribution is a pressing issue that should be addressed in the near rather than far-flung future, according to the exhibition's curator Clare Brass, director of the circular economy innovation consultancy Department22. She feels our cities have become disengaged with food production – we no longer need to live near to where it is grown or reared and are instead both vast consumers of food and energy and vast producers of waste.
'London was built and planned around our nutritional needs. Once upon a time architects were designing around our need to eat – it was central to an architect's brief – but now they've left the issue of food behind,' says Brass. She believes that architects and designers can play a central role in integrating food production into the urban environment by getting involved in the debate and 're-engaging' with food as part of the architectural brief.
Judging by the projects in the exhibition, it's striking how overt food production would become within the everyday urban landscape.
'It's very visible,' says Brass. 'A completely different aesthetic for a city.'
Several exhibits use existing built infrastructure. These include the well-established Growing Underground hydroponic farm located in a former deep bomb shelter in Clapham, which produces herbs and salads for major supermarket chains. Several projects make use of roof-space, including Power Plant, designed by Marjan van Aubel to be the world's first self-powering greenhouse, while the GreenBelly proposal suggests turning the blind walls of buildings into vertical urban gardens.
One of the more ambitious concepts is The Buzz Building, which would grow insects as an alternative-to-meat, sustainable source of protein. This would also operate as a safe haven for bees. Designed by Belatchew Arkitekter, the circular building is proposed for various locations including the middle of a roundabout in Stockholm, and promises the potential to make cities self-sufficient in protein.
Other projects include new builds with hybrid functions that demonstrate the potential for symbiotic relationships between food growing and other activities. In Sweden the WF Building, which is at planning stage, proposes a part office, part hydroponic farm use, with the plants producing oxygen from CO2. The building will be warmed by waste heat from a nearby anaerobic digester and is expected to yield ten times more produce than a conventional greenhouse.
At Almere in the Netherlands, Effekt's Eco village project integrates food growing into the community in the form of communal and individual greenhouses.
In Quebec in Canada, the Blockchain Domes project uses heat generated by computer servers in adjacent greenhouses. So far four of these are in operation. And in Thailand a hotel rooftop is being used to produce edible algae products as part of the Energaia Spirulina project. Produce is used in the hotel restaurant.
Floating Farm, which is due to open this spring in Rotterdam's Merwehaven harbour, brings food production back into the centre of the city. The dairy farm will use robots to milk cows and will also generate its own energy and grow vegetables. Thisalso has potential as an educational resource, which is already done by Edible Schoolyard – a school car park turned economically viable garden in Berkeley in California. Both help to encourage greater connection with nature and food, something that Brass feels society has lost.
The exhibition also includes more small-scale domestic innovations that could be coming our way, from an in-house hydroponic unit to a desk-top mini-farm for growing edible insects – sounds crazy now, but maybe we'll all have one by 2026. There are also apps to reduce food waste by sharing excess and unsold food, and a robotic food delivery service.
While there's a long way to go before many of these ideas gain wider currency, Brass hopes this stimulating exhibition will help to raise debate and get food production into more building briefs: 'We do hope that architects will be inspired to think about how some of the principles might be incorporated into their own work,' she says.
---
London 2026:Recipes for building a food capital, until 18 May, Roca London Gallery, Station Court, Townmead Road, London SW6 2PY