The world's first floating farm is being built in The Netherlands by property developer Beladon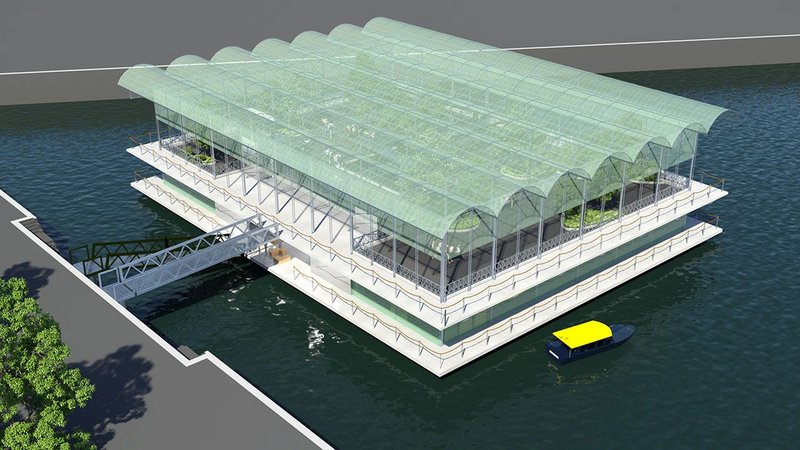 A farm that will rise with the tide, feed cows on old potato peel and milk them in a futuristic robotic plant is being built in The Netherlands. Yes, really…
Devised by property developer Beladon, the three-storey glass and steel structure is under construction in Rotterdam's Merwehaven harbour. It is expected to produce about 200 gallons of milk a day from a herd of 40 cows when fully operational.
The moving platform is a climate-adaptive system that will rise and fall on spud poles anchored to the river bed, in response to flooding. Its central river location was chosen partly to overcome the lack of land available for development, and the extended logistical chains that make it difficult – and polluting – to transport fresh produce from agricultural areas into the city by truck.
A 1,200m2 concrete platform provides the base for the farm. The top floor will include greenhouses to grow clover and grass for the cows to eat, the second will provide shelter for cattle, and the underwater level will contain a futuristic milking and processing plant where milk is turned into consumer products, including yogurt and perhaps cheese.
Beldon exploited local expertise in waterways construction to ensure that the platform remains stable, even in the most extreme weather conditions, with no more than a few millimetres of sway. The firm says that is not enough to cause distress to the animals especially when compared to the hundreds of thousands of cows that are transported by ship each year in much more severe conditions.
Getting planning permission for such an uncommon structure was a lengthy process, Minke van Wingerden, a partner at Beladon, told RIBAJ: 'It was not easy, for example there was debate about whether the floating farm is a boat or a building. So many issues came up it took us far longer than we expected.'
The project has ambitious targets for sustainability and self-sufficiency, she adds: 'We are looking more now at how we can reach circular production [nutrient, energy and water cycles are closed] by feeding our cows with waste products from the city, for example grains left over from local breweries and potato peel, and giving healthy food and fertilizer back to the city.'
The farm will also function as an educational hub, carrying out scientific research on feed production, residue processing, energy generation and the production of potable water and recycling.