Being new to the much-hyped property show is a great excuse to buttonhole fellow attendees – and make some fruitful connections, says RIBAJ Rising Star 2018 Kieren Majhail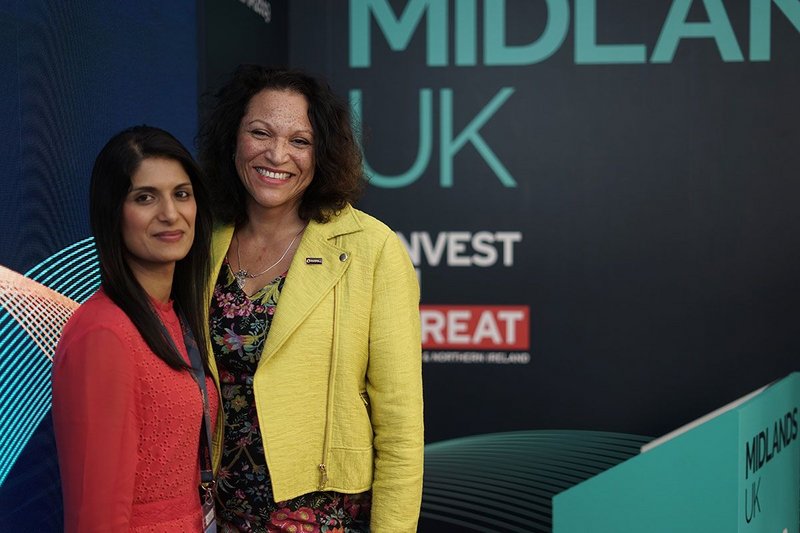 Deborah Cadman, CEO of the West Midlands Combined Authority (right) and Rising Star Kieren Majhail of BDP on the Midlands stand at MIPIM 2019.

Credit: Midlands UK A7 MIPIM 2019
So what's all the MIPIM hype about? It's the world's largest property conference, held every year for the past 30 in Cannes, in the south of France. It's a chance for countries, regions and cities to showcase the opportunities they have for investors – and a chance for a whole load of property professionals to get in on the action.
But is it worth the extortionate cost of attending, and what is the point, particularly for MIPIM first timers?
Working for BDP, one of the largest design practices in the UK, I was able to go out this year as part of a large delegation linked to numerous city and regional stands. It's something few small and medium sized practices can afford, but it is clear it can pay off. Many relationships that flourish into opportunities or alliances in the UK are seeded at the stands, restaurants and bars of Cannes during March.
Most people at MIPIM seem to be seasoned regulars and many of them are in the most senior positions of their companies. Only rarely do you see a young professional, unless they have set up on their own and somehow managed to fork out thousands of pounds for the privilege.
Is there any benefit or justification for coming to MIPIM repeatedly? Surely doing it to catch up with friends and colleagues is excessive? BDP has alternative model that I think more organisations should follow. It takes a mix of people; both aspiring future leaders and more senior influential staff. This allows the company's next generation to learn, shadow someone and become part of the future network, keeping the business alive, strong and relevant.
MIPIM's organisers could do more to help this and live up to their Engage the Future slogan; rather than providing a 'first-timers' VIP lounge with free breakfast, it would be better and more useful to give first-timers a discount on their passes. This would encourage larger companies and organisations to consider sending their future leaders. It might also help start-up companies get in on the action.
If you are a first timer you have to use it to your advantage. For me it was an ice breaker, and most people I spoke to were happy to talk and impart their MIPIM tips to me.
What else did I learn? It's important to invest some time planning your time; select the events you want to attend, organise meetings with other people who are going and accept invites to any of the additional events during the week. Also allow some flexibility in your schedule as a lot of the ad hoc conversations and meetings seemed to be the connections that could turn out to be the most valuable.
It is a boost if you go to MIPIM as part of a larger delegation and are associated with a particular stand. Cities and regions with stands at MIPIM this year included London, Manchester, Bristol and Bath and the Midlands. Others cities such as Liverpool and Sheffield had space in the main hall. I went as a member of the Midlands delegation and although this comes at an additional expense, it allows you to be part of a team, giving you a sense of belonging. Events held in the run-up to MIPIM allow you to make connections beforehand. It is useful if there are people attending that you know or have worked with; it's often the case that they will promote you and connect you with other people.
Most of my time at MIPIM was focused on the Midlands events, but I also managed to attend a few Manchester and UK Pavilion events, as well as some discussions in the main auditorium. The fact that everything is really close, especially the main UK stands, means you can flit in and out of lots of interesting panel discussions and talks. I found the dinner and drinks evening events really useful as that is when you really get the opportunity to network and there are chance encounters with people who might be connections for future work. Sometimes the daytime events are so full on and fast paced you don't get chance to really talk to anyone.
I was lucky enough to know the West Midlands Combined Authority CEO, Deborah Cadman, part of our Midlands delegation. Deborah is a great advocate for diversity in the industry and a brilliant role model, someone who is also willing to promote and amplify young talent. She spoke at the Grand Auditorium (the main stage) for the Young Leaders: Promoting Talent & Skills discussion. The West Midlands is undeniably leading the way in 'engaging the future' and promoting diversity, both out in MIPIM and back home, with the combined authorities pledge to strive for 40% of their senior management to be women within the next five years.
The general perception this MIPIM was that diversity was consciously being addressed, especially in the balance of male/female speakers. There were no all-male panels that I attended and the different stands had a good sense of diversity in the attendees.
Regardless of whether you are a first-timer or a seasoned professional, or if you are a minority in any way (gender, race, LGBT), my key message would be to take every chance to create new opportunities. Listen, learn and don't be afraid to talk to people, as you never know what it could lead to. And, most importantly, invest time in following up any leads after MIPIM.
My personal endeavours have resulted in connections with developers from the North that are now looking to the Midlands as the next place to invest in. I have arranged meetings with groups of people that would ordinarily be difficult to get around the same table back in the UK, with the intention to collaborate and drive opportunities in areas like Wolverhampton and Coventry.
---
Kieren Majhail is an associate at BDP and a member of the RIBA Journal's Rising Star cohort 2018. Find her profile here.
RIBAJ Rising Stars in association with Origin is a scheme to recognise and reward up and coming construction professionals. Rising Stars 2019 opens for entries from May.