RIBAJ Rising Star 2018 Derek Draper charts the steep learning curve and eventual benefits of working in a former Soviet country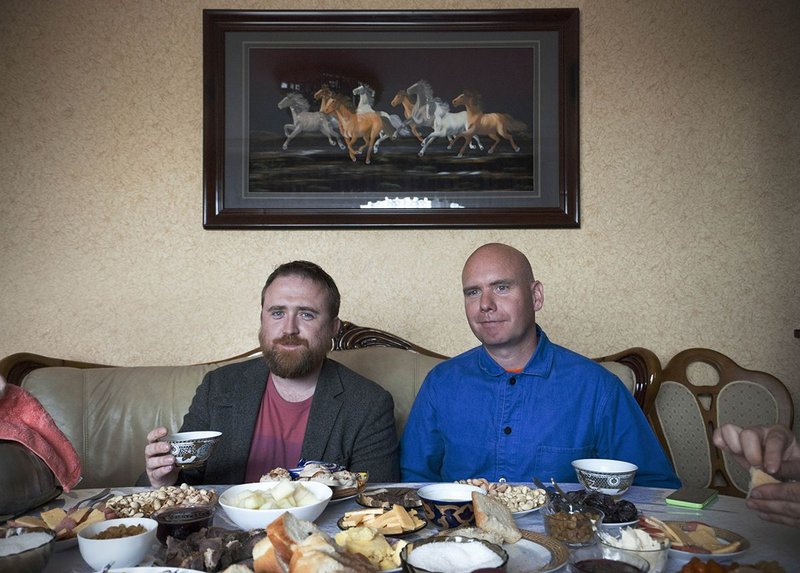 Derek Draper's Atomik Architecture having lunch in Kazakhstan

Credit: Atomik Architecture
In 2014 I had my first opportunity to go to Kazakhstan. We had set up our studio Atomik Architecture in London six months before and had gathered some nice projects and were excitedly getting on with it. Asel Yeszhanova, an architect and good friend, had moved to the country's largest metropolis Almaty after stints in Shrewsbury and London and then New York to complete her master's degree.
The city has some world class modernist public buildings – the TV studio complex by Alexander Korzhempo is particularly special – and an intact Soviet masterplan. After setting up her own studio, Asel felt there should be a debate about reusing these Soviet era buildings. I wanted to get involved as nearly all our projects at the time involved reuse and I had been promising to visit Almaty for a while.
Over a couple of months we put a plan together. The first trip was to lead a teaching programme with help from the Goethe Institute and the British Council. We set up workshops on the theme of refurbish, reimagine and reuse and arranged forums and lectures in cafés and bars in Almaty. The events were free and open to all. We had attendees from local schools, businesses and the UN as well as architecture students and even Olmas Ordabayed, the architect of the Samal 1 Microdistrict on Zholdasbekov Street which we were discussing as part of the debate. He was pleased to see us drawing buildings he designed 50 years ago and autographed one of my drawings.
While running the workshops over a period of 10 days an opportunity came up to design a pavilion. It was the centrepiece for ArtBat Fest, Almaty's annual city-wide arts festival, in which the British Council was a partner. Things move fast in Almaty, so concept to opening was three months. This meant a second trip was required during the development of the pavilion. Then, the work floodgates seemed to open. We were inundated with interest. People wanted to meet us and we were taken to see some incredible sites to talk about projects: a pop-up theatre, a memorial for the 4,500 people massacred over a three month period in 1937, a factory to manufacture refineries that could be packed up and moved, an underground art gallery, a wakeboarding complex in a Soviet era former quarry and service stations for a 1,000km road to name a few. We also completed our first tomb.
We partnered with Asel, registered a company in the city and began making regular trips. It was very hard work to start with. There were lots of pitfalls, long days and a very steep learning curve navigating the rigidity of Russian technical standards and Twelve Tasks of Asterix levels of bureaucracy.
The problem came that while we were meeting people and visiting sites, the days got longer and only a small proportion of the projects came to fruition. We would discuss, say, 10 projects a day and perhaps only a handful a week were serious about the project, owned the site or even wanted to pay for our time. One day we came across our scheme for some public space that had been built out by someone else. It is very nice though.
However, there were also lots of opportunities. The experience helped refine not only how we grow and manage the two studios but also our design process. In a short period, we were developing a wide range of project typologies in an equally wide range of locations. We restored the floor of the Zenkov Cathedral, converted a half-built residential tower into a hotel and created a new showroom for a timber flooring company. With the British Council we designed, curated and built an exhibition showcasing young Kazakh art and design. This later travelled to London, Astana and Almaty where designers and artisans were partnered to create artefacts which represented modern Kazakhstan.
We learnt quickly, made some great contacts and had some good advice such as partnering with locals and focusing on work for NGOs and internationally based companies which improved the hit rate on the projects. We took legal advice on contract terms, never signed something in Russian and kept clear of corruption and the fizzy horse milk. It's been more than five years now and we have 18 people across the two studios.
We had taught and worked on projects internationally, but never thought we would establish an office in Kazakhstan – especially while setting up the practice in London. An academic exercise and our interest had led us there. The opportunities were too tempting and we were keen to develop new ways of working and our own portfolio and not be defined by our time at previous practices. It proved a good way of understanding how transferable our skills are internationally and the nuances of working in an unfamiliar territory and culture. Kazakhstan also has the most amazing smoked cheese.
---
Derek Draper is director at Atomik Architecture and one of RIBA Journal's Rising Stars 2018.
RIBAJ Rising Stars in association with Origin is a scheme to recognise and reward up and coming construction professionals. The 2019 edition of Rising Stars is now open for entries; you can nominate yourself or someone you know