Architecture curator Peter Barber celebrates the process of making in this year's architecture room at the annual RA show, where work is analogue, crafted and handmade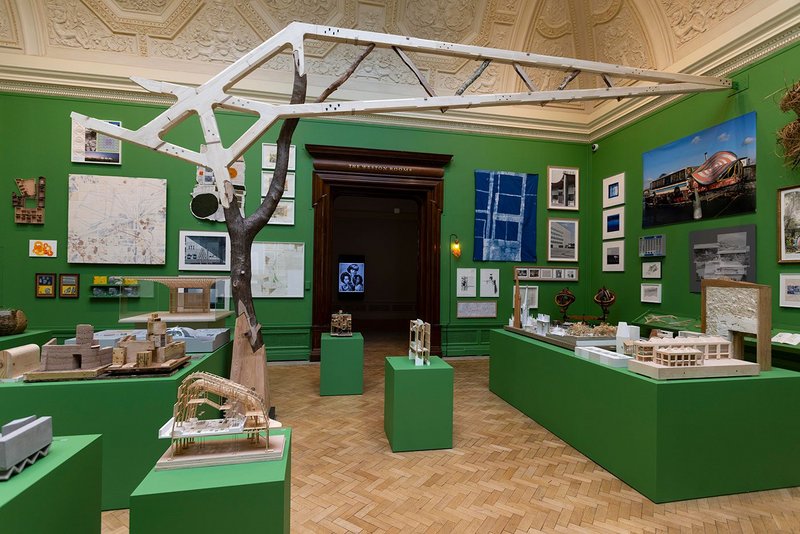 Installation view of the architecture room at the Summer Exhibition 2023 at the Royal Academy of Arts in London. The Tree and the Truss, made by students of the Architectural Association, stretches across the gallery.

Credit: Royal Academy of Arts, London / David Parry
'When you make something, it's so enmeshed in the idea of thinking,' says Peter Barber, curator of the architecture room at the Royal Academy 2023 Summer Show. He is explaining this year's theme, which focuses on the process of construction and making by showing work that is analogue, crafted and handmade.
Intended by Barber as a 'counterblast' to more corporate content, the theme is clearly a subject very close to his heart and that of his practice, with a definite nod also to Richard Sennett's theories on craftsmanship.
'Our process is very analogue. We don't use computers in the early stages. We make physical models, thinking and making at the same time. It's a very intimate process,' he says.
The result, displayed against a bold green gallery backdrop, is a joyful celebration of the art of the process, from sketches, material samples and prototypes through to meticulous drawings and highly crafted models, interspersed with art, ceramics, textiles and even a gargoyle.
Working in collaboration with Emma Kitley, who is associate director at his practice, Barber invited 15 contributors to help establish the theme in addition to open submissions and contributions from Academicians, and he is clearly gratified that a lot of the latter 'stepped up' to his theme. Sir Nicholas Grimshaw, for example, submitted a sample slab of Sugarcrete, made from sugarcane fibrous pulp and non-cementous binder, rather than something more polished and commercial. There's a Michael Hopkins original facade study of Bracken House, a tour de force on trace. Spencer de Grey's contribution is a Lunar Habitat Study model, which eloquently explains the process for using moon earth as a building material, complete with a model showing little robots busy mining the raw material and 3D printing construction material from it.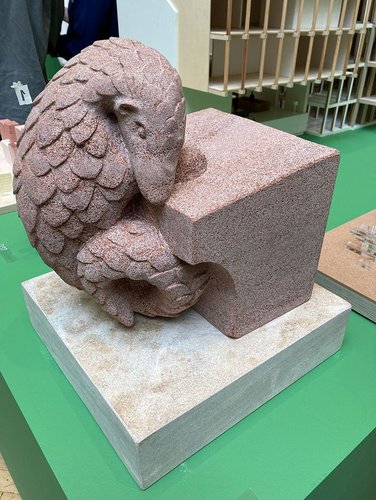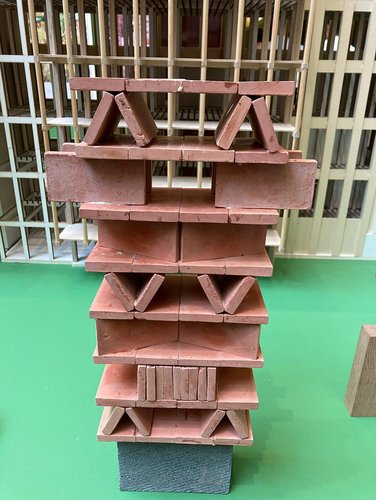 Entering the gallery, the eye is immediately drawn to work by two of the invited exhibitors in particular. The late Phyllida Barlow had planned to make a work especially for Barber's architecture room but sadly died before being able to do so. Instead, two of her pieces are featured including the Untitled: Folly: Bouldercolumn, a tall, tactile structure resembling a tower of stones and created in a mix of media including concrete, hessian scrim and wire mesh.
'Having her in here puts the artistic cat among the architectural pigeons,' says Barber. 'I can feel her presence here, and her humanity.'
The other showstopper is The Tree and the Truss, an extraordinary installation by students from the Architectural Association's Design + Make MA programme. Made at the AA's Hooke Park woodland campus in Dorset, this hybrid structure begins as a tree before transforming into a truss, displaying virtuoso jointing and stretching out above the exhibits across the gallery to the wall, where it is tethered just beneath the ornate ceiling.
Also from the AA, unit master 261 Shin Egashira is exhibiting a couple of his typically highly crafted and strange apparatus-like installations, including Double Globe – Time Machine According to Alfred Jarry. In the opposite corner of the gallery is another large scale invited piece, Moonlight Towers, a dual obelisk-like form made from American red oak by Ugandan designer Jonah Luswata, who once worked at Peter Barber Architects.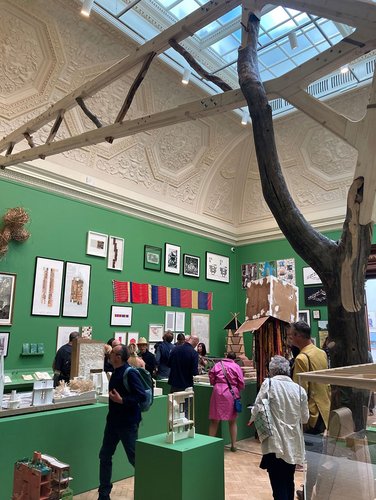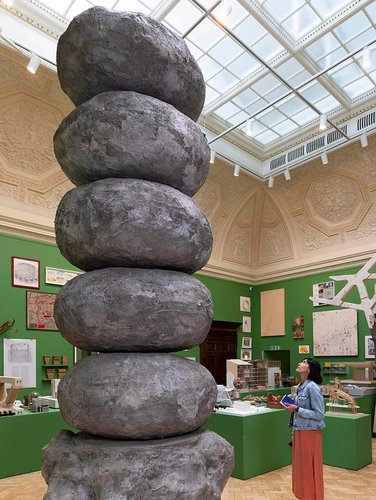 Nearby is The Home of the Opuntian Locrians, an appealing village-like cluster of black and white ceramic forms created by artist Björk Haraldsdóttir, a one-time colleague of Barber's from when he was at Richard Rogers Partnership. This is just one of several ceramic-based exhibits - Assemble is displaying prototypes of tiles created for the practice's 2017 Art on the Underground project. There's also some rammed earth including Jonathan Tuckey Design's 1:20 study model of a fragment of a rammed-earth house.
All sort of other sustainable materials are showcased – Bureau de Change is showing glass tiles cast with crushed mussels from the Thames that would otherwise have been discarded. Good to see one of the grotesques planned for David Kohn Architects' New College, Oxford project, an endearing Pangolin carved from Stoneraise sandstone.
Barber was also keen to invite student work into the room and give it centre stage in the gallery. Exhibits include a model and drawing of a post-tropical dwelling by Annabelle Tan, who last year won the RIBA Silver and Dissertation medals to complete the full suite of President's Medals student awards.
'I think the best architectural work in this country is being done in academia,' said Barber. 'People can think more clearly.'
Barber's own contributions include a new version of a work he did in his student days for tutor David Greene – a depiction of Greene's Living Pod of 1966 in a Piranesi setting. For this show, Greene asked him to update it again with a new colour scheme as Vivum Podani.
It wouldn't be the Summer Show architecture room without colourful and intriguing offerings from Peter Cook and CJ Lim – the latter addressing climate change. There's also a pertinent Louis Hellman cartoon, this time Londongrad Foundations, depicting Russian-funded London high rises sprouting from the ruins of Ukraine.
Although there is still some representation of more corporate architecture fare interspersed throughout the room, the curators have worked hard to shift the emphasis away from these. And Barber is delighted that one of the exhibits is very much not the usual airport project. Instead, it is an embroidered Heathrow Airport, made by members of a tapestry club in a village in India and commissioned by Barber's teaching partner Ben Stringer of the University of Westminster.
Overall, the architecture room feels fresh and engaging, although as ever with the Summer Show, a little explanatory text in the gallery would have done wonders to enhance understanding of the exhibits, especially given this year's theme. The customarily dense format rules this out. However some exhibits are explanatory in themselves, such as Matt + Fiona's presentation of the Made in Oakfield Build with students at Oakfield School and Michael Hopkins' Testing Ideas for Highgate Cemetery.
Kitley hopes that by focusing on the process of architecture, the exhibition can speak to everyone and perhaps also inspire by showing 'how much fun it can be – that there's real joy in the process of designing'.
Summer Exhibition 2023 13 June - 20 August 2023. Royal Academy Burlington House Piccadilly London W1J 0BD