'The ability to change, adapt, become translucent or transparent, to change their skin and to generally respond to what is going on in them is what interests me about buildings'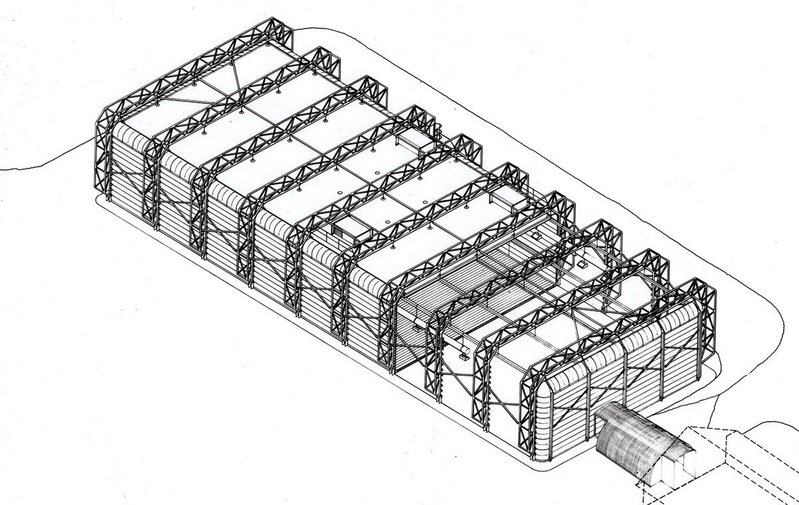 Sports Halls for IBM, Winchester, UK.
The catalogue of Nicholas Grimshaw & Partners' 1988 RIBA exhibition titled Product + Process has an exuberant drawing of the Oxford Skating Rink on the cover. It effectively set out the practice's stall, showing an eye-catching building, strongly innovative and constructed at high speed and at low cost. It pointed to Grimshaw's priorities: flexibility, technological ingenuity and admirable efficiency. Examined more closely, the rink, a local authority amenity, had a clear glazed north elevation to attract the eye, the two great masts providing a column-free interior, their corrosion-free cables proven on North Sea oil rigs and the cladding panels borrowed from cold storage facilities. Jan Kaplicky, characterised by his biographer Martin Pawley as having a 'guiltless faith in the future of technology' was a perfect choice to design the two catalogue books in their clear plastic slipcase.
With hindsight, Nicholas Grimshaw's work in that decade looks sequential, moving from a series of trim round-shouldered sheds, marked up with service pods and often brightly coloured, to those tougher, more sober structures from later in the 1980s. All these commissions shared a convincing take on a new kind of functionalism – call it 'high tech' if you want. Herman Miller in Bath had reflected what Grimshaw called the 'ebb and flow' of the multi-purpose manufacturing shed, leading to flexible industrial units in Warrington and Nottingham, and to a second commission from Herman Miller, for a distribution centre at Chippenham.
In Weil am Rhein, Germany, the new furniture factory for Vitra after a serious fire was a prestigious insurance-funded project. There was no time to lose. The initial scheme for a cable-supported fabric structure gave way to a concrete frame clad in double sheeting; the factory was back in action within six months, the second layer of cladding being added afterwards. Such lateral thinking has been a marker of Grimshaw's approach and the office was a launchpad for individuals who would set up their own progressive offices in the 1980s. Eva Jiricna had worked on Vitra and David Nixon (to be Jan Kaplicky's partner in Future Systems) on the earlier Winwick Quay industrial estate at Warrington New Town where absolute flexibility and interchangeability of parts was the rule.
With the Sainsbury's Superstore in Camden, a steely, muscular street frontage confronts the unexceptional domestic architecture of its opposite neighbours, but then reveals Grimshaw's own answer to the terraced housing form: those thrilling canalside houses, half domestic, half automotive, which have not received the attention they deserve. Such an urban location was unusual for the practice. Later on, entire works such as the Rolls-Royce Manufacturing Plant and Headquarters at Goodwood would be buried or masked, to answer planning and landscape concerns and to propose a new, svelte approach at a time when it had become the norm to house rural superstores in neo-tithe barns.
The Grimshaw office in the 1980s reflected a climate of nimble technological expansion; clients ranged from BMW to IBM, sites from the London Docklands to the New Towns. In addition, the marketing benefits of strong imagery came triumphantly (if briefly) into play at the Financial Times Printworks, an exacting brief that required speed and precision and where the clear-glazed elevation would reveal the heroic scenography within. Yet the two immense presses didn't roll behind that gigantic shop window for long, due to the oncoming media revolution, and it was converted to a data centre in the late 1990s, cheating passing commuters of the theatre that they enjoyed for hardly a decade. Now listed, it stands for that brief moment when architecture and technology appeared to be in step, and when Nicholas Grimshaw & Partners could play to its greatest strengths.
---
---
Grimshaw in the 1980s: a visual timeline