Taiwan's cultural diplomacy is looking a bit hollow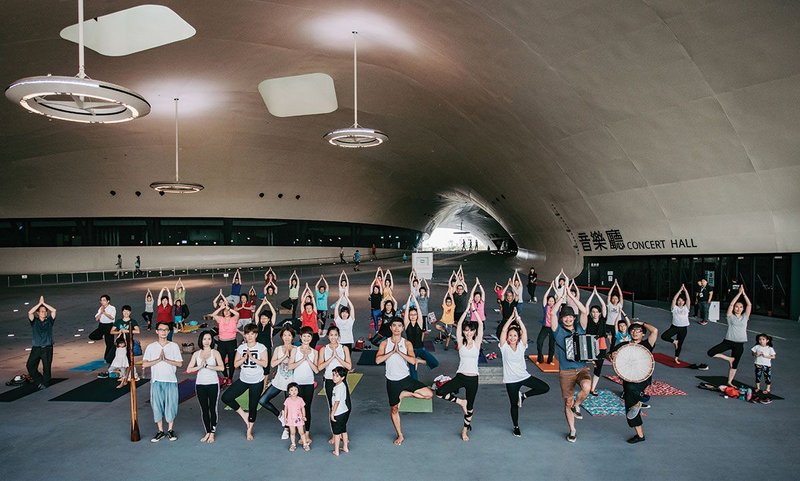 The largest performing arts centre in the world. Yoga in a cultural icon. National Kaohsiung Center for the Arts (Weiwuying), Kaohsiung, Taiwan by Mecanoo.

Credit: Holly Exley
An elaborately costumed teenager poses for a photo on a green hillock, while her friend gets changed behind a sheet, taking cover in the gap between two bulging white funnels. The rooftop of Toyo Ito's National Theatre in the Taiwanese city of Taichung has become a surreal playground for fashion shoots and music videos since it opened in 2016, a Teletubby landscape of green mounds punctuated by the flaring flues of his concrete caves below.
The building heaves with life on a weekday afternoon, not with punters for the five-hour ordeal of Wagner's Siegfried, but with shoppers, selfie-takers and hundreds who have come to wonder at the cavernous labyrinth. It looks nothing like the pristine white world of seamless sloping walls merging into floors that was published when it opened. It is crammed full of retail stands and dining opportunities, office cubicles and pot-plants, along with an arsenal of ducts and pipes retrospectively bolted on to the ceilings and walls to make it all work.
There are few more glaring examples of a programme squeezed into an architect's abstract diagram than this $150million exercise in NURBS spline-curve modelling. Without the rectilinear hangar-like spaces an opera house actually needs, the backstage is too cramped. Its continuous coral-like form means live music in the lobby spreads through the building, so those free performances will soon end. The workspace, meanwhile, has proved to be a headache from the beginning.
'Our offices are awful,' says Joyce Chiou, the no-nonsense new director of the theatre. 'The ceilings are far too high, and the sloping floors mean we can't put our desks up against the walls. It's not a human-friendly environment, and there's no acoustic privacy at all.
The sloping floors mean we can't put our desks up against the walls, and there's no acoustic privacy at all
Designed in 2006, Ito's theatre is one of three gargantuan performing arts projects opening within a couple of years of each other in Taiwan, as part of the state's strategy of soft diplomacy. As mainland China tightens its grip on the world stage, only 17 countries now recognise Taiwan as independent – thereby disqualifying themselves from formal relations with China. As Lin Hwai-min, founder of Taiwan's acclaimed Cloud Gate contemporary dance company, puts it: 'Cultural diplomacy is one of the few channels we've got left. But if we were to build these facilities again, I'm not sure we'd make them quite so huge.'
In the southern city of Kaohsiung, Dutch architect Mecanoo has just built the largest performing arts centre in the world, a humungous building that contains an opera house, concert hall, theatre and recital hall within its £260 million shell, with 7,000 seats in total. Meanwhile, OMA is struggling to see its £133 million Taipei Performing Arts Centre completed, after its contractor went bust. Looking like a silvery zeppelin docked inside a glass cube, its multiple auditoria can be combined to make one 'super theatre' with a 100m long stage. Walking upstairs, between the two walls of its globe-like theatre, is a thrilling Piranesian experience, as flying staircases criss-cross through exposed beams and braces. One of OMA's characteristic 'public loops' will weave through the complex, providing glimpses into backstage and even punching through the offices on an escalator.
It is a handsome surfeit of cultural icons, but it's unclear whether this country of 23 million has the capacity to fill its gaping new halls. Chiou says she has struggled to sell tickets for the current season in Taichung, now the novelty of the opening has worn off, while others express doubts over the ticket prices in Kaohsiung, a gritty port city with little tradition of concert-going. Some have speculated that these curvaceous wonder-worlds will become white elephants; but, judging by the young hordes in Taichung, at least they'll be humming as backdrops for selfies.
---
Market forces
In true OMA style, the Taipei Performing Arts Centre was planned to be hoisted on legs above the city's gritty night market. The market was relocated in 2012 to make way for construction, but it has taken root and won't be returning. Nor do the traders want competition, so the architect's dream of dumpling-hawkers rubbing shoulders with opera-goers sadly won't come to pass.