A World tour leaves Oliver Wainwright reeling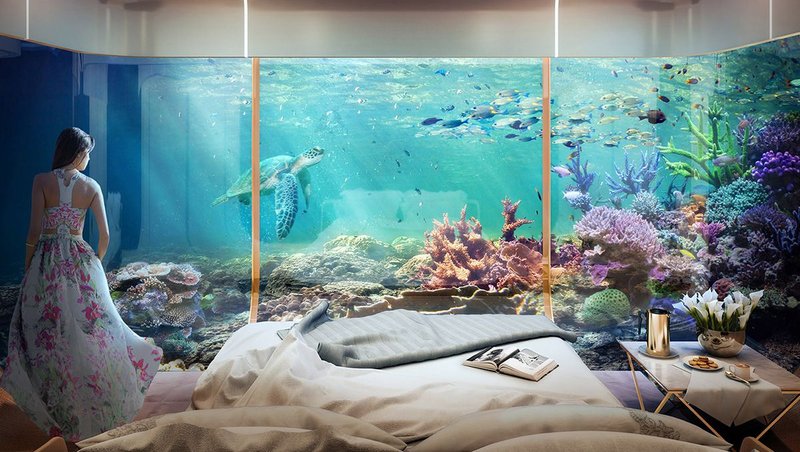 The Floating Seahorse at the Heart of Europe in Dubai
As the boat turned right past Morocco and into the Mediterranean Sea, the silhouette of Lebanon's party complex came into view. Over to the left, the palm trees of Greenland formed a distant spiky clump on the horizon. 'Welcome to Switzerland,' said architect Marco Bolzoni, as we scrambled on to the sandy shores of his island. 'We'll start by looking at the villas under construction on Sweden, then head over to the concrete batching plant on Monaco.'
It might come as a surprise to learn that, 13 years after it began, The World is back. It was a vision of unparalleled hubris, the mad pinnacle of Dubai's boom-time spending spree, killed off by the 2008 financial crisis, surely never to return. This artificial archipelago of 300 islands entailed engineering feats of Ozymandian proportions, adding more world records to the UAE's brimming collection. Enough sand was dredged to build the Great Wall of China around the entire equator. Its developer still hopes it will be the planet's most luxurious holiday destination.
As the crisis struck, international media revelled in headlines that this grandiose dream was sinking back into the sea, that those who had bought islands had ended up in jail and even committed suicide, that the whole endeavour was mired in the government-owned conglomerate's $60bn debt.
But not so for one former Austrian police chief inspector, Josef Kleindienst, the man behind the Heart of Europe, the only project now forging ahead at the centre of this lonely outpost, where so far only Lebanon has drawn visitors with its party beach bar. As actual Europe collapses in on itself, a new one is being reborn in the Persian Gulf – consisting mainly of seven-star hotels.
The concept is the work of 'thematic architecture specialist' Creative Kingdom, purveyor of theme-park fantasy lands from Morocco to Cape Town. Here it has surpassed itself with a riotous global hotchpotch. Passing through the Empress Elizabeth Gate, to be modelled on a cross between the Bridge of Sighs and Tower Bridge, visitors will be able to choose between the Kremlin-themed Tzar hotel, Alpine cabins on Switzerland, or the Grand Palace and private beach club of Monaco. The vast villas of Sweden, to be furnished by Bentley Home, have rooftops inspired by the upturned hull of a viking ship, with luxury spas in their basements, each complete with a personal snow room.
In a surreal twist that trumps every other madcap plan, snow will also feature outdoors on Switzerland, where flakes will fall all year round on the central plaza. In a move that sounds as environmentally friendly as pumping oil into the ocean, underground cooling pipes will keep it from melting in the 40°C heat. Rain will be provided too, by pumping condensation – formed on the air-conditioning ducts – through sprinklers.
But Bolzoni's proudest creation – and the only thing of which a visitable prototype actually exists – is what he calls the Floating Seahorses, three-storey boat-cum-villas, about 100 of which will be moored around the edge of the heart-shaped St Petersburg island, designed with honeymoon couples in mind. These luxury pods feature the world's first underwater aquarium bedrooms, where guests will wake up to a panoramic of marine life (if the murky water ever clears enough to see it). To lure shoals of exotic fish, coral gardens are being cultivated nearby. They will provide an underwater complement to the groves of 100-year-old olive trees planted on the island – imported from Spain, natch.
'Pretty much everything here is a world first,' says Bolzoni. And leaving the forlorn scene, stranded half an hour from the mainland, you can't help but feel there might be a good reason why it hasn't been done before.
---
ROLLER COASTER
The World was the most ambitious island-building project by Nakheel, Dubai's biggest government-owned developer, which was also responsible for the Palm Jumeirah (completed and partially inhabited), the Palm Jebel Ali (terraformed but desolate) and the Palm Deira (the stump of which was built before the rest was cancelled). The simple motivation was to create more beachfront: if these projects were all completed, they would extend Dubai's 67km of coastline to 1,500km, more than the entire length of the UK.